9/1/2006 Getting Started
At PMA 2006 HP announced it's first pigment ink based A3 fine art printer. As we understand it should be now for sale in September.
The 9180 features 8 inks:
Cyan
Light Cyan
Magenta
Light Magenta
Yellow
Photo Black (as we understand also used on matte papers)
Matte black (not used for glossy media)
Light Gray (note: gets used most)
There is no need to switch inks when mixing prints on matte and glossy media.
Installation
The installation is not complicated and takes about an hour. This sounds long but during this time the 9180 auto aligns the heads and also calibrates the printer (this is unique in this class of printers, we think this is a color linearization).
Printer impressions
Very solid build quality
Clean form (nice design)
Single sheet feeding excellent (best in its class)
Printing via network included
Lower price than same kind of pigment printers from the competition
Print speed good even at MaxDPI

Printing from Photoshop
Printing from Photoshop can be done in two ways:
Normal OS driver
HP Photosmart Pro print plugin (see below)
Color printing via driver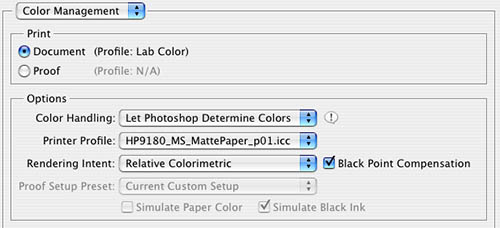 Normal Photoshop print dialog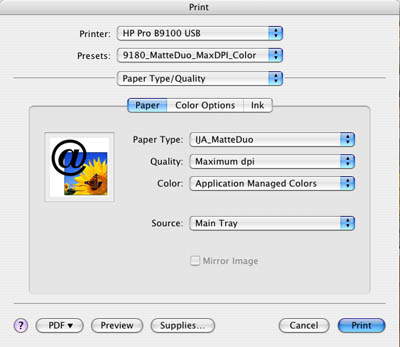 Driver setup for Color (color managed by Photoshop)
B&W printing via driver
The 9180 also provides a B&W only mode. In this case you need to select in Photoshop "Let Printer Determine Color" otherwise the driver won't allow you to select the Grayscale mode.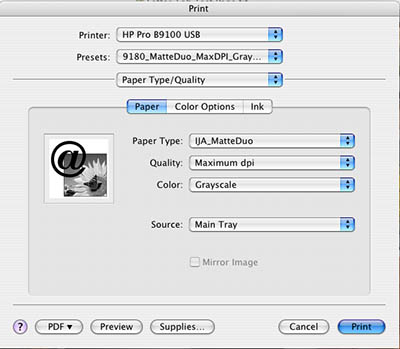 Driver Grayscale mode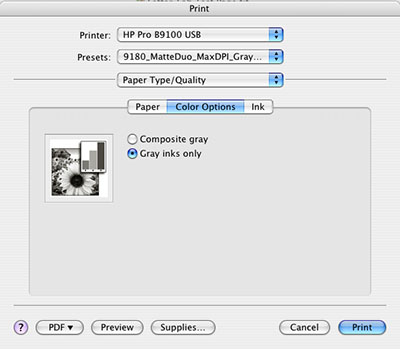 Grayscale Options
There are two options for grayscale images. "Gray inks only" presents a more neutral rendering while "Composite Gray" shows some metamerism.
Note: On glossy media we experienced some banding in dark areas if using the "Gray inks only" option even on original HP papers.
On real matte papers (not the slightly glossy semi-matte type of paper) we would only use the "Gray inks only" mode. Because there are no advanced B&W option provided in the HP driver we needed to use the Photoshop Transfer Curves to get better blacks: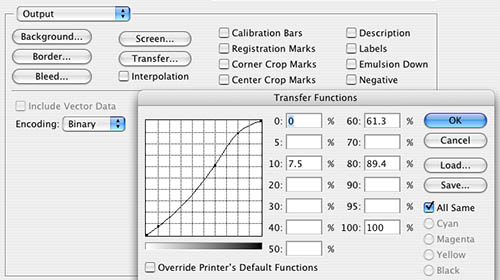 Sample Transfer Curve in Photoshop
HP Photosmart Pro print plugin
The 9180 software comes with an extra Photoshop Automation plugin to ease printing. If you use other applications you may need to use the normal drivers.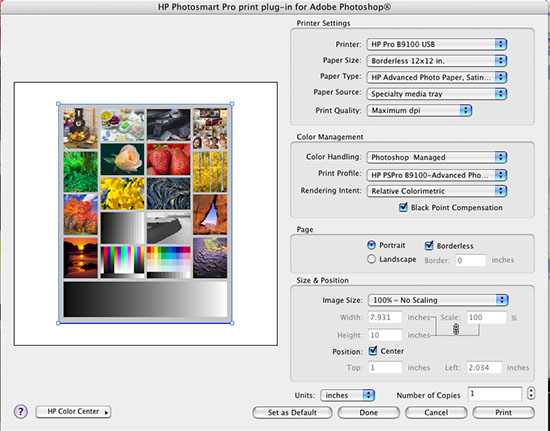 HP Photosmart Pro print plugin
What is so special about this Photoshop plugin?
Printing from Photoshop is no real pleasure. You have at least three dialogs to synchronize to get a proper print:
Photoshop Print dialog
Print Size dialog
Driver dialog
If something does not match you wasted time, ink and paper (and may even spill inks in the printer). The new HP automation plugin is a one stop printer control.
In principle this plugin is way more easy to use than Photoshop using the normal driver.
We would like to see some improvements for the plugin though:
• Does not allow to control all parameters that can be set in the driver (e.g. the different B&W modes)
• How to add custom paper sizes?
• Missing feature to save more than one preset pre printer

Setting up for 3rd party papers
We like the way that HP allows to add new papers to the driver and plugin.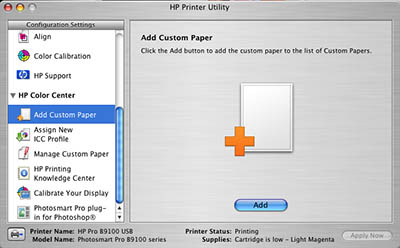 Add Custom Paper in HP Printer Utility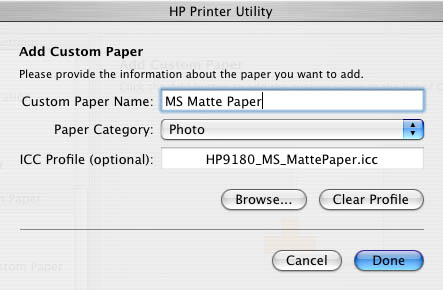 Add paper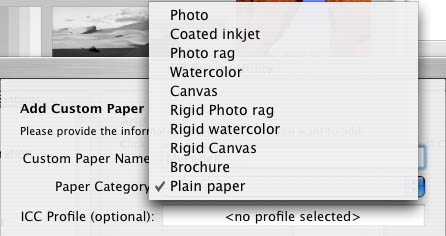 Select Paper types
Once the paper is added you can select the paper in the driver. We use for all glossy papers papers so far the type "Photo" and for really matte papers the type "Photo Rag". Likely it would be more helpful if HP would provide additional paper types types like these and more (the key it to optimize the printer/paper combination as much as possible).
Glossy (high gloss)
Satin, Luster, Semigloss
Matte papers (like e.g. Epson Enhanced Matte or Inkjet Art Matte Duo)
Ink Consumption
As of now we have made about 200 prints (mainly 9x6 inch prints on letter sized paper but also some A3). The Light gray needed replacement (is most needed) but still all other colors are on the first cartridge.
Note: The system will give you warnings about low ink very early (got the last warning for light gray at 39% of the cartridge). Don't get worried by these warnings (except for getting some replacement inks) you can often print still many, many prints without any problem. Wait till the ink is fully out and the 9180 request you to switch inks.
Some Speed Test
We printed from LightZone at 600 PPI a 9" x 6" on letter sized paper. We did not measure the time the application rendered the file and the OS had the file in the system queue.
Setting at "Best": 20 seconds feeding from cassette, 2:25 print time
Setting at "MaxDPI": 20 seconds feeding from cassette, 3:05 print time
Print Quality
Here are some observations:
Generic profiles coming with the printer are very good
In most cases the "Best" setting is all you need. If you have larger continuous tone area using "MaxDPI" (highest quality) printing may give you a slight edge.
Color images on matte and glossy are very good
Print show excellent detail
B&W prints on matte papers look nice using the "Gray inks only" option (for optimizing your results read our note about the Photoshop Transfer Curves above)
B&W print on a luster/soft gloss paper shows some minor bronzing and can show either minor banding ( visible only on larger uniform dark areas, we are very picky here) using "Gray inks only" or slight metamerism if we use "Composite Gray".
Clogging
We keep the printer on all the time. If powered on the 9180 performs regular head cleaning cycles. We did not experience any clogging so far (2 weeks).
Media Choice
The HP glossy media (we like the HP Advanced Photo Paper Soft Gloss a lot) are an excellent match because all printer settings are optimized for these papers (there are many parameters that come into play to get an optimal paper, ink & printer match). We are not that happy with the HP logo on the back of these papers (e.g. for open portfolios and binders).
For third party papers you have to do your own tests. The 9180 worked fine on some papers but we did not have that great results with the Innova Fiba Gloss paper (which prints very well on the Epson 2400/4800 and also also Canon IPF 5000). We are in contact with HP to check for this. You have to understand that it is hard for a printer manufacturer to be compatible with all papers on the market and the 9180 seems to be picky with some of them.
For third party glossy and satin media we recommend to use the paper settings for HP Advanced Photo Paper Gloss paper. third party matte papers are better adopted using the Photo Rag settings.
Preliminary Conclusion
Color photos the 9180 show very good quality on both matte and glossy papers. B&W printing on matte papers is best done using the in "Gray inks only" mode. For B&W on glossy media we would avoid using the "Gray inks only" mode because of some minor banding (visible only on larger uniform dark areas).
The HP 9160 is a solid A3 fine art printer at an attractive price point.
---
9/5/2006 Select the right HP paper for the 9180
You need to use micro porous papers for the 9180 and not swellable media.
HP Premium and Premium Plus papers are swellable media (not the right choice)
HP Advanced papers are micro porous (this is the right paper)
Be careful because the paper boxes look very much alike. Only select the HP Advanced papers for the 9180.
---
11/5/2006 B&W printing using split toning
Since a couple of weeks we print B&W images in color mode but first split tone them in LightZone 2.0. Check out our article about converting to B&W in LightZone and also split toning.