Canon EOS 1Ds Experience Report


A review diary by Uwe Steinmueller
Also photos by Bettina Steinmueller
Part 1
This review will be written again in the form of a diary. Most recent findings on top.
12/04/2003 Chromatic Aberration not limited to wide angle lenses
We tried our new 300mm F/4 IS USM lens with the 2x tele converter. Also here we found visible chromatic aberration (probably introduced by the the 2x converter).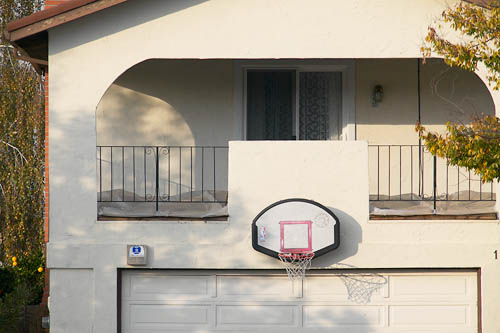 Meaningless test shot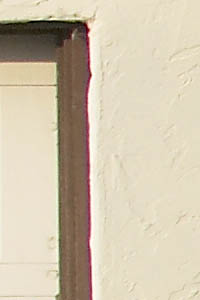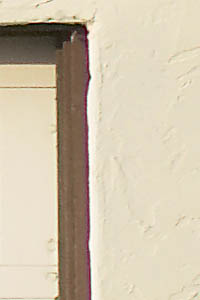 Before/after correction with Panorama Tools
We fixed the problem using once again Panorama Tools (see earlier entry). The settings this time were: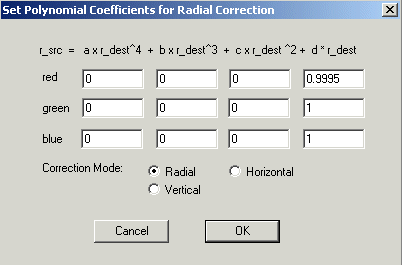 Settings used for the correction
Please send us an email if you know an easier and more automatic way to fix this problem.
It looks as if CA will stay with us for a while.
12/03/2002 Digital Outback Photo goes 1Ds
We liked the Canon EOS 1Ds so much that we got our own today. This is a major step as we were shooting Nikon (The D1x will be our second body for now) for nearly 30 years.
Here is our motivation:
We very much like the Canon IS lenses
The Canon EOS 1Ds is an exceptional body
11MPs are nice to have
We like the Capture One RAW converter for the 1Ds
We will start with the following equipment:
1Ds body
extra battery
EF 70-200 f/2.8 L IS USM
EF 24-70 f/2.8 L USM
Extender EF 2x II
Extender EF 1.4x II
EF 300mm f/4 IS USM
This means that our personal diary just starts today. Stay tuned and follow our personal Canon 1Ds journey.
---
11/28/2002 1Ds and 35mm film
My colleague Bob Burror (experienced fine art photographer using film) wanted to see how the 1Ds compared to 35mm film. At some lunch we setup a short quick and dirty test using Bob's EOS 1v, the 1Ds and Bob's 70-200mm f/2.8 USM IS lens. We then got:
1Ds shot
Provia 100 F scanned with Nikon LS 4000
Provia 100 F professional drum-scan from Calypso Imaging (100MB 8bit file)
All shots were gray balanced in Photoshop (iCorrect Edit Lab)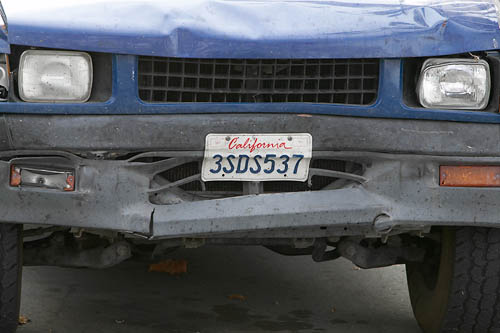 1Ds converted with Capture One
This is the procedure Bob Burror used:
made each of the 3 pictures 24"x36" at 360 dpi (upsized using PS bicubic)
sharpened each (unsharp mask)
cropped a 3.5"x7.5" 360 dpi section (the turn signal)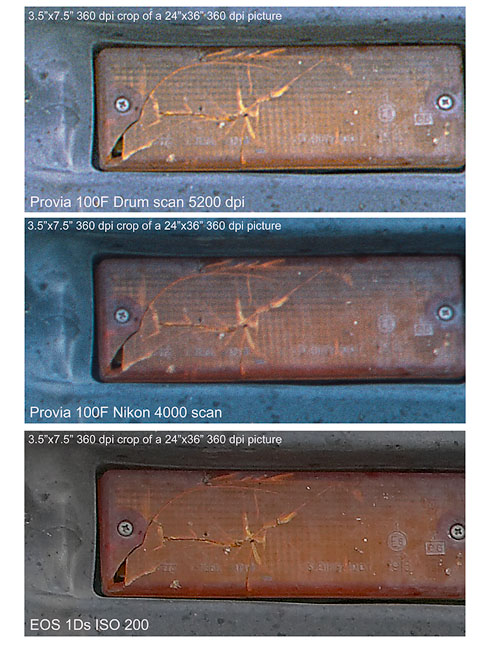 Each patch is originally 3.5"x7.5" 360 dpi
I am a bit puzzeled by the differences in color. But probably the film did not respond correctly in the shadows (without using correction filter). We will check into this.
Otherwise this demonstrates what is ment by low noise compared to the film scans.
Bob, thank you very much.
11/22/2002 Embargo is over
We added all the missing 1Ds photos and crops.
It will take some time until we may add a final conclusion (once we have a Kodak 14n we have a better reference as the 1Ds clearly outperforms all the other digital SLRs on the market)
Software
For all photos displayed here we used a beta version of CaptureOne. CaptureOne is a pro tool that matches the high standards of the 1Ds camera and imaging quality.
11/18/2002 4x5, 1Ds & D100
We have published the results from our 4x5, 1Ds & D100 shoot out.
11/16/2002 Chromatic Aberration
As you might know we still have the embargo for the 1Ds. Our quick and dirty test with the 24mm T/S lens might not be really a good test as this lens seems to be very prone to chromatic aberration (even not shifted).
Here is a sample (scanned with LS4000) on Provia 100 F (thanks to Bob Burror who helped us to perfom the test with his lens and EOS 1V)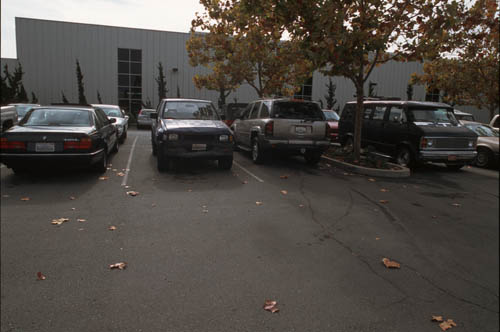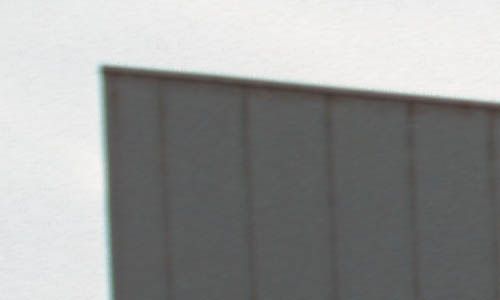 Film/LS 4000 scan
The chromatic aberration is clearly also there on film and might be a bit stronger on digital.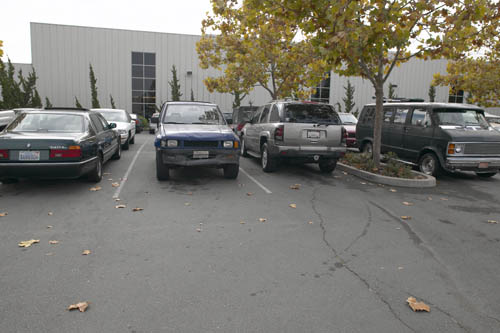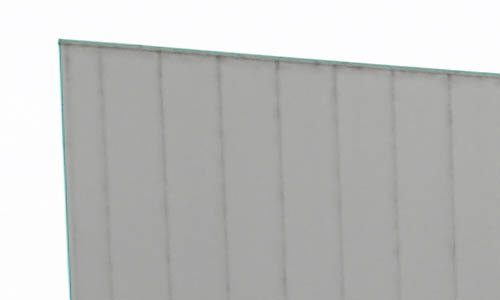 This test has also a nice side effect as it shows to us that film scanned on the LS 4000 does not even come close to the 1Ds result. We will also have a drum scan made ASAP.
11/10/2002
The 1Ds keeps us busy but as we are currently still under embargo we cannot show photos from the 1Ds right now. Today my friend Jim Collum and I did some interesting test shots of the same very detailed scene:
1Ds with the 70-200mm f/2.8 (non IS) both with CaptureOne and Canon Software converted
D100 with the AF-S 28-70mm (Nikon Capture 3)
4x5" view cam with Provia F 100
4x5" view cam with Better Light scanning back
Results will be very interesting.
So far:
Better Light clearly leads in terms of resolution (no surprise)
1Ds clear winner against the D100 (no surprise here either)
We like the result with the CaptureOne software better
11/03/2002 Chromatic Aberration
We can confirm that the chromatic aberration exists with our current camera and the 24mm shift/tilt lens in shifted mode. We found it in hard black/white contrast areas (like black letters on white paint)
The good news is that it can be corrected using the free Panorama Tools Photoshop plug-in: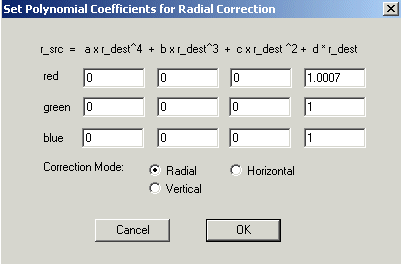 Panorama Tool's "Correct/Radial Shift" settings
A setting of 1.0005-1.0007 did the trick.
We will try to compare the same lens/scene with film and digital to validate that chromatic aberration is really stronger on the 1Ds than with film.
10/27/2002 Point Lobos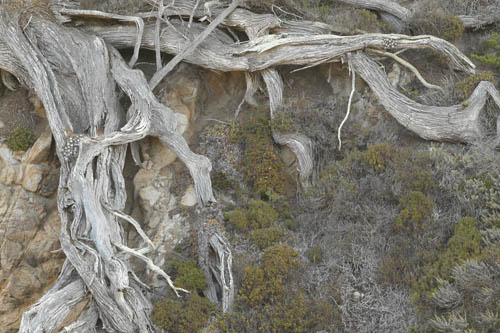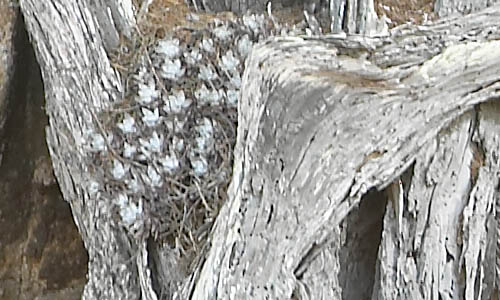 Using the 70-200 USM IS lens (great lens!)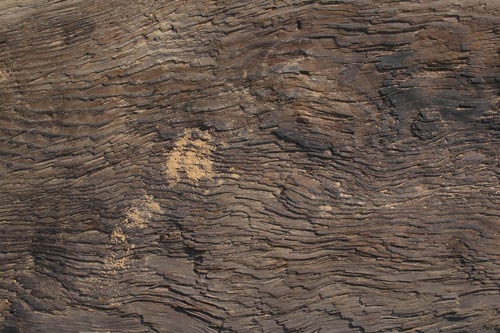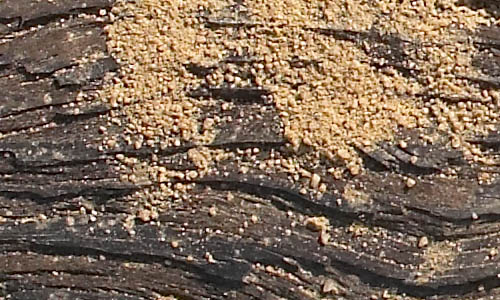 Sharpen a 1Ds file needs some experience as it is less blurred than other digital images to begin with (weak AA filter) and it holds lots of details. The sand on the above sample is a good example (probably we can do better after having some more experience with 1Ds files, have a look at Smarter Sharpen X)
Some very nice shots today with the Canon 70-200mm USM IS lens and also the 45mm TS.
We shot about 100 RAW files and the battery was still going strong.
10/25/25 Alviso
Today we did some photos of our favorite murals in Alviso (see our Contax ProBack 645 review). We only used the Canon 45mm shift/tilt lens. This lens is a great performer and it will be hard to send it back.
Too sad that we cannot share photos at this time. We still hope that Canon terminates the embargo soon.
Speaking of the Kodak ProBack we must say that the Canon 1Ds is clearly in the same league (and most likely the Kodak 14n too).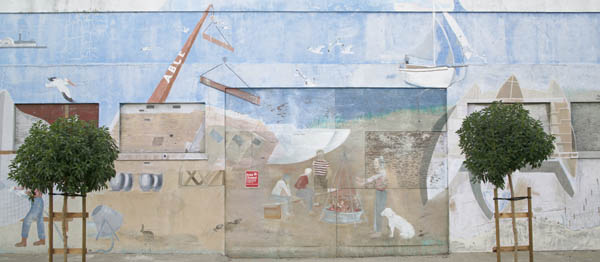 45mm T/S lens (stitched from two photos, shifted left and right)
This photo will be printed on a LightJet at Calypso Imaging at 60x27". We needed to remove CA (chromatic aberration) using Panorama Tools (see above).
ISO 400 and Noise
This is the first camera we would not have any problem whatsoever to use at ISO 400 and we have to try even ISO800. As Rob pointed out in his preview the noise level is very low.
Today's shots did not have any problems with moire and demonstrated again the amazing detail the 1Ds can deliver. As you see we have fun hear except that we would also like to show our results. On Sunday we plan a tour to Point Lobos (tomorrow are our two seminars).
Today we received a Canon EOS 1Ds for review.
Note: This is a production camera but Canon put an embargo till November 22nd on publishing any photos on the web or in print. That is why this review is more like radio than TV :-)
It is no secret that we found that the Canon EOS 1D body was the finest digital SLR body we ever used. But 4MP was not enough for a next step (but probably for sports photographers just what they longed for).
Now we see the same body with a much larger imager /this time CMOS) and it is even a full frame sensor.
Lenses we will use:
Canon 45 Shift/tilt
Canon 16-35mm
Canon 70-200mm IS
As usual we will only use RAW format files with the 1Ds.
Here are the known issues from pre-production cameras as reported by Rob Galbraith and Michael Reichmann:
Moire due to a weak AA filter (adds sharpness on the other side)
Amplifies chromatic aberration at wide angles
Magic "Blur Spot" reported for Rob's pre-production camera
We just did one test shot with the Canon 16-35mm @16mm (battery needed charging). This shows:
Yes, there is moire as we had it with the other cameras (Fuji S2, Kodak 760). This is the price for a weaker AA filter that on the other side let you capture sharper images.
We also think to find the chromatic aberration Rob reported.
First shots with the Canon 45mm Shift/Tilt lens
This is a lens we probably fall in love with and might even buy the 1Ds just to use this and the other Canon T/S lenses. Tilt/Shift lenses are a dream for 35mm landscape and architecture photographers. We want to use this lens also for two shot stitched panoramas (left and right shift). We like the lens at 45mm (remember these are now real 45mm as if you would use with film). Most of our photos are shot at 40mm and more anyway.
Our standard tour in Los Gatos: Detail, Detail, Detail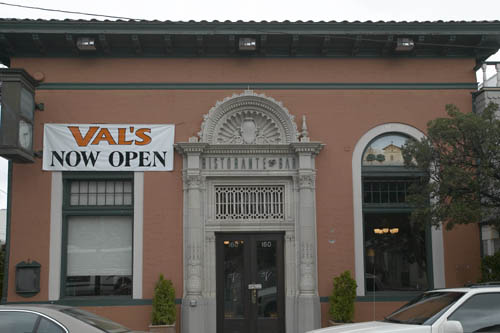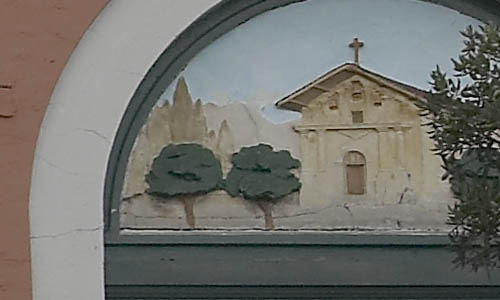 This time "our" Ristorante was decorated by an ugly banner and also we only had the 16-35mm lens (and these are now real 16-35mm with no multiplier).
Dave Etchells from Imaging Resource and Rob Galbraith raved about the 1Ds sharpness and detail. We must say the detail is really amazing. The EOS 1Ds is in terms of detail in a league of its own. This is the level of detail all landscape photographers long for (us of course included).
Canon uses a very good compression schema:
RAW files are only 8-12MB large
Write speed to card is ok
How much is moire a problem?
In most of our Los Gatos photos moire was no issue. Yes, there is moire but this is not more a problem than with some other cameras on the market.
Other previews or reviews:
Please post all your comments and questions here in our News Group
Review methodology (or lack of :-)) here.