Sigma SD10 Experience Report


A review diary by Uwe Steinmueller
Also photos by Bettina Steinmueller
This review will be written again in the form of a diary. Most recent findings on top.
---
10/27/2003 "A Walk in San Francisco" (Sigma SD10 Version)
We used the SD10 on a walk through San Francisco.
---
10/27/2003 Sigma SD10 announced and our first impression
Note

: The SD10 we used is a preproduction model.
The SD10 sports a second generation Foveon X3F sensor. The Foveon X3F sensor is the only sensor on the market that captures full RGB values at each pixel. Please read our article "The Raw Deal" to understand the standard Bayer sensor.
The last time we got our first Sigma SD9 (read our diary here) very late in the review cycle. This time we are among the very first who got this camera for review and had even a first contact with a beta version of this camera over a month ago.
In principle this camera is the same as before with some important changes:
SD10 allows higher ISO and should have lower noise (due to the introduction of micro lenses on top of the pixel sensors)
SD10 allows longer exposures (up to 30 second due to less leakage in the sensor)
Improved Autofocus
Improved software (X3 Fill Light for opening up shadows and some speed improvements)
Exposure/Aperture now in 1/3 EV steps
Only one set of batteries (4 NiMH or 2 CR-V3. - Alkaline is not recommended)
There are two things to any digital SLR (we borrow terms from Rob Galbraith):
Cameraness
In terms of the camera features the SD10 does its job but does not feel as refined as the Canon/Nikon equivalent. But we got used to the SD10 in a short period of time.
The most problems we have with the following features:
The viewfinder shows more than the area captured by the SD10 and inside a bright area with the crop used by the SD10. After using it some time we don't really love this viewfinder but don't see the viewfinder a show stopper.
The Autofocus does not work well in low contrast light (even with f/2.8 lenses). We are also not sure whether the AF is responsible for some not too sharp images. We think we have a higher rate of success with the Canon 300D AF. We actually would like to see in all(!) digital SLRs either some more electronic aid for focus or the old split screen.
The shutter does not feel as responsive as we are used from other digital SLRs (but that is highly subjective, Bettina finds it more a problem than Uwe)
The dial for selecting the shutter speed is not very easy to access while looking through the viewfinder
Digitalness
We already liked the color rendition of the Sigma SD9 and of course like to have higher ISO available (although we hardly ever go beyond ISO 400).
We like that the histogram shows all 3 RGB channels but unfortunately the histogram is quite small
The SD10 comes with a full featured raw converter (see below)
Images show more contrast than from most other digital SLRs. This is not a surprise as capturing true RGB data avoids the need for the blurring AA filter that other digital SLRs use.
Photo Pro 2.0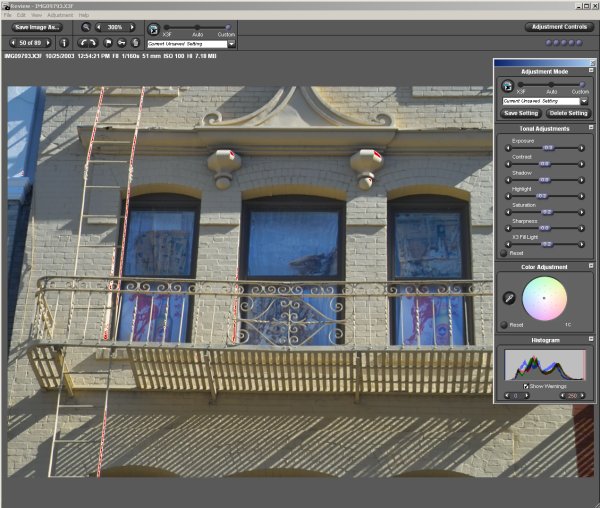 Photo Pro 2.0 (red shows overexposure!)
Photo Pro 2.0 is a nice and quite complete raw converter.
There are two main new features:
X3 Fill Light
Storing the settings in the original raw file (but also keeping the original values)
Our main complaints are:
Still no support for monitor profiles
Missing color temperature slider (color wheel does the job but we like using the more logical color temp sliders found in most other raw converters)
Workflow could be more streamlined (like with Capture One DSLR)
This said we found Photo Pro easy to use and especially the X3 Fill Light feature very useful.

The tools in Photo Pro 2.0 allow a lot of control.
The histogram shows all RGB color channels and also allows the use of exposure warning indicators (like in Capture One DSLR).
All settings can be saved and recalled for other images.
X3 Fill Light
This new tool is a major improvement and we would like to see it in all(!) raw converters. Yes, Photoshop CS sports an even more powerful control called "Shadow/Highlight". But having this control in the raw converter allows a higher level of data quality as the operations can all be done still in the linear domain.
Example: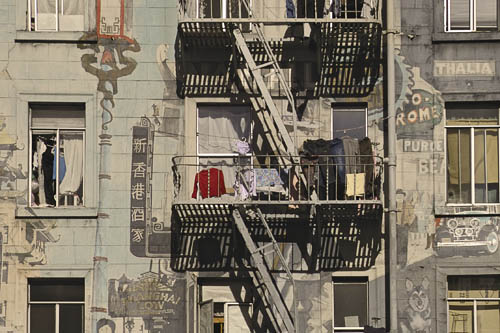 Without Fill Light: strong shadows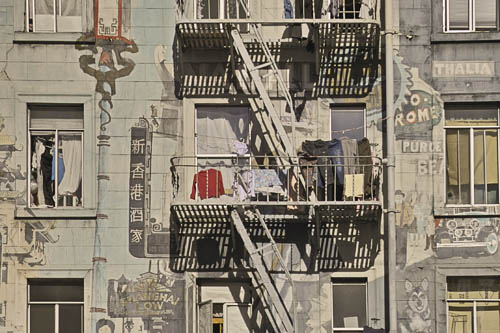 With Fill Light: softer shadows
X3 Fill Light is a clear winner for us. You cannot imagine how much time we spent the last few months just looking into better ways to recover shadow detail.
Higher ISO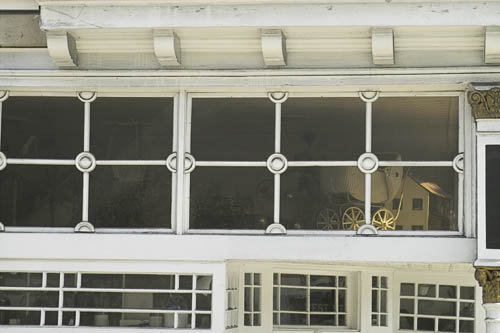 Shot at ISO 400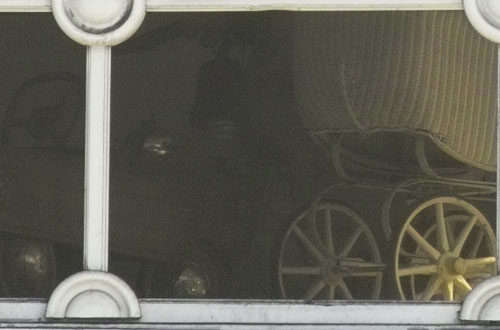 100% pixels crop
We like the ISO 400 performance. Yes, the noise level is higher than at ISO 100 but we find the results very useable. You might want to use tools like Neat Image or Grain Surgery 2 to lower the noise even more.
Dust Spots
Our sensor showed some dust spots that we cleaned with the PS "healing Brush". Dust is a major issue with all current digital SLRs.
Some first Samples
Some sample shots that show that the Sigma SD10 is a competent performer in terms of color and also detail: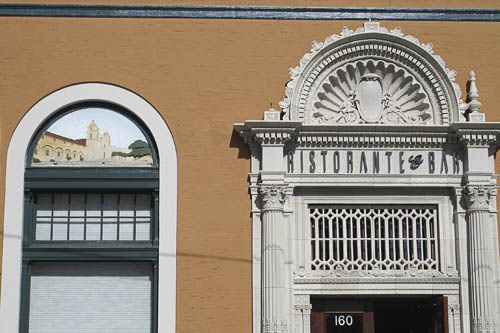 Los Gatos Ristorante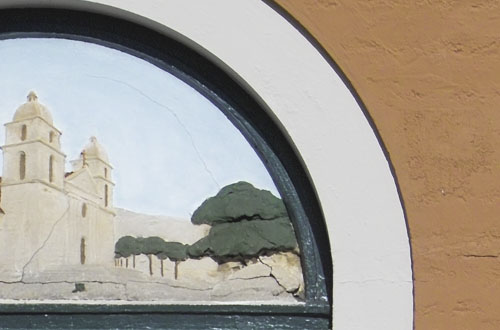 100% pixel crop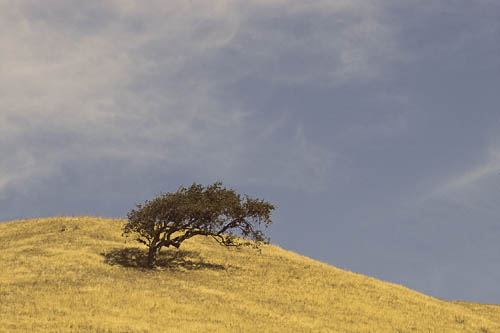 California Oak on "golden" Hill (we made a 20" wide nice print)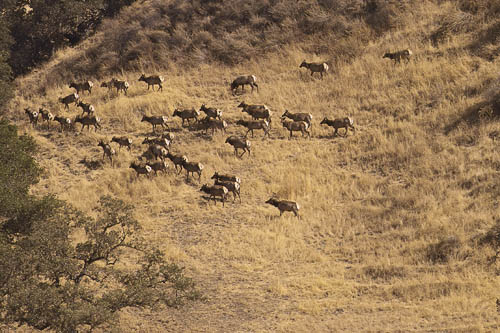 Elk Herd
Note on Chromatic Aberration (CA)
The Sigma 28-70mm f/2.8 lens shows CA in high contrast images. This is stronger than what we see from our Canon 24-70mm f/2.8 lens. It may be that the Foveon sensor more truthfully records CA (we would need to use the same Sigma lens on a Bayer SLR to better understand what is going on here). The Sigma Photo Pro software should include a CA filter like it is now available in Photoshop CS Camera Raw 2.0.
Other Previews/Reviews
Review methodology (or lack of :-)) here.