Recently, Extensis updated its popular cataloguing program Portfolio to Version 8. I took it through its paces and below you will find my first impressions.
First Glance At Portfolio 8
At first glance, there do not seem to be many new features in Portfolio 8 that immediately wow photographers as must-have features. Extensis improved adding new images to catalogues by implementing a two phase scan: First a quick scan to add images and thumbnails, then a deeper background scan to add the remaining information, thus allowing users to start working with these new images quicker. While I did not run benchmark tests, I did a quick test by adding 1000 images to a catalogue that already contained around 10,000 images and found a speed improvement of around 10%. Noticeable, but not earth-shattering. Furthermore, in its strategy to continue broadening its appeal beyond photographers, Extensis added support for additional non-photography related file formats, such as Word, Excel, QuarkExpress as well as improved Quicktime metadata support. However, all of these might not be very interesting to you as a photographer.
While RAW support for more cameras was added, I was very disappointed to see that support for both Nikon's D50 and Canon's 5D is missing. Given the importance of both (the D50 as a backup and the 5D as a primary or backup) to professional photographers, a key market segment for Extensis, I can only appeal to Extensis to rectify this in the very near future.
But upon closer examination, I found two nuggets, FolderSync's auto-synchronization feature and Smart Galleries, which finally enabled me to implement the metadata-driven workflow that I had been thinking about for quite some time.
Archiving Your Images in Portfolio 8
Until version 8 came out, I used Portfolio only for archiving my images. That process has not changed with Portfolio 8, nor has it been significantly improved. It is described in detail in my review of Portfolio 7 and essentially looks like this:
Add metadata to your images as early as possible, ideally when you download them from your memory card, but at the latest while you are working on your images in Photoshop.
Produce your final images in Photoshop – this might include multiple versions of an image.
Once images are final, archive them in Portfolio. When you add them to Portfolio (just drag and drop them into the main Portfolio window), Portfolio will read all the metadata and add everything to the catalogue's database.
If you need to find an image at a later time, use any metadata, such as keywords, date ranges or descriptions, as search criteria to find the image you are looking for.
Obviously, if you later make a change to an image, you have to re-catalogue the updated image.
Don't forget to backup your catalogues – Portfolio stores each catalogue in a separate database file that you can place in a folder of your choice, so having catalogues backed up is extremely easy to do.

This is one way to work with Portfolio – pretty simple in nature, but with a fast and reliable cataloguing engine. This is the workflow I have been using to keep track of approximately 12,000 pictures that are stored in all kinds of formats (Canon RAW, DNG, PSD, TIF, JPEG). Portfolio is reliable, my workflow is stable and I've been happy about it – until now.
Developing a Metadata-Driven Workflow in Portfolio 8
Portfolio includes a feature called FolderSync, which allows you to synchronize the contents of folders (with or without sub folders) with your Portfolio catalogue. In previous versions, the synchronization was done manually by clicking on the Sync button. The nugget that Extensis added in Portfolio 8 is automated synchronization of folders, either immediately when changes are detected or on a timed schedule.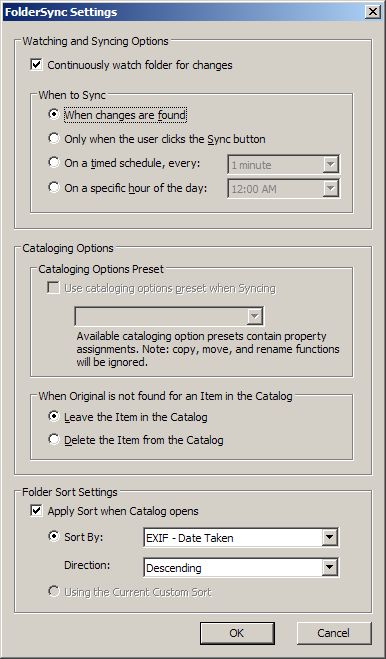 Synchronize your Catalogue whenever a folder item changes

This is exciting news! Why? Because automated synchronization immediately picks up any changes you make to your images, thus enabling you to implement a metadata-driven workflow in which Portfolio becomes a "super Adobe Bridge". Yes, since updated images are immediately re-catalogued and you have Portfolio's incredible flexibility to sort and search across multiple folders and drives (which you cannot do in Adobe Bridge), you could use Portfolio either as a replacement for Adobe Bridge or, more likely, in conjunction with Adobe Bridge, as I do in the workflow that is described below.
What would such a workflow look like? Buried in Portfolio's sample catalogues, which is a separate, but very worthwhile download from Extensis' site, is an outline of such a workflow. I slightly altered it to fit my needs, so let's examine my implementation.
Initial Setup of a Metadata-Driven Workflow
The first thing I did was to create a Portfolio 8 catalogue for my workspace folders. When creating the catalogue, I used FolderSync and set it to pick up changes immediately.
Next, I opened the catalogue and defined a list of values for my job status by editing the field "Job Status"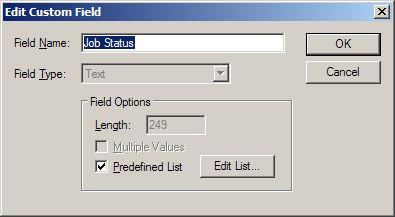 There I defined a list of status entries that I plan to use for my workflow in both Portfolio and Photoshop.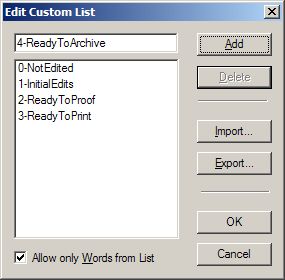 Lastly, I needed to teach Photoshop how to handle Portfolio's custom workflow fields, such as Job Status or Work Needed. Since Portfolio 8 now supports custom XMP metadata panels, the easiest way was to add such a panel into Photoshop. In order to do so and to reflect my workflow, I modified the XMP File Info panel file that came with the Portfolio Sample Catalogue. If you are interested, the XMP File Info panel script can be downloaded here and needs to be placed into Adobe's XMP folder (c:\Program Files\Common Files\Adobe\XMP\Custom File Info Panels). That's it!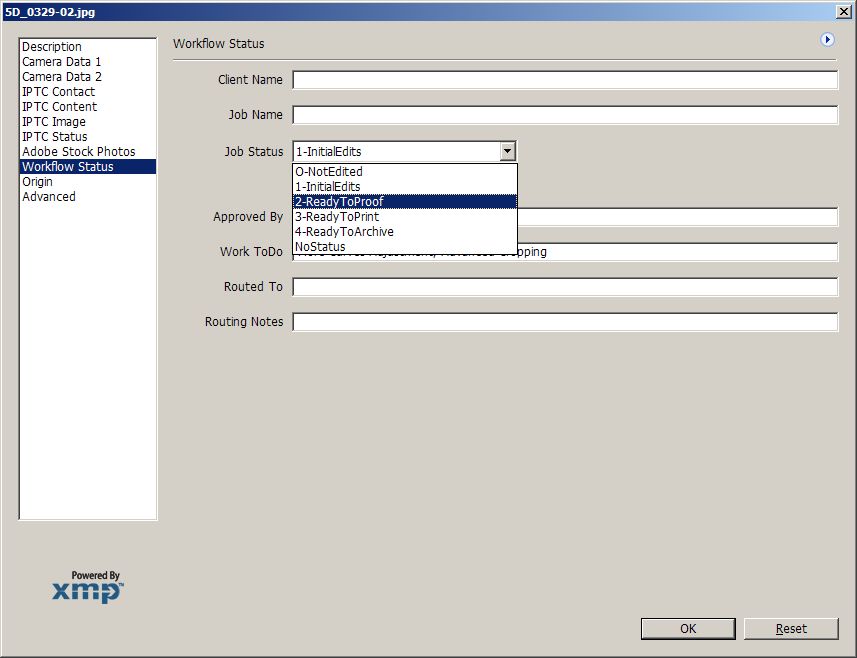 Custom File Info XMP Panel to reflect workflow status
Using the Metadata-Driven Workflow
Once the setup is done, I can immediately start using my new workflow. Here's how it works:
I download new images using BreezeSys' Downloader Pro. In the process of doing so, I add metadata to all images.
After downloading, I back up all the images to a backup folder on an external drive.
Once the images are backed up, I use Pixmantec's RawShooter Premium to select and adjust my keeper images and then convert them to TIFF files.
Afterwards, I move my keeper TIFF images to a new sub folder in my workspace folder.
Since FolderSync is enabled in Portfolio 8 to automatically watch all of my workspace folders, the new images get picked up by Portfolio and are immediately added to the catalogue. In the process, all the metadata gets catalogued by Portfolio 8.
I then drag my first TIFF image from Portfolio into Photoshop and start working on it. At the end of my first round of edits and adjustments, I bring up the File Info Dialog in Photoshop, go to the custom Workflow Status panel and document my progress. I set the Workflow Status to "1-Initial Edits" and also add reminders for additional adjustments I want to undertake at a later point in time.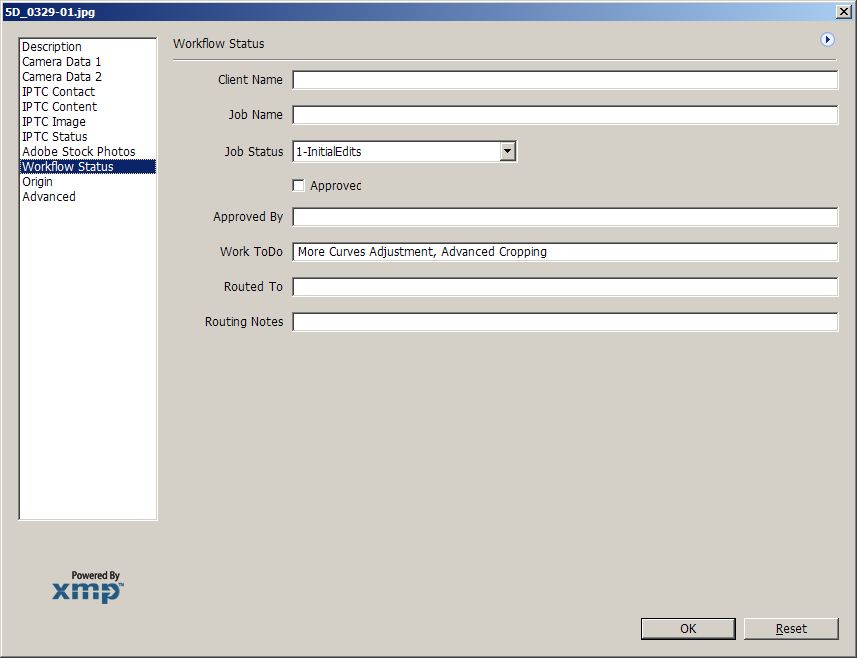 Once the workflow status is entered, I save the file in Photoshop format (PSD) to the same workspace folder. Since Portfolio is still running, it immediately detects the addition of the new PSD file and the image gets added to my catalogue. Alternatively, I could just save my edits back into my TIFF file and Portfolio would then update it in its catalogue. At this time, I can decide to discard my TIFF file (since I still have the original RAW image), keep it or move it somewhere else. All could be done within Portfolio. I typically delete the TIFF image.
Just to double-check, I call up the properties of my image in Portfolio, and voila, my workflow status is now catalogued.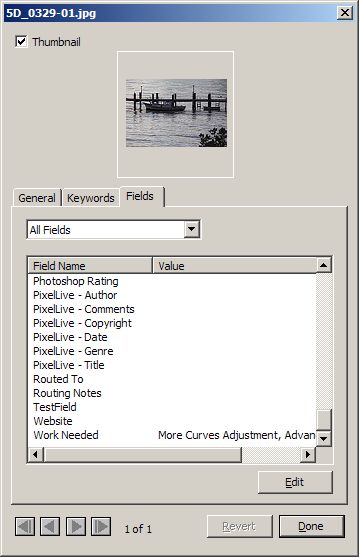 Of course, I can always make changes to my metadata in Portfolio and write the updated data back into my image file (Note: This only works for JPEG and TIFF, but not for PSD files – I would really like for Extensis to support embedding metadata into PSD files!)

Improving the Ease of Use of my Metadata-Driven Workflow
Another new feature, Smart Gallery, allows me to further improve the ease of use of my workflow. In Portfolio 8, you can store the results of any query in a Smart Gallery, which gets automatically updated whenever any of the underlying images' metadata gets changed. In my case, I set up different Smart Galleries for my different job status values, so I can just click into these Smart Galleries to see which images are at what stage in my workflow. Here's how it is done:
One of the strengths of Portfolio is that I can include any kind of metadata in a query. In my case, I run a query for Job Status "1-Initial Edits"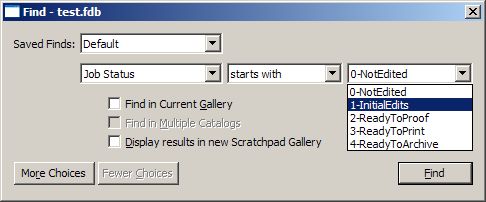 The query then gets saved as a smart gallery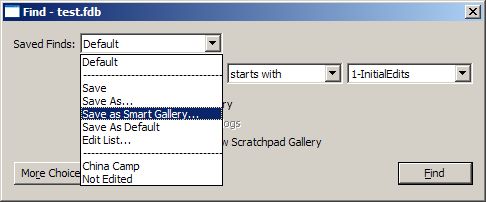 I repeat this for all the different status values that are defined in my metadata field "Job Status
If I want to check which images are at what stage of my workflow, I just click on the corresponding Smart Gallery to the left to see which images have the same job status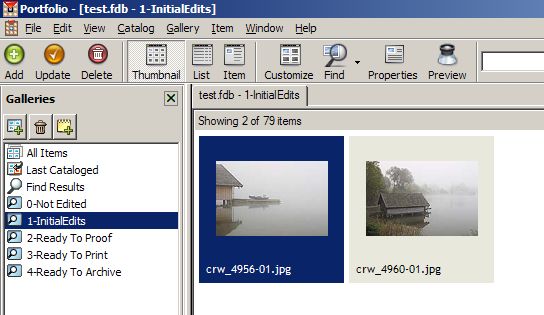 As discussed before, whenever the Job Status is changed in Photoshop, Portfolio re-catalogues the updated file and it will automatically be displayed in the correct Smart Gallery based on the updated job status. Neat!

Multi-User Workflow
While I have not tried it myself, Portfolio is designed as a workgroup product, which means it is architected to support multiple users handling the same images at the same time, either at the same location or geographically dispersed. As long as everyone follows it, a workflow like this makes collaboration between different users a snap, since status, work history and future work requirements are clearly defined at hand-off time.

Metadata-Driven Workflow Summary
This new workflow looks like a pretty good improvement over my current workflow. You might argue that this is too structured for your taste. But I like to have structure in my workflow, because it enforces productivity and a predictable outcome. Don't confuse structured workflow with stifling your creativity, though – I can still spend as much time and as many adjustment iterations in each stage of my workflow, or create as many derivatives of an image as I want. But I will spend less time wondering what needs to be done next to what images, since the metadata-driven workflow will guide me through the process.
However, having worked with Portfolio 8 for a little less than 2 weeks has not given me enough time to solidify this updated workflow or deal with potential issues. Over the next weeks and months, I will refine the workflow, determine its "stickiness" and will report back on my progress, so stay tuned!
Additional Functionality
There are many more things in Portfolio that could not be reviewed in this article. Functionality like backups, search capabilities or Portfolio Express has been reviewed in my initial review of Portfolio 7 and has not changed significantly enough to be reviewed here again. I remain a fan of the free Portfolio Browser – as already stated, if you share catalogues with clients, it alone might be worth your investment in Portfolio.
Additional new features in Portfolio 8 include public and private galleries, the ability to lock down galleries to prevent any changes such as additions, enhanced properties and preview abilities and custom sorting. Of course, basic functionality such as creating web sites, slide shows and Quicktime movies from catalogues, burning CDs or DVDs, batch converting photos and all of the basic file management capabilities such as renaming, copying or deleting your images are still supported.
What is missing or needs to be improved
This issue was fixed with iRaw v3 plugin: The aforementioned lack of RAW support for Nikon D50 and Canon 5D. Especially given how long the D50 is out, I hope Extensis will release an update very soon. And please throw in Nikon D200 support, while you are at it…
One of the most interesting features in Portfolio 8, Categories, was not touched between versions 7 and 8 at all! In essence, Categories allow you to manage hierarchies of items by grouping them into different categories. For example, one can set up a Category called "USA", with subcategories for "California" and "Southwest" and even further subcategories like "Grand Canyon" and "Zion National Park". One can then drag images to the respective subcategories, and when clicking on the "Southwest" category, all of the images from the Grand Canyon and Zion National Park are being displayed. Unfortunately, this is where the category implementation ends today. Wouldn't it be great to include categories in searches ("Show me all images in the category 'Southwest' with the keyword 'sunset'") and even store the query as a Smart Gallery? Or allow cross-searches between categories ("Show me all images that are in the categories 'Southwest' and 'Animals'")? Or writing back the category information to the keyword metadata, so the information could even be embedded in the image files? What a time-saver and productivity enhancing feature this would be! I'm not sure Extensis realizes what gem the Categories feature could become and what competitive advantage they could gain by finishing the implementation of categories. If implemented, this feature alone would justify buying Portfolio!
Update 5/26/2006: Portfolio previews and thumbnails are not color managed

Conclusion

Extensis Portfolio 8 remains a best-in-class cataloguing and archival program. At $199, it is not inexpensive, but its features and workflow flexibility certainly make it worth the money. If you are in the market for image archival software today, you should definitely give it serious consideration.
If you are an existing Portfolio user, should you upgrade? Only you can decide, but the flexibility that the improved FolderSync and the new Smart Gallery features provide to my workflow are worth the upgrade to me. And if Categories were fully implemented, it would make the upgrade essential to every Portfolio user.

Overall: (Highly) Recommended (*)
(*) Note by the editor (Uwe Steinmueller). Veit awarded Portfolio a "Highly recommended". I cannot second the attribute "highly" as I have a hard time to even understand why Portfolio does not support Categories as part of normal queries. The first thing I wanted to do is search for images of certain categories and also in the form: of category A or category B. On the other side we also find Portfolio 8 a very useful image organization software. Apples Aperture is right now a too closed system and Adobe Lightroom is not a ready product right now. As Veit mentioned the synchronized folders are a very useful feature indeed.
Here you can find more information on Portfolio 8: www.extensis.com