10/26/2007 New version Exposure 2
Alien Skin has released an improved version of Exposure (Exposure 2). The main improvements are:
Shows a fit image at launch (we did not like the old behavior)
Much better structuring of presets
Some more default presets
Last not least: can be used as smart filter in CS3! (read more about smart filters here)
Read our review of Exposure 1 below. It means an excellent plugin got just better.
For pricing (updates and new version) consult the Alien Skin Website (see at the end of this article).
---
Exposure 1
Lets start with one of our very old images.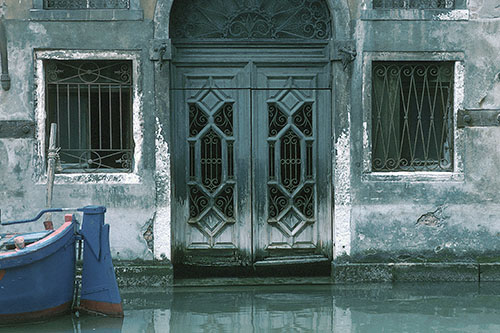 Blue Boat Venice (1977)
Every expert may find some color cast with this photo shot in 1977 on Kodachrome 25. Honestly we don't really care and love the shot as is(not even the best possible scan). There is clearly something about film colors that grabs our attention. Many photographers love Velvia, we always liked Kodachrome.
Alien Skin Software just released a plugin package called Exposure. This is a plugin to edit your images and simulate a wide variety of films. To get it out of the way, this package costs $199 and this is not really cheap. But we have also to realize that plugins like this cost a lot of work to design, implement and test. The best way is to download the demo and check it out yourself.
We have great fun experimenting with Exposure.
Exposure actually simulates B&W and color films:

Simulating color film
Exposure simulates quite a selection of slide films and special effects: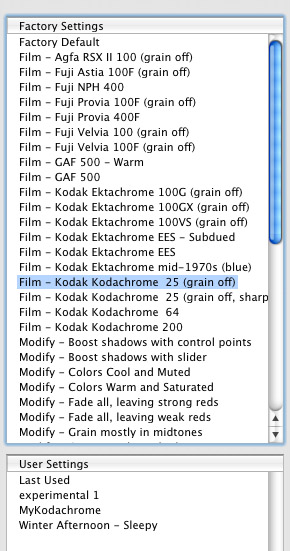 Color Films
Here is a first example: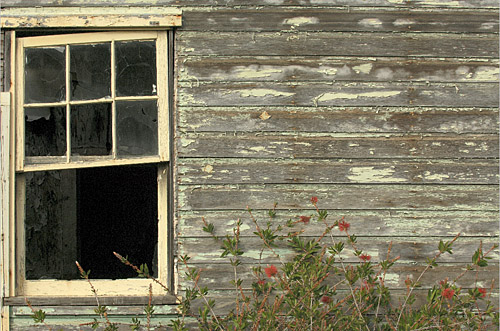 Original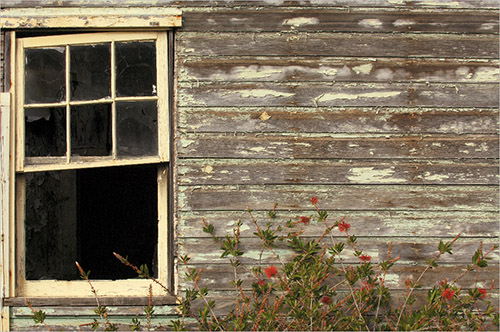 Kodachrome simulation
The first version maybe more truthful while the more reddish version #2 has something for it. All film effects can be completely controlled at the following levels.
Colors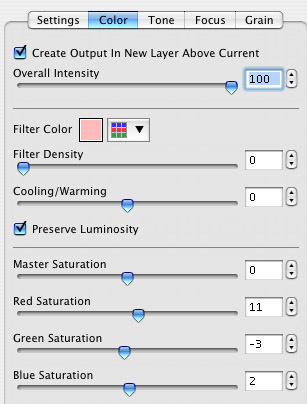 Tone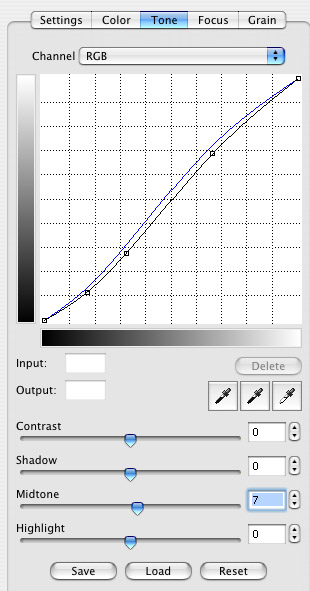 The curve can be manipulated directly or via the 4 sliders below. We like the sliders a lot.
Focus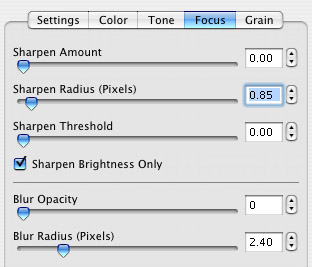 We did not really check out these controls but some built in film types (e.g. infra red) make use of the blur.
Grain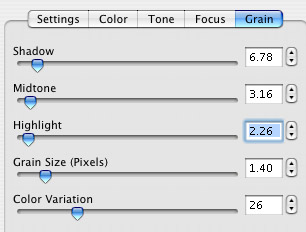 Grain is often nice to avoid the "digital" look (we have an article in preparation on this to be published the next few months). Alien Skin claims that this grain is very different from the one used in Photoshop. We did not check into this either but liked what we see.
You can create your own recipes and save them for later use: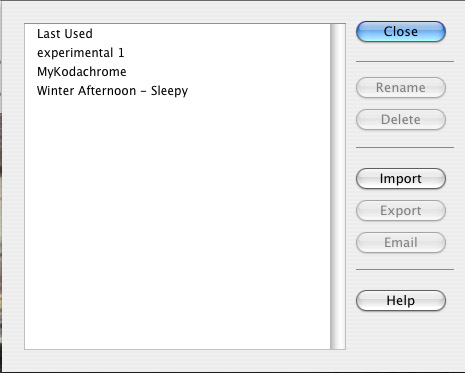 Manage presets
You can even export the settings and send to other people. This way Alien Skin tries to create an exchange of new film recipes.
Can't this all be done in Photoshop? Probably yes, but also not that easily.
Other features
Possible full screen use of the plugin window
Multiple undo
Saved settings
Can create the filter effect in a new layer and also allows to select the initial opacity
Fast change to 100% magnification view
Before/after split views (like in our Variations Plugin)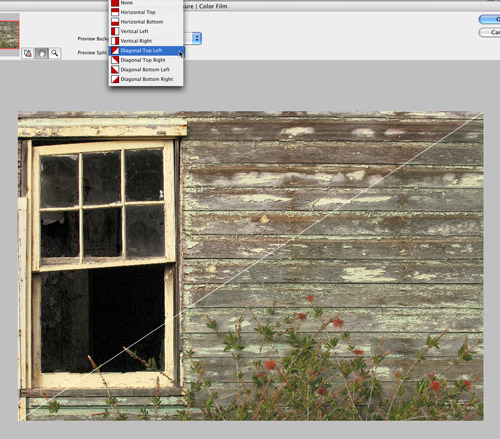 Simulating B&W film
There are quite a few films that can be simulated: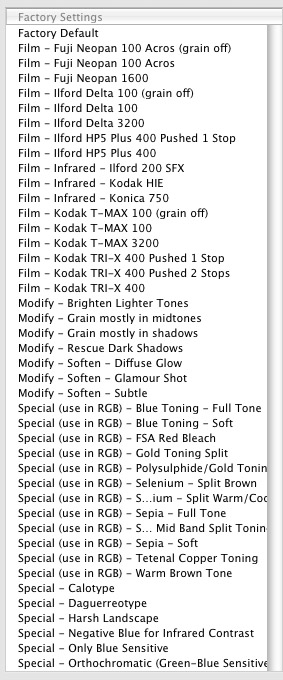 There are many plugins that simulate B&W films. But most do not simulate also the grain. Here is a quick sample simulation (Tri X):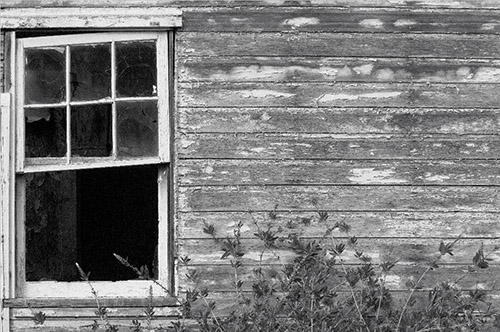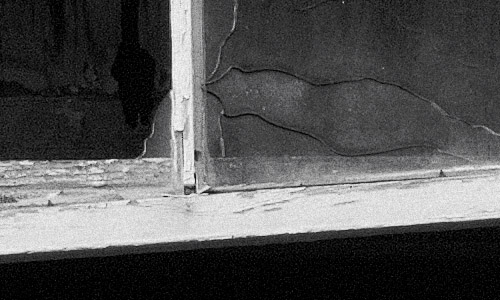 100% magnification
Exposure provides full control over the B&W conversion by providing a channel mixer interface. On top you can also add toning to certain tonality ranges: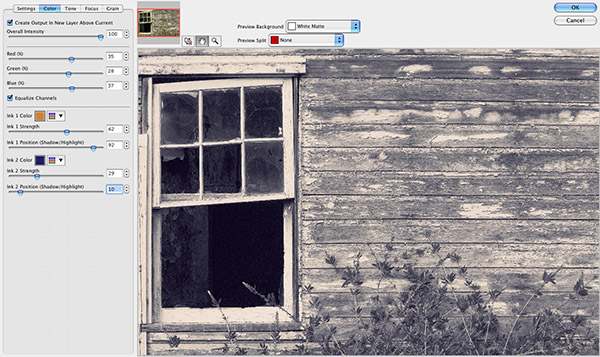 What do we miss?
No fast way to get a fit into window view (you can zoom in and out though)
We would like to be able to save settings subsets
Conclusion
This is a well implemented and fun to use high quality plugin that allows very creative explorations. For pricing consult the Alien Skin Website.
Highly Recommended (in terms of features and implementation, price is your personal decision)
For more info and a free demo check out the Alien Skin Exposure product page.