Shortly after attending the 3rd Annual Photography and Fine Art Printing Summit with Uwe Steinmueller and Alain Briot in November 2005, I purchased an Epson 4800 printer. I had been lusting after the 4800 (and 4000 before it) for some time, but I kept delaying a purchase because I did not feel that my post-processing and printing skills were good enough to make the prints I saw in my imagination. The Summit provided me with the skills and confidence I was lacking, and now the 4800 has an honored space in my office/darkroom.
It did not take me long to discover that making larger prints has its own set of challenges. For example, I was suddenly upsizing my photos to double the size of their original dimensions (e.g. from 8x10 to 16x20), which actually is quadrupling the number of pixels. When you create that many new pixels, some undesirable changes can show up in the file.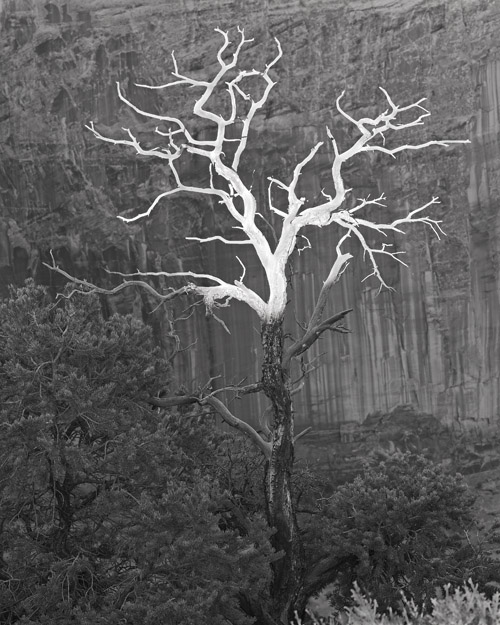 The photo above was taken at Canyon de Chelly in Arizona with a Canon 1Ds. Before I owned the 4800, I had made numerous prints of this photo. Although the 1Ds can exhibit noise in shadow areas (even at ISO 100), I was not seeing noise in my prints. The photo looked great when I upsized by 50%.
After some cropping, this file was originally a bit over 9 megapixels. I upsized the file by 100% (double the original height and width), so the resulting file was around 36 megapixels. When examining the upsized file at 100% on my monitor, I noticed a lot of artifacts had appeared, particularly in the canyon wall in the background. Below is a 100% crop of the upsized file.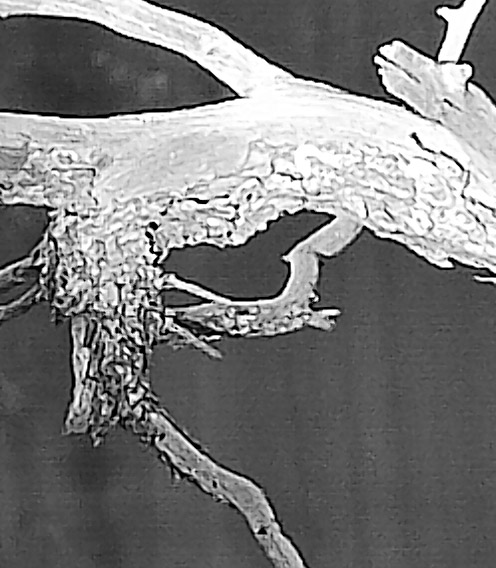 My experience had been that many things you see at 100% on your monitor are not an issue in the actual print. So, I printed the photo with high hopes. In this case, past was not prelude, and I was disappointed with the print. The artifacts in the canyon wall were in fact visible -- they looked like noise patterns. In addition, the overall photo did not look right any more. It seemed artificial and plastic. In other words, too digital.
I tried different combinations and methods of upsizing and sharpening, but the results were basically the same. A day or so later, I was looking through my notes from the Summit, and I came across a comment that Uwe made about adding analog noise to photos to mask the digital noise. I had never tried this before, but this particular photo seemed like the perfect candidate to try an experiment.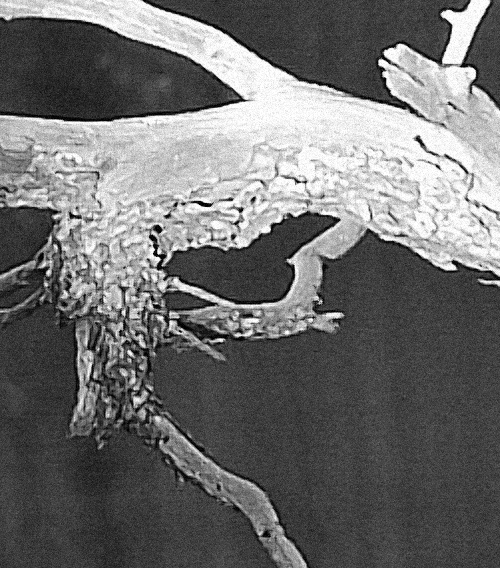 Above is the same 100% crop, but with some Gaussian noise added to the photo. In Photoshop, I simply went to Filter > Noise > Add Noise, selected Gaussian distribution, and set the amount at 5%. Although this jpeg crop may not look so good on your screen, the resulting print from my tiff file was a major improvement. The added Gaussian noise did indeed mask the digital noise patterns. It also eliminated the plastic look of the prior print, without sacrificing fine details.
I now have a print that I am proud to display on my wall.
---
Tips on how to create simple Noise/Grain (based on reader's feedback)
Method #1 (Quick grain)
1. Add new layer.
2. Select Overlay mode and fill with 50%grey (all this done from the " add new layer" menu box.
3. Add 3% (or to taste) Gaussian / Monochromatic noise
4. Gaussian Blur .2 to .4%.
We will publish soon an article that creates a bit more sophisticated noise/grain.
Method #2 (use real grain as basis)
---
Note by the editor (Uwe Steinmueller)
It is kind of the same that is done in audio to add dither (audio noise) to recordings to improve actually sound quality (at least to our ears).
---

This is one of the many techniques we will teach during the 2006 Summit. We will also work with you 1 on 1 and help you with your own images and with how to use this technique, and many others, in your own work. Click here to read a detailed description of the 2006 Digital Fine Art Summit. Joseph Holmes will join the Summit 2006 as a guest instructor means you can ask this world class printing expert directly.
About the Fourth Annual Photography & Fine Art Printing Summit
The 4th Photography & Fine Art Printing Summit will take place November 10th to 13th, 2006, in Page, Arizona. Seats are limited. In addition to studying color management and color spaces, we will also do field photography in stunning locations such as Antelope Canyon, Lake Powell and Horseshoe Bend, as well as study Raw conversion, Photoshop processing, image optimization, printing. We will also conduct print reviews of your work created during the Summit. Find out all the details of this unique learning and photographing opportunity on the 2006 Summit page.