For the first time Adobe is posting a Photoshop Beta. All owners of Photoshop CS2 can use it until Photoshop CS3 ships.
Clearly the main reason is to help users on the new MacIntel machines. Apple's sales may benefit the most.
Here are the topics we want to cover:
Camera Raw 4.0
Smart Filters
Bridge CS3
Improved Curves
B&W Filter (also a new Adjustment Layer type)
New Print Dialog
Zoomify Export
Note on Mac plugins
There are quite a few more features and improvements which we don't cover this time.
Note: Don't forget that this is still a beta version of Photoshop CS3 and it maybe neither feature nor User Interface complete.
Note: Keep in mind this is a beta without any support. We have no problems to use it in our normal work though.
---
Camera Raw 4.0
There are lots of changes to Camera Raw. Adobe seems to bring many features from Lightroom's Develop module into sync with Camera Raw 4.0. This is a very good thing to happen. You will eventually have the choice to edit files (RAW and now also JPEG and TIFFs) either in Lightroom or in Camera Raw without losing settings.
Right now in this beta most changes are in the different and new 8 tabs
Basic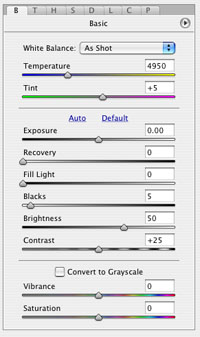 What is new:
Recovery (for highlights)
Fill Light (opening the shadows)
Vibrance (RawShooter like saturation enhancements)
Tone Curve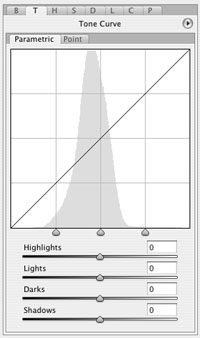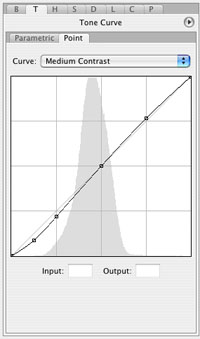 You can edit the tone curve at two different levels:
Point Curve
Parametric Curves via sliders
Note: Both curves will be cumulatively applied. Watch always both curves or leave the Point Curve at some default you know.
HSL and Grayscale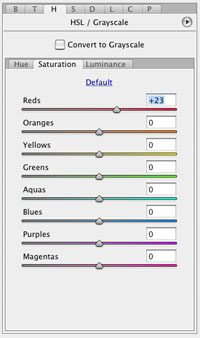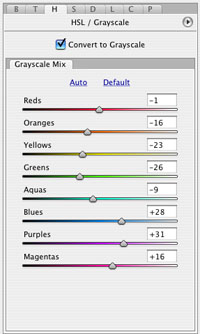 There are many sliders to fine tune Hue, Saturation and Luminance in 8 different color channels. If the "Convert to Grayscale" is checked you have an 8 channel mixer to create Grayscale images. The "auto" function tries to help to find some good settings.
Split Toning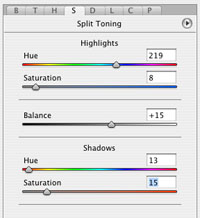 Split Toning is likely only used in the context of B&W images. Don't forget that you have to print these images in the driver's color mode (best in "Application Managed Color" setting) and not using the driver's "Advanced B&W mode" (in this case you would need to do the toning in the driver).
Detail and Noise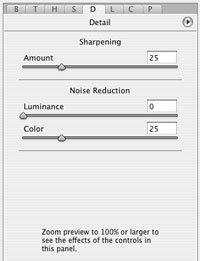 Nothing new here. Not sure they tuned the algorithms though.
Lens Corrections
No change here either.
Camera Calibration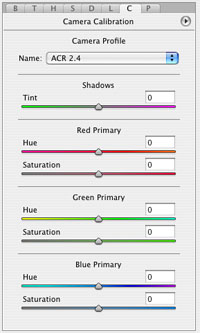 Same as before.
Presets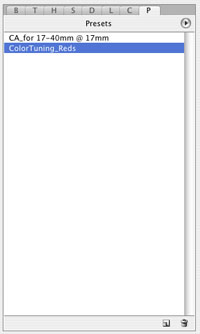 The way ACR 4.0 organizes presets is just wonderful (like in Lightroom). Presets are easily added, replaced and removed. This is a great design and feature.
---
Bridge CS3

Bridge CS3
We used Bridge for CS2 a lot in the past but never had fallen in love with it. Now we start to like Bridge CS3 quite a bit. There is likely nothing like the ultimate image Browser but Bridge CS3 is now clearly our most used image browser.
We don't cover Bridge CS3 in more detail except for some nice feature: The Loupe: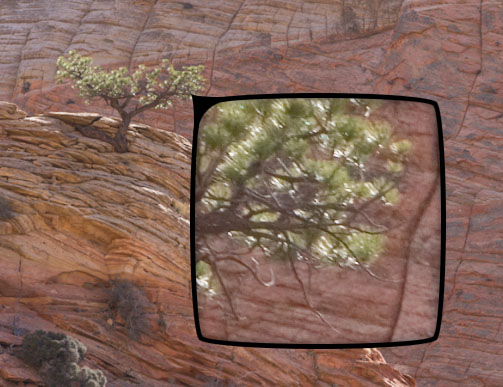 Bridge Loupe
While the shape of the loup looks a bit over designed :-) it is a nice tool to have.
---
Smart Filters
For a long time many users wanted to have non-destructive Photoshop filters (like the adjustment layers). Photoshop CS3 now introduces so called Smart Filters. Theses are re-editable filters that work on Smart Objects (SO).
Let's assume you open a RAW file in ACR 4.0 as a Smart Object: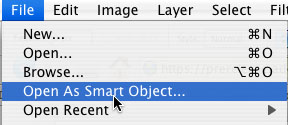 Open as Smart Object menu option
you will get a single layer with a smart object and can now apply normal filters as "Smart Filters" to this SO: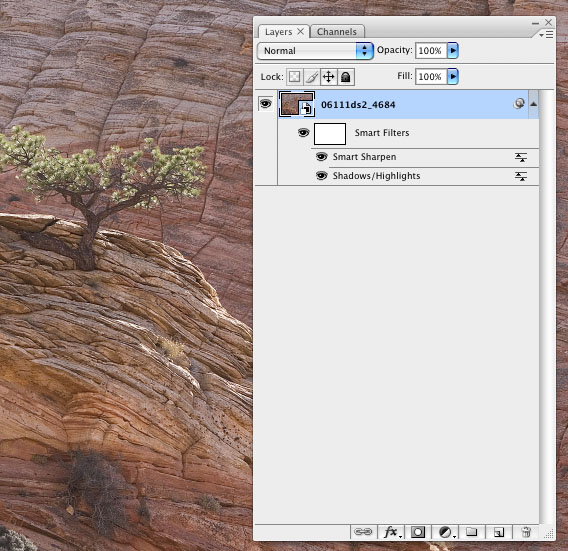 Smart Filters for Smart Objects
In principle all filters can act as Smart Filters and nearly all Photoshop Filters do so. But for 3rd party filters it is required to use the new Photoshop CS3 SDK and follow certain conventions. I guess we will see plugins soon that implement this required interface.
Aside from the normal filters also the following tools can be used as smart filters:
Shadow/Highlight (very important to be able to re-edit the Shadow/Highlight settings)
Variation (unfortunately right now only in 8-bit)
---
New Print Dialog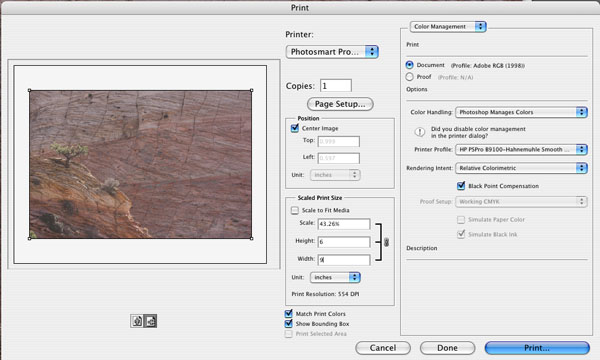 New Printing Dialog
The printing dialog is a bit improved but is still missing presets.
---
BW Tool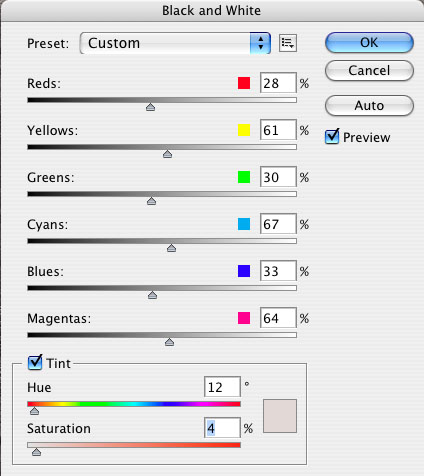 BW Tool
The new B&W tool can be used as an adjustment layer too. Not sure why we have different sliders from ACR and no support for split toning.
The new BW tool has some nice additional control: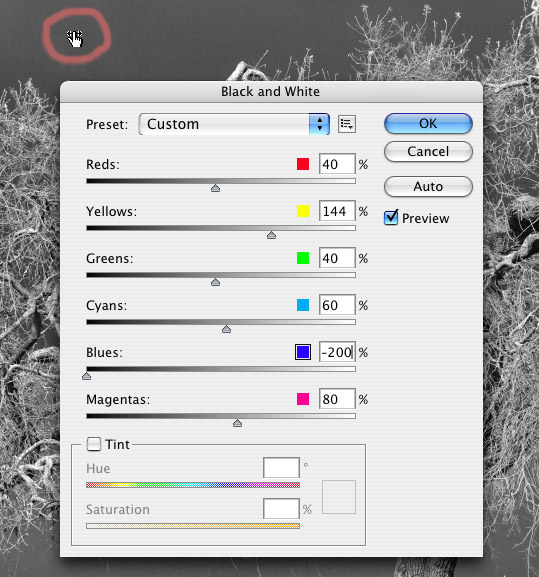 Tuning for selective colors via mouse
Click with the mouse in some area, hold the left button down. Moving the mouse to the left will darken the gray tonality for this color (moves one of the sliders that is closest to the color in the layer below) while moving the mouse to the right will brighten the gray tonality for this color. This is really an excellent control.
Note: While working with the B&W tool watch carefully the histogram.
---
Zoomify Export
Zoomify is a cool new tool. You can post images that can get resized and navigated on the fly. We used as a sample a 2000 pixel wide image and stayed at lower quality levels for this demo. Play with the demo and experience Zoomify yourself.
---
More Changes and Features
Here are some more features and changes that we won't cover in more detail.
There are quite a few changes to the palettes. We are missing the old top palette dock.
Vanishing Point 2.0
Quick Selection tool
Auto Align Layers (can be useful for manual stitching)
Auto Blend Layers
---
Note on Plugins for the Mac
Nearly all Photoshop plugins will not work on Intel Macs in Photoshop CS3 running native. We feel this is a major issue for many Photoshop users with larger plugin collections. The only solution is to run Photoshop CS3 under Rosetta. This works fine but also slows Photoshop down. Again the beta is a great help for all plugin developers to get their filters ported to an Universal version.
---
Where can you get the Photoshop CS3 Beta?
The beta now live:
http://labs.adobe.com/technologies/photoshopcs3/
---
Oher Links