Evaluating the quality of new printers, papers and profiles can be challenging. For quite some time many people use the LAB test image provided by Bill Atkinson (can be found here):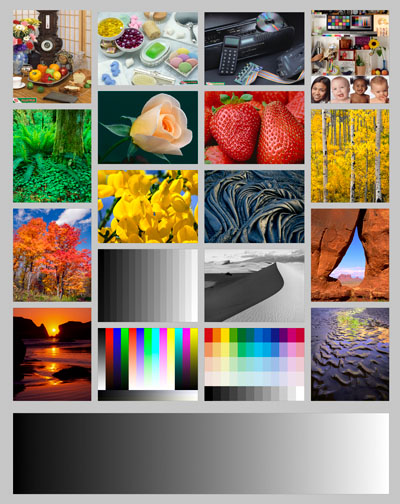 During our recent round of testing papers and profiles we found this test image very helpful to reveal minor shortcomings in the prints (actually most often related to not so optimal profiles).
During this evaluation we found some of the elements in the image more helpful than others. This got Jack Flesher and myself thinking to create a slightly modified test image which would address the following goals:
Can be printed as is on Letter sized paper
ProPhoto RGB and not LAB mode (some new printer plugins cannot print from LAB)
16 bit
Some new elements (printer black/highlight test ramp by Uwe Steinmueller)
New B&W test image by Jack Flesher
Large black patch to easily measure the dmax
Pure white close to the border to check the influence of Gloss Enhancers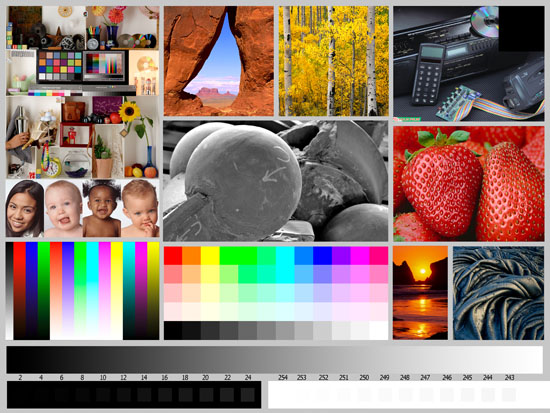 Printer Evaluation Image
Note: Of course we asked Bill Atkinson whether we can reuse his test image elements. Like Bill our only intention here is to help making better prints.
Our contributing editor Jack Flesher explains his use of this test image.
Download
The 40MB TIFF file can be downloaded from here.
We also provided this test image with a version number (V002 right now, but we had a few more initial iterations too) as we expect this test image to evolve over time.
---
We would appreciate all comments of our readers and will post some selected here.
Reader's Comments