There are many ways that cameras can be moved:
Pan (the most common movement)
Tilt
Pan + Tilt (quite rare actually)
Dolly tracks
Cranes
Steadycams
and likely more
Once you want to go beyond the basic pan & tilt moves it gets quite complicated in terms of equipment setup and assistance you need.
This means for our style of simple documentary filming without a crew most of the advanced movement techniques are out of question. Here the Glidetrack is a very interesting solution. We used a 50cm HD version for light cameras.
The product is very well crafted and the glider works very smooth once you adjust it. If you buy the Glidetrack you get a link to a useful video that shows how to perform the adjustment (actually very easy).
This video shows the Glidetrack in action and also the resulting clips. Thanks to Romero for helping us with the demonstration. Romero owns and operates a vintage car shop. We like to use his car for tests as it it so much more fun than shooting brick walls. Over the last year we have photographed quite a few of his cars and also created some videos in his shop.
We have a special very modular setup.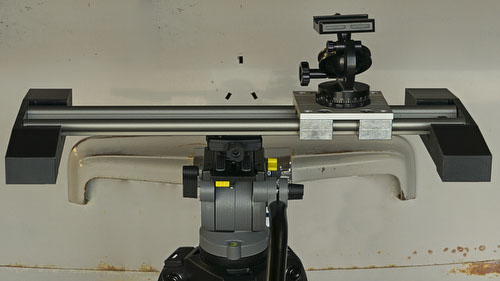 Base: Miller DS-10 tripod and head as shown here. The top is an Arca Swiss style clamp (shown in the Miller DS-10 review). We use the leveling base to level the tripod.
Underneath the Glidetrack is an Arca Swiss style plate
Top: here an Arcratech Ball head with Arca Swiss style clamp. We use it to level the camera.
We hope the demo video shows that a 50cm glider can make a difference and has a nice effect.
Conclusion
When we tested (see above video) the Glidetrack we did not really know what to expect. The smooth glides made us really excited. We plan to carry the Glidetrack now with us whenever we take the Miller DS-10 tripod (this means when we do not travel extremely light).
The Glidetrack is a well made and useful tool at a very acceptable price. This is a tool that really makes a difference.
For more info visit the Glidetrack website.