Today's notebook computers like the Mac Book Pro are quite powerful machines and it is tempting to use them as a desktop computer replacement for imaging.
This is what we did for one of our machines. There are mainly these issues:
The notebook screen is too small for good imaging work (leave the glossy surface of our 15" Mac Book Pro alone :-) )
I don't like to work with the notebook keyboard and track pad
The disk inside has only 320GB space
The Mac Book Pro only features two USB 2.0 and one Firewire 800 ports
Screen
We always work with a dual monitor setup (mainly for Photoshop) where the second monitor only holds all the Photoshop palettes. Simply attach a monitor (e.g. the Apple Cinema 23") to your notebook and use the notebook screen as your second monitor. Of course the extra monitor needs to be profiled and calibrated (we mainly use Eye One Display 2 or the Color Munki).
Keyboard
Attach an external keyboard and mouse via USB.
Disk
Attach an external Firewire 800 drive (1 TB is a good start) to your notebook. Watch that this drive has also a second Firewire 800 output to add further backup disks (learn more about backup here). The disk we are talking about is not thought to a be backup disk. This disk should get you the needed space for your work and of course you need other disks for backup.
USB Ports
Add a powered USB 2.0 hub to get extra ports.
NewerTech miniStack V3
For an extra disk and more ports we find the NewerTech miniStack V3 an elegant solution. The miniStack is designed to be stacked with a Mac Mini. This defined the form factor. We find this solution work very well with the Mac Book Pro too.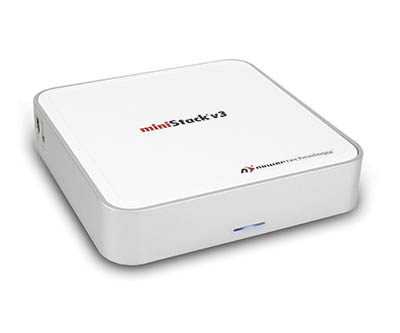 miniStack V3 Front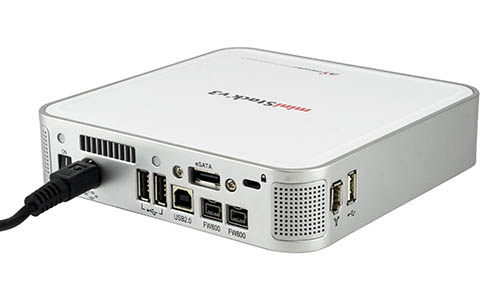 Back
The version we are testing holds a 1TB drive. Here are the main features:
Disks are cooled by a fan. The fan in not dead silent but also not really loud. Cooling is important because heat is the #1 enemy of disks.
The miniStack V3 can be attached via e-SATA. This would be the fastest connection but you also need an extra e-SATA card for your Mac Book Pro and the disk is not hot swappable.
MiniStack V3 features one Firewire 800 input, one Firewire 800 and one Firewire 400 output. Important to know that attaching any Firewire 400 device will slow the whole bus down to Firewire 400 (this is by the way normal behavior)
MiniStack V3 features one USB 2.0 input and 3 USB 2.0 outputs. This allows to connect 4 USB devices to your Mac Book Pro. One of these ports is used by the keyboard. The mouse can be attached to most keyboards.
If you would use a separate external disk and USB hub you need two power supplies. The miniStack V3 only uses one power supply.
Summary
We find the miniStack V3 an excellent helper solution to upgrade your notebook machine into a very usable desktop computer. Remember that the notebook is still portable (just unplug the cables).