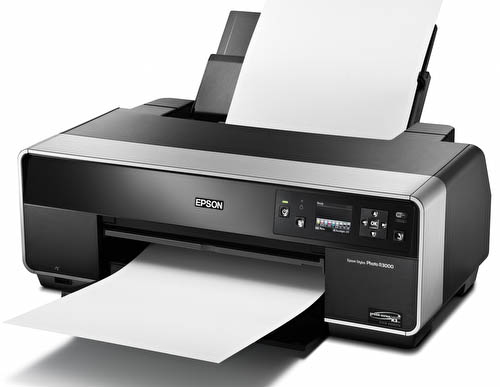 We use Epson pigment based fine art printers for over nine years (our first was the P2000) and had them from 13" to 24" wide. We think the last couple of iterations by Epson were more incremental because the print quality of their inkjet printers has been excellent for some generations now.
For fine art photographers there are actually three main segments of printers: 13", 17", 24" and wider. Most of the time we are just happy to use 13" wide printers. Especially if you don't have the space for a larger printer (although the Epson 3880 is quite compact for a 17" printer). Smaller prints are really nice unless you plan to cover huge walls. But up until now the 17" Pro printers were more robust and more fun to use on a daily basis. The Epson Stylus Photo R2880 could print at about the same level if it comes to pure print quality. Unfortunately there were some issues we did not like that much:
Paper feeding was not very reliable and for fine art papers very quirky. Feeding is often the week point with many printers.
Switching Photo Black and Matte Black inks was not really user friendly
The capacity of the ink cartridges was very low
The heads were not featuring the latest Epson head technology (although the difference is likely not that easy to see)
It seems that the new R3000 printer is addressing some if not all of these issues. We feature the R3000 as we experienced it so far.
Installation
Assembling the R3000 was a breeze and done in less than 10 minutes (without the time for priming). We then installed the R3000 on our Mac Pro (Mac OS X Lion) using the USB port. We got used to a simple software installations with all the previous Epson printers and also this time it just worked. Sometimes later the Mac OS requested to install an update. This also seemed to work just fine.
Networking
Later we installed the WiFi network and it was technically working fine. Unfortunately the speed of printing came down to a crawl and we gave up the idea to print using WiFi. The R3000 will now be used only via USB. Still the WiFi option is nice to have if you plan to share the R3000 in a workgroup.
Printing our Printer Evaluation Image
When we get a new printer we first use some Luster Paper (Epson or 3rd party equivalent papers). One of the early prints will be of our Printer Evaluation Image (for each paper we use).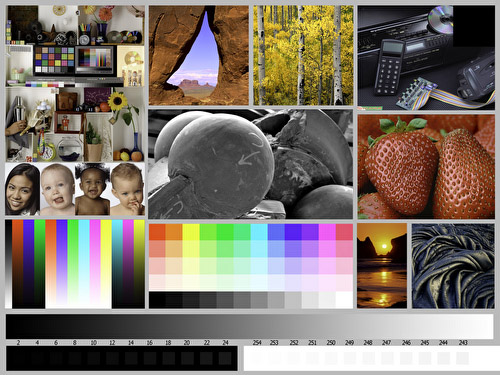 Printer Evaluation Image
We wrote about this image here in more detail. The advantage of this image is that we have a reference for checking out the printer capabilities. Actually we learn about the printer, paper and profile combination. If all the elements look good then you likely have a good printer, paper and profile combination. E.g. if the strawberries don't look tasty then something is off. We would say the R3000 passed this test on Epson Luster paper with the stock printer profiles very well. In recent years the Epson stock profiles (of course only for Epson papers) have been always very good. The Luster profile for the R3000 is no exception.
Printing from Lightroom 3 and Photoshop CS5
We print both from Photoshop CS5 or Lightroom 3. We print using the color management from Lightroom or Photoshop and use "Relative Colorimetric" as Rendering Intent.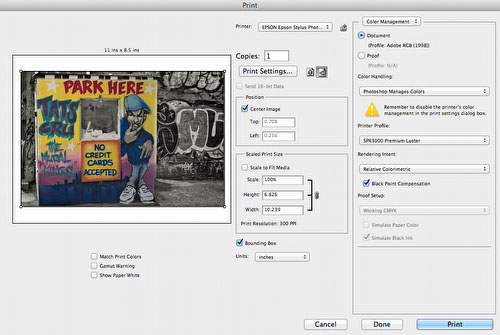 Print dialog in CS5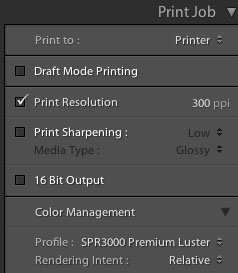 Print settings in Lightroom 3
Notes
Did not yet try the 16 bit Output path yet
We perform all sharpening in Photoshop before (with our own Detail Sharpening scripts). If the print looks slightly softer than on screen we welcome this softer representation as a slightly more analog look.
Printing from Lightroom is overall more convenient and works as expected with the R3000.
In the R3000 printer driver we use the "SuperFine - 1440dpi" setting as in our experience this creates excellent image quality with most media. We also have "High Speed" enabled.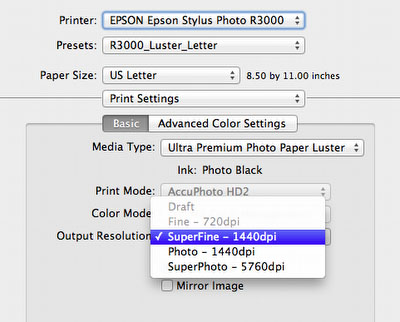 Epson recommends "SuperPhoto" for canvas printing though.
Loading Paper and CDs
a) Sheet Feeder: So far it works just fine with multiple sheets in the tray
b) Fine Art Paper front loading: This process is very much improved over previous 13" Epson models and seems to work well in our tests. Still a bit on the tedious side though but much better than before.
c) Roll Paper: We hardly ever use roll paper because we don't like the curl we get. But having the option is nice and for some panorama prints even essential.
d) Printing to CDs: We hardly ever used this feature in the past

Supported Papers
During our tests we used some Epson but also 3rd party papers.
1. Epson Ultra Premium Photo Paper Luster (prints with Photo Black)
Good universal printing paper with a satin like surface. We would like the surface to be a bit more matte.
2. Epson Velvet Fine Art Paper (prints with Matte Black)
This is a nice warm tone fine art paper. Best you never compare glossy and matte papers directly. The glossy paper always draws attention because of the higher contrast. The strength of the matte papers is their fine surface and smoothness. If you look at these prints on their own they can look great. For this paper we needed to use the Fine Art Paper front loading.
3. Harman Baryta Glossy (distributed by Hahnemuehle, prints with Photo Black)
This is a paper with a very nice surface (handle with care before it is dry). To avoid that the heads may scratch the surface we changed the Platen Gap in the driver from "normal" to "wide" (from our experience with the 3880).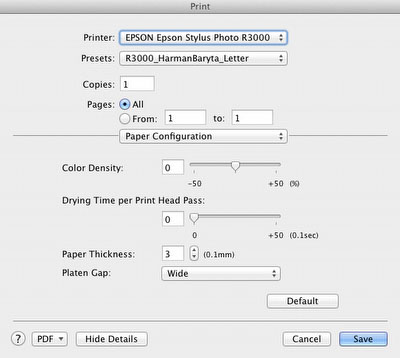 We used the sheet feeder but with one sheet at a time and the manufacturers color profiles. Prints on this paper often look slightly sharper due to the extra fine coating. This is one more reason not to rely on some sort of automatic output sharpening.
4. Hahnemuehle Photo Rag Baryta (prints with Photo Black)
Again we used a wide Platen Gap, sheet feeder with one sheet at a time and manufacturers color profiles. Hahnemuehle Photo Rag Baryta is clearly a premium paper featuring a nice textured surface. The results look like printed on a matte paper but showing the contrast of glossy papers.
5. Moab Lasal Exhibition Luster 300 (prints with Photo Black)
This paper is considered to be an alternative to the Epson Luster paper. We like the more matte surface, but it also seems to use stronger brighteners. Again we used the manufacturers color profiles.
All prints were very good. The choice of papers comes down to your personal preferences. The Epson printers were always well to use with 3rd party papers and the R3000 is no exception. Today also the main paper manufacturers provide good profiles for their papers; we trust them most of the time.

B&W and Color
With the R3000 you can print both excellent color and B&W photos. We print B&W from RGB color images. This way we can tone the image in Photoshop or Lightroom and also create partially colorized prints. For our personally taste B&W printed in color mode looks just excellent and very neutral (except our toning of course).
There is a special B&W only mode and B&W gourmets will likely explore it. The downside is that the workflow is not really color managed anymore (means the tonality on screen and print may differ).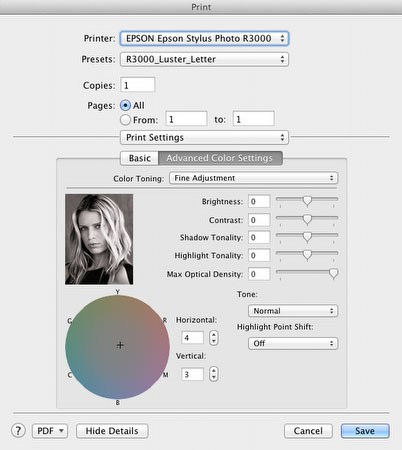 Advanced B&W Settings

Inks
Epson claims that the new ink cartridges now have about 2.3x the amount of ink compared to the previous models. This may save a bit and is also more convenient than constant replacing cartridges.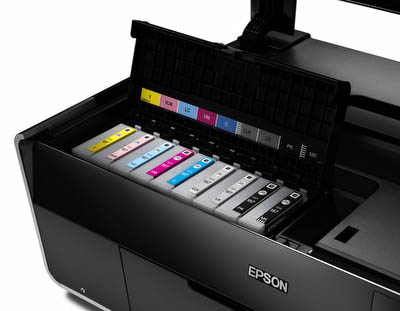 The R3000 has Photo and Matte Black installed at the same time (total 9 inks). But the black inks still have to be switched because the head only supports one of the blacks at the same time (9 inks installed and only 8 inks supported by the head) if you switch between glossy and matte papers. This operation flushes some amount of ink. It is advised to switch ink not too often to save some money. The switching can be controlled from the printer and takes about a minute.

Print Quality
We printed a selection of different photos and don't think that we had ever seen better results before.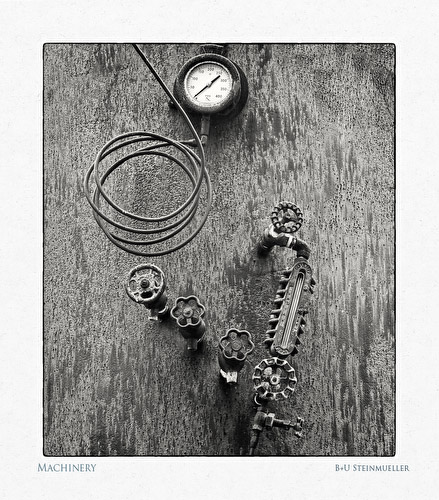 This is a slightly warm toned B&W photo that we printed in RGB mode. As mentioned before the R3000 is capable to print very rich B&W images even in RGB color mode.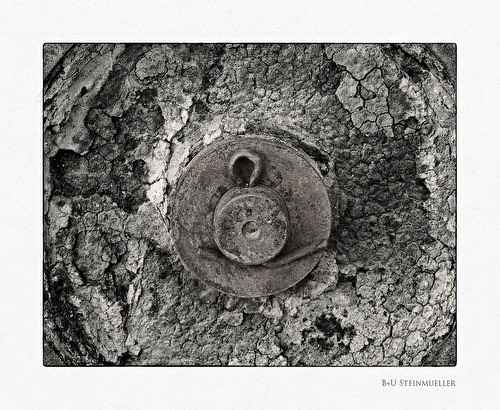 Here we tested a subtle and partially colorized photo. The result showed why prints look so nice.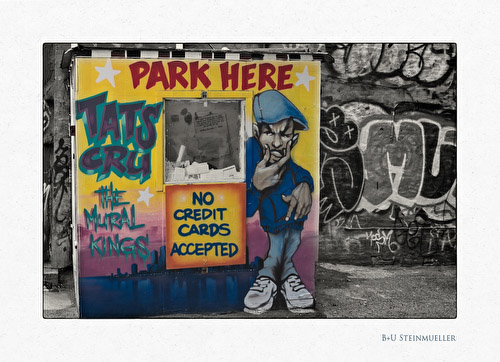 This time the photo is pure B&W with some sections revealing the color version. Again the prints on different papers were not to fault.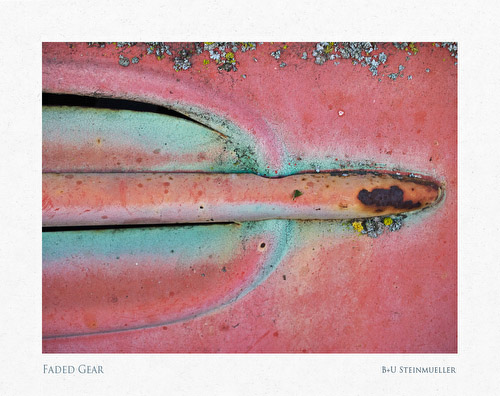 We selected this photo to print a picture with strong saturation (at least what we call strong saturation). Again we liked the print a lot.
None of the prints showed even the slightest hints of banding.
As you can see we are very happy with the results and did not find any reason to complain. For some this may sound too positive but this is how we feel.

Clogging
As you may know some Epson printers had issues with clogging in the past. This seemed to be solved in the recent generations (e.g. Epson 3880) of printers. Some of this maybe due to proactive cleaning. We had the R3000 only for some days now so we cannot judge how this printer will behave in the long run. We experienced some maintenance cycles and don't know whether this may use some ink or not.

Printer hardware quality and handling
After such a short period we cannot say anything about the printer long-term. We have some confidence that it is well built and last. Overall the handling is fine and especially feeding is improved. The new color LCD is better to use than with previous printers.
The color LCD displays the ink levels all the time:

Note: After printing there was higher pitched sound that was off 2-3 minutes later. This could be fixed by installing a firmware update to version to AS27B4.
"Epson recommends turning the printer off when you're not using it – that caps the print head in the home position, preventing it from drying out."
Conclusion
We find that the R3000 is a major update for 13" printers and addresses our main complaints about the R2880. Printing with the R3000 is a pleasure.
Unless you want to print larger or have a high print volume the R3000 is a printer we can very much recommend.