Bryce Canyon National Park - Utah
Varina and Jay Patel
Best known for its spectacular red and white hoodoos, Bryce Canyon National Park offers a strange and remarkable landscape. Because the hoodoos in the canyon are located to the east of a high ridge, the park is beautifully lit at sunrise. At sunset, the hoodoos and most of the canyon are completely in shade. Morning photographs will be most impressive, and the park can be photographed at any time of year.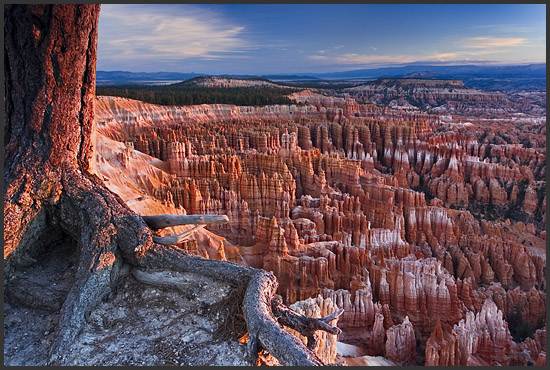 Shooting Bryce in winter is a fantastic experience. Although the park has its own hotel, restaurant, gift shop, and gas station – we prefer to stay in Kanab. This small town is centrally located a short distance from several fantastic shooting locations, and from there we can choose the best spot based on season, time of day, and changing weather conditions.
We rise very early in preparation for the two hour drive to Bryce. It is important to check sunrise times and weather conditions in advance, and to be prepared to handle deteriorating driving conditions as you gain altitude. More than once, we've found ourselves headed straight into a storm. We are accustomed to Cleveland winters, so we are used to driving in snow, but visitors who aren't used to icy roadways should be aware that conditions like these can be extremely hazardous. In remote areas, help may not be readily available and cell phones won't work, so make sure you are prepared for emergencies. It's a good idea to use a 4WD vehicle for trips like these.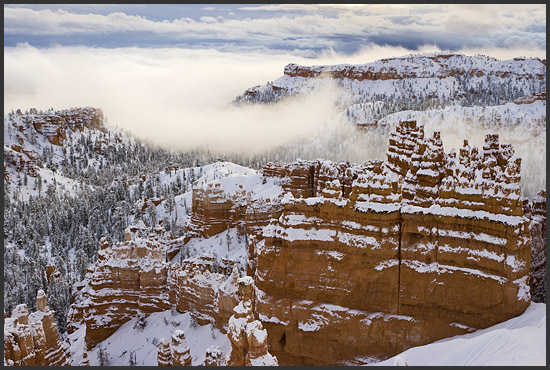 On one eventful trip, we arrived at the park well before sunrise, but found that the roads had not yet been plowed. A small 2WD vehicle blocked the roadway just a few yards beyond the park entrance. The driver - a Las Vegas native - had no experience driving in deep snow. We helped push his car to the side of the road, and continued on our way – making fresh tracks in 8 inches of unplowed snow. The skies that day were absolutely beautiful. Soft clouds and heavy mist in the valley echoed the whiteness of the snow, and bright orange sandstone provided a stunning contrast.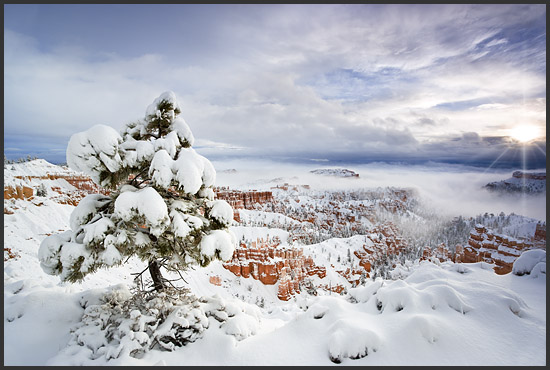 Freezing temperatures notwithstanding, heavy snowfall in Bryce can make a winter photographic trip more than worthwhile – but appropriate gear is essential. In order to keep our core body temperature normal, we wear several layers of fleece and a weatherproof shell. Heavy fleece pants keep our legs warm, and a second, waterproof layer keeps us dry even when kneeling in the snow. Heavy wool socks and watertight hiking boots keep our toes warm and dry – and heavy gloves keep our fingers from freezing. We usually wear a second pair of thin gloves inside the outer layer, and we carry heat packs in our pockets to warm our hands when necessary – and to help keep our cameras from freezing up. A warm hat that covers our ears and blocks the wind is absolutely necessary as well. It usually takes a few minutes of fast walking to feel warm, but once the shooting starts we scarcely feel the cold.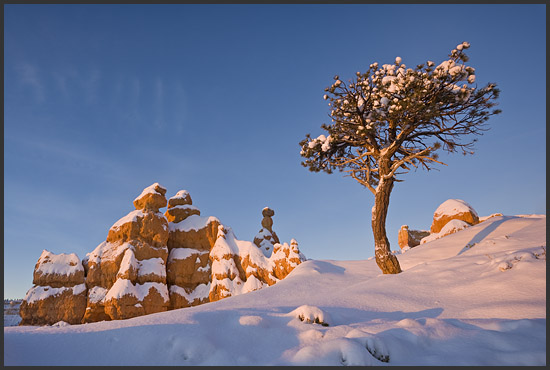 Cold weather and hazardous roads are not the only dangers in Bryce Canyon. Trails into the canyon are steep and treacherous in deep snow, so be careful when using them. The Queens Garden and Navajo Loop Trails are often closed due to snow and icy conditions, and roads into the park South of Inspiration Point are blocked in winter. However, the rim trail provides an impressive variety of shooting locations, and should not be ignored.
Shots from the rim trail can be taken from Sunset Point, Sunrise Point, Bryce Point, and Inspiration Point. From Bryce Point you will be looking towards the Northwest and away from the morning sun. From this spectacular location, side lighting enhances the fantastic texture of the eroding sandstone. Sunset and Sunrise Points offer numerous opportunities to photograph looking east, north or south. Check with park rangers to find out which trails are accessible when you visit, and when in doubt, let the cloud patterns determine your shooting position.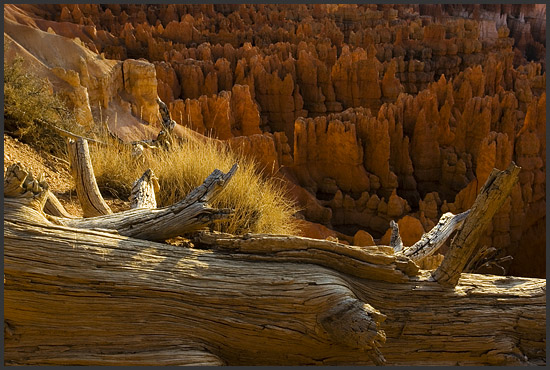 In summer, the park is crowded with visitors, but most trails are open to the public. A short walk along the Queens Garden Trail offers beautiful views without hiking into the amphitheater. It also brings visitors close to several hoodoos. The Navajo Loop Trail descends into the canyon and provides the opportunity to capture the texture of the canyon walls. Be careful when hiking into the canyon whatever the season - even a very short hike in Bryce is difficult as the trails are steep, and the average altitude at the rim is around 8000 feet.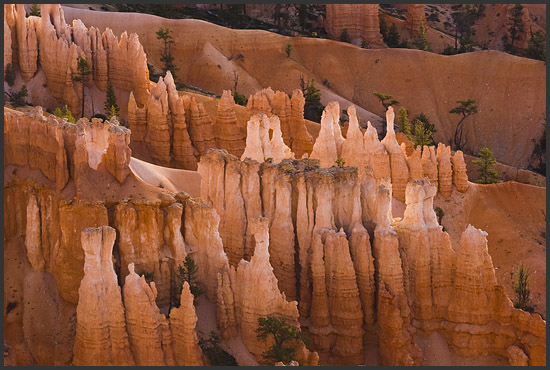 Shooting Bryce any time of year is a fantastic opportunity. In summer, you'll avoid extreme weather, bad roads, and biting cold - but you'll be competing with scores of tourists and other photographers for that unique photograph. If you want a little more adventure – and much smaller crowds – visit Bryce in the winter. Spring and Autumn are good choices for those who aren't sure when to visit. Any time of year, keep an eye on weather conditions, and be prepared for any emergency.
---
This years 6th Photography & Fine Art Printing Summit will be in Bryce Canyon