Glacier National Park: Part 1
Varina Patel
Glacier National Park offers some of the most beautiful landscapes in the US. I spent several years of my childhood living in the Rocky Mountains, and returning to them feels like going home. This trip was a return to my childhood - evergreen forests, crystal clear lakes, cool mornings, and sudden storms…
and then there is the light.
Afternoon thunderstorms are very much a part of Rocky Mountain weather. Check the skies in the morning, and you're likely to feel pretty good about your prospects for a nice, sunny day… but bring a rain jacket anyway, because chances are, the weather is going to get interesting. Thunderstorms roll in as the day progresses… and where there are thunderstorms, there are thunderheads… glorious, billowing clouds that make a photographer run for the camera.
We spent our first afternoon at Glacier scouting locations. Shooting at midday is generally taboo for serious photographers, and we use this time to look for locations that might make good shots under better lighting conditions. However, there are exceptions to every rule – and in the Rocky Mountains, you are likely to run into some pretty darn spectacular exceptions just before or after a thunderstorm. We set up our cameras near St. Mary Lake as sunbeams streamed through the clouds overhead and the soft storm light danced on the textured rocks all around us. The images I captured can only offer a glimpse of the astonishing beauty of the light through a storm.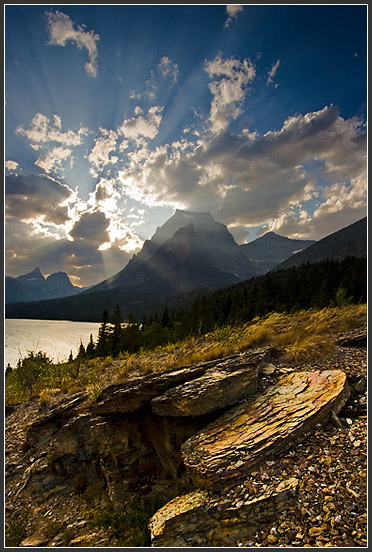 As the sun dropped towards the horizon, we began to watch the sky in search of clues to where we'd find the best evening shots. Tonight, the decision was easy. There was no doubt that the best spot was along the main road in the park – the aptly named "Going to the Sun Road." Gaps in the cloud cover allowed sunlight to stream through in bright beams. The misty remains of the recent storm softened and reflected the light, creating a light show the likes of which I'd never seen.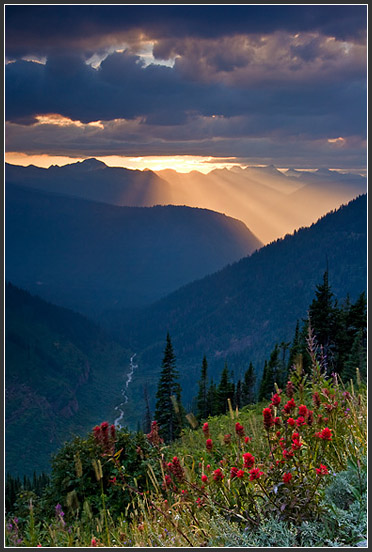 And just when we thought it couldn't get any better, it did. The sky opened further, and deep golden sunlight flooded the valley. There is nothing more satisfying to a landscape photographer than choosing the right spot under a stunning sky.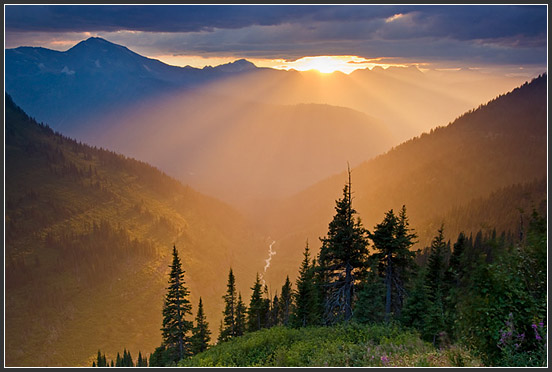 The following morning, we rose early. We chose to set up our equipment near Sun Point on St. Mary Lake in hopes of capturing the early morning light on the mountains. The clouds created a beautiful backdrop and we hoped they would provide us with some nice colors as the sun rose behind us. Once again, we were not disappointed. Going to the Sun Mountain blushed red in the early morning light, and the clouds followed suit. We ate breakfast that morning with smiles on our faces. So far, we had been lucky twice… and it wouldn't be the last time during our stay in Montana.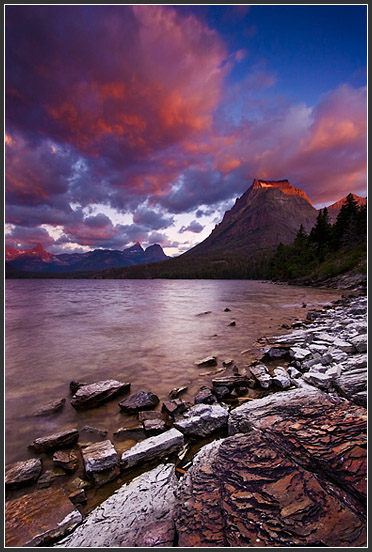 To be continued…
---
This years 6th Photography & Fine Art Printing Summit