Tonality Tuning Kit V2.0 (PC & Mac)

Advanced Masking solution by Digital Outback Photo
This is of course a biased article about our own product. We hope you may like it.
Note: Good news for current owners of version 1. Download the demo from here and you have the new version (no extra cost or download). You only need the new script, new action and manual (actually this page). Remember that Photoshop CS2 or CS3 is required.
The we featured the principles about the Tonality Tuning Kit here.
The Tonalityy Tuning Kit V2.0 is based on the same technology used in V1.x but uses a very useful new script (script written by Bernard Frangoulis).
The new script does not really ad new functionality but makes it so much easier to explore and use: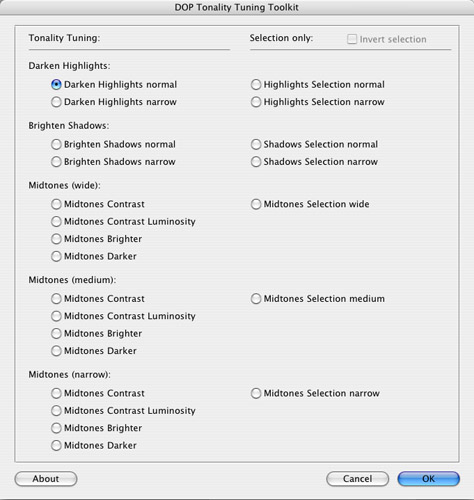 Script User Interface
There are two main areas of use:
Ready to use tonality tuning functions (left column)
Creating tonality selections/masks (right column)
Ready to use tonality tuning functions
All there functions create a new layer and you can tune the strength via the layer's opacity slider. All these functions are for fine tuning of your images.
e.g.:
Toning down aggressive highlights
Open up the deep shadows a bit
Creating tonality selections/masks
These types of masks are used very often during image processing.
Examples:
Midtone sharpening: Create a sharpening layer (e.g. EasyS) and restrict it to the midtones
Use Photoshop Brightness/Contrast adjustment layers and restrict it to the midtones to avoid blown highlights or dense shadows
Add a tonemapped layer and also restrict to the midtones
Restrict a noise removal layer to the shadows
Sharpening just the shadows because noise removal softened them.
The new script also allows to create the inverted masks. This can help if you want to:
Apply a new tool/layer to all tones but but the highlights
Avoid sharpening the shadows (because of the noise)
We use these masks all the time.
It is not that difficult to create your own masks but it is way more tedious and time consuming.
How to call the script via a keyboard shortcut?
We deliver a simple action that calls the script at Shift+F6. You can change the keyboard shortcut using the Photoshop actions palette.

Note: Because the action records the absolute location of the script it only works on the English CS3 version as shipped. You can easily re-record the action yourself:
Delete the scripts step from the action
Open a RGB image
Click on the red button in the actions palette
Run the script from File->Scripts->BFTonalityTuning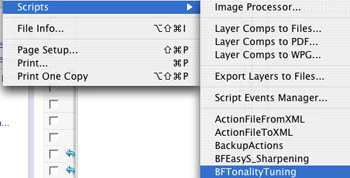 Click on "Ok"
Stop action recording (small black button left to the red recording button).
You are done
You can buy DOP Tonality Tuning Kit 2.0 here