4/8/2009 Silver Efex Pro now also as Lightroom Plugin available
This update is free for all current users. Just download the update.
---
8/11/2008 Silver Efex Pro Update 1.001 available
The new update, version 1.001, resolves some stability and other minor issues for Photoshop on both Macintosh and Windows platforms, as well as in Aperture. You can find the update here.
---
Silver Efex Pro 1.0 is a brand new B&W conversion plugin for Photoshop (best CS3) from Nik Software. As you may know Nik Color Efex 3.0 also allows B&W conversions. Silver Efex Pro tries to solve most (if not all) aspects of converting color images to B&W.
This article will take you through the rich feature set of Silver Efex Pro 1.0. Some of the features are unique and others approached in a new unique way.
Overall User Interface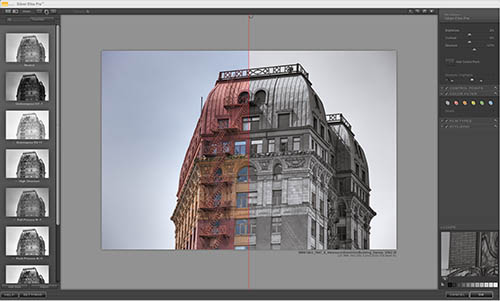 Like all top class Photoshop plugins today Silver Efex Pro (we call it now SEP) can use the full screen and so provide a large image preview.
Working as Smart Filter with CS3 Smart Objects
Because SEP allows many settings you want to use SEP as a Smart Filter in CS3 to allow iterations of image refinements (Read more about Smart Filters here).
Lets cover the features one by one.
Main settings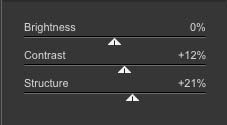 Brightness and Contrast (global contrast) are kind of obvious. The Structure setting is unique and allows to extract finer detail. Very nice feature.
Protect Shadows & Highlights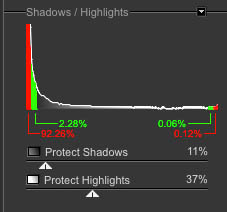 A very powerful feature because it allows you to protect the shadows and highlights from clipping.
Control Points (using Nik's U-Point technology)

If you work on B&W you need some tools to perform dodge & burn. Here Nik's U-Point technology is a very elegant solution. We used for this picture two Control Points. Our screen shots show a mask of the effected area in the picture.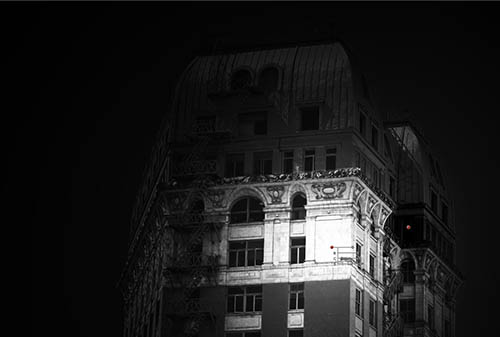 CP #1 to brighten up the front side of the building a bit.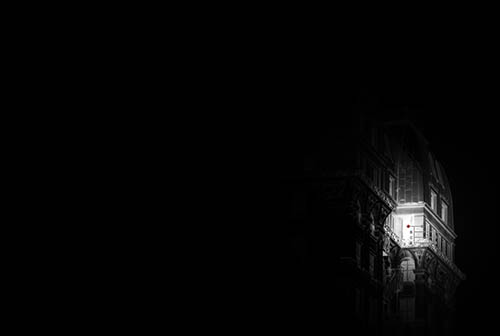 CP #2 to brighten a smaller area on the side of the building.
Control Points are clearly a unique feature and cannot be found in any other tools for B&W conversion.
Color Filter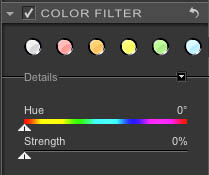 The color filter is a common tool in most B&W converters.
Film Types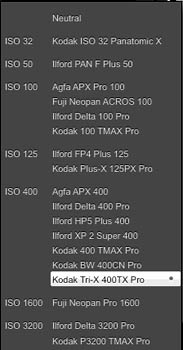 Film Types allow you to simulate many popular B&W film types. The simulation has 3 parts:
Grain
(Spectral) Sensitivity
Tone Curve

All settings can be customized.
The creation of grain seems to be also quite unique. While most B&W grain simulation overlays the image with some sort of real or simulated grain/noise SEP recreates a grain pattern based on the tonal values of the image. This means it is recreated each time you change the tonality of the image. We don't claim to be experts on B&W grain but this process seems to be very interesting and was validated by very experienced B&W photographers.
Stylizing

The three features are:
Split toning (very important to us)
Vignette (e.g. darken the corners)
Burn Edges
Loupe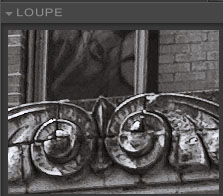 The Loupe helps to inspect finer detail while still viewing the whole image preview.
User defined Presets

You can save all settings as a new preset. Presets can also be exported and imported. This allows an exchange of presets between the community of SEP users.
What we miss
Save and load partial settings e.g.
Split tone recipes
Grain settings
Tone curves
and more
Any sort of Undo mechanism (maybe even a history feature).
Conclusion
Overall Silver Efex Pro is a very complete B&W conversion tool that also includes some unique features. Clearly a top tool of its class.
Highly recommended
You can find more info on the Nik Software product page (see also discount offer below)