DOP EasyD Plus LE

One of our most popular scripts is the DOP EasyD Plus Detail Resolver. Please read about the DOP EasyD Plus Detail Resolver here.
Important Note: If you own DOP EasyD Plus Detail Resolver you do not need this script (except you want ot use it actions and batch processing because it does not have any user interaction). Right now there is no upgrade path from the LE script to the full version.
Motivation
We use DOP EasyD Plus Detail Resolver on almost all our images. As it turns out we found some favorite settings that we use over and over again. The LE version uses these settings and they cannot be changed. For our work this means the LE version will do the desired job in most cases. That is why we created a less expensive LE (lite) version of this popular script.
Installation
The DOP EasyD Plus LE comes as a Javascript file for Photoshop CS3/CS4 (we only support CS3/CS4).
Full version is named: DOP_EasyD_Plus_LE.jsx
Demo version is named: DOP_EasyD_Plus_LE_Demo.jsx
Installing the script
The script needs to be copied to the Photoshop CS3/CS4 folder and here to Presets/Scripts (or to the equivalent locations for other languages). After restarting CS3/CS4 you should find the script under File->Scripts. If you do not find it there you did not put the script into the proper location.
Note: The free demo version can only handle images up to 2000 pixels wide. The commercial version does not have this restriction. You will get this warning message if you use larger images with the demo version:


Using the DOP EasyD Plus LE
As mentioned before there is no user interface.
Make sure you select the top layer. If this layer is a layer group it should be collapsed. Do not interact with Photoshop while the script is running as this might conflict with the proper execution of the script.
We do very little sharpening in the RAW converters before running this script.
Here is a typical before/after sample: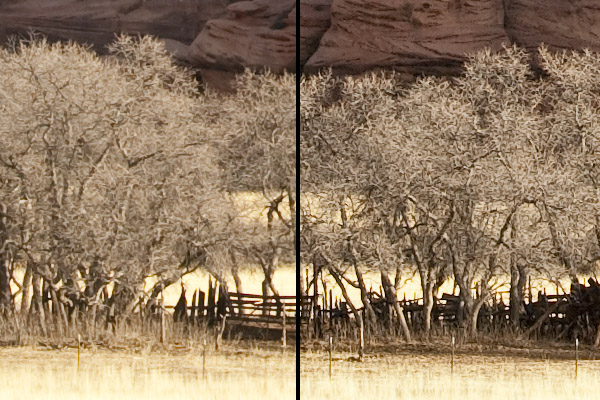 Before on the left and after using EasyD LE on the right
Best you try the Demo version with your own images and see that it makes a big difference in terms of showing details.