6/1/2010 DNG Profile Manager
We use the ColorChecker Passport DNG profiles nearly exclusively for our work. If you create a lot of DNG profiles the organization of these profiles can get challenging. X-Rite just released a free (register your Passport) companion tool "DNG ProfileManager" that helps with the organization: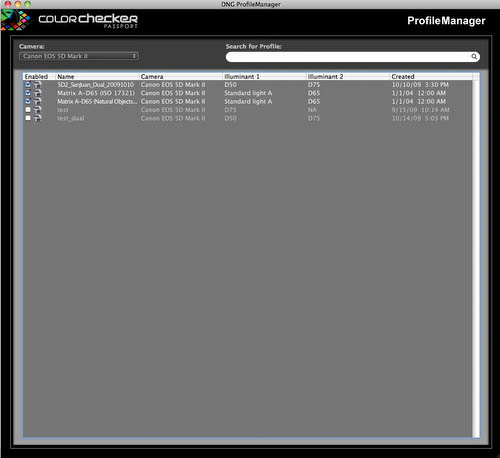 You can:
View your profiles (limit the view to selected cameras)
Enable/Disable profiles
Rename profiles
Check what kind of profiles you created (single/dual illuminant)
Very nice tool to have.
---
Online Tutorial
Review
The X-Rite (former Gretag Macbeth) ColorChecker is the industry standard color target for many years. We own the normal and mini ColorChecker but rarely take it out into the field. Why? They are great tools but way to fragile for field use.
This changes with the new ColorChecker Passport.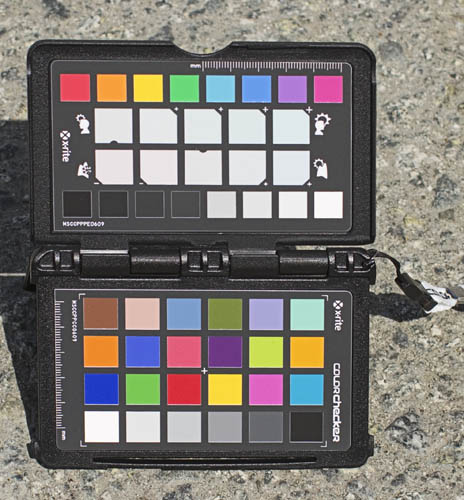 ColorChecker Passport
The ColorChecker Passport features 3 targets in a rugged slim and self standing case (with a lanyard):
Classic Mini ColorChecker (bottom)
Creative Enhancement Targets (top)
Gray Card (not shown)
Note: We will cover only the use of the ColorChecker in this article
This by itself would make a very useful tool.
But this tool comes with additional software that allows to create DNG color profiles for Adobe Lightroom 2.x and Camera Raw.
Passport Camera Calibration Software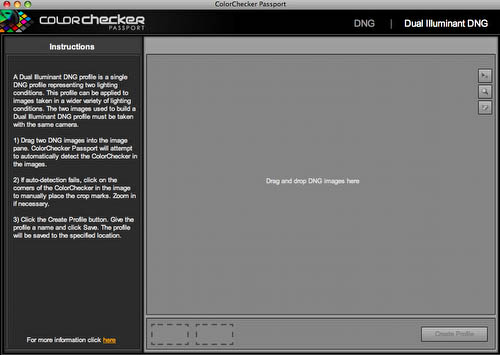 This software is really easy to use. There are two ways to create a DNG color profile:
From a single image and this means a single illumination. This would more or less create a scene specific profile
From two DNG images at different illuminations (e.g. shade and sunlight). This can create a DNG profile for a broader range of illuminations.
Here are the simple steps:
Shoot the ColorChecker as shown in the top photo (try not to make the ColorChecker too small)
Create DNG files from your RAW image (in Lightroom or the Adobe DNG converter)
Load one (single illuminant) or two (dual illuminant) DNG images (via drag&drop)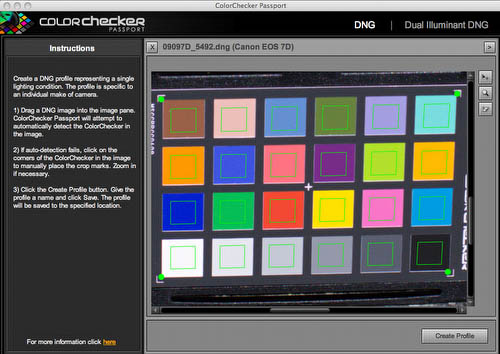 One image loaded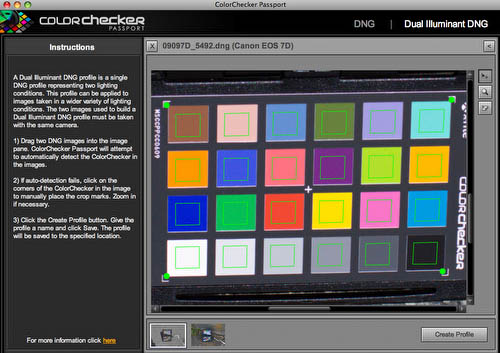 Two images loaded
As you can see the software finds the ColortChecker automatically even if it is somewhat tilted.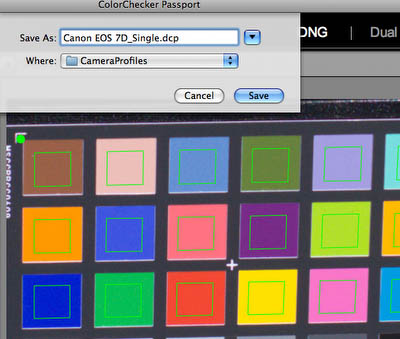 Name the profile
Software generates the profile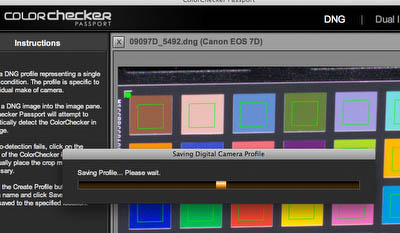 Generating the profile
Restart Lightroom, Bridge or Photoshop and the DNG is ready to use (it is of course camera specific)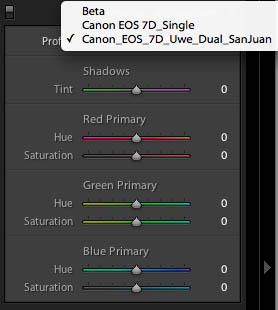 Select the profile in the Calibration Tab
As far as we can tell these profiles seem to work very well. The real strength is to be able to create scene specific profiles. Of course you could do this before but it has never been this easy.
Lightroom Plugin
The software also comes with a Lightroom plugin that makes the process even easier. You still have to restart Lightroom.
Conclusion
We find the ColorChecker Passport a very helpful tool at a fair price ($99). We plan to snap ColorChecker shots for most scenes. This way we can create a profile whenever we see the need for it.
Right now we cannot create ICC profiles for other RAW converters. We hope future version of the software will allow just this.
Highly Recommended