1/2/2006 Getting started with our Mac
Disclaimer: We don't want to sell you Macs and bought the Mac out of our own pocket. We want to share our experience about working with a Mac for our imaging work. We use Windows now for 15 years (mainly NT variations).
This is the most unlikely diary ever to happen because we did not really expect to switch to the Mac as our main platform. We are not really new to the Mac because we have a Powerbook since over three years but it was used mainly used for some tests. Here it how all came together:
We wanted a new state of the art PC. There is no question in our mind that the Macs are beautifully designed machines and we have yet to find a PC that is a close match. Isn't the Mac more expensive? We checked high-end Windows PCs and found that the Mac was not more expensive.
With Apple Aperture and some other Mac-only tools like RAW Developer or LightZone we wanted to be at least fully dual platform. Imaging is not about Mac/Windows but how the job is done. This was the first time that we felt that we wanted to use some applications that are Mac-only
Windows and viruses: Would be an argument alone. We have virus-scanners on our PCs but find them often in our way.
Unix based: We know UNIX for 20 years and find it a much cleaner design than Windows
Why not wait for the Macintel desktops: Life is too short :-)
First we thought to buy a new Powerbook (the old won't run Aperture). But we have more Windows notebooks than we need :-). Finally we thought why not buy a G5 Quad Mac instead of upgrading our Dual 2.4 Ghz Windows machine.
Already buying a Mac is fun. Why? Because you don't have to worry about too many options. The basic machine is complete (hardware/software) and the options are more than transparent. Try to configure a high-end PC and you find endless options that are not transparent at all.
Here is our new machine: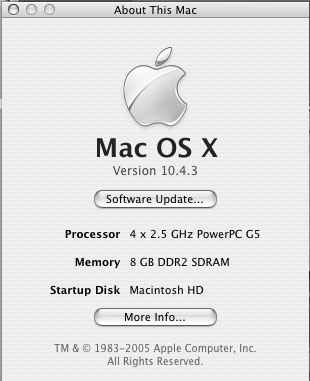 4x 2.5 Ghz G5
2x 500GB disks
8MB memory
nVidia 6600 graphics card
Installation
Installation was smooth and allowed me to use all the setups from the old Powerbook. Even Photoshop worked after a simple and fast activation.
Using Windows/Mac in a dual setup
We bought a KVM switch that can switch DVI and USB keyboard/mouse. In the end the DVI switching caused some troubles and we decided to switch the main monitor (Lacie 321 LCD) on the monitor itself.
We also use the Microsoft Remote Desktop Connection and work on our Windows PC via a full screen view. Works fine so far.
Getting data from and to the Windows PC is not a problem. We run Samba on the Mac and can get to the key data from the Windows PC (we use a utility called Sharepoint to make the files available to the PC). Also getting to the Windows PC data from the Mac works fine if we mount the Windows drives on the Mac.
What about the applications?
Here are our key applications:
Adobe Photoshop: we had a Mac version on our Powerbook anyway.
Photoshop Plugins: Most that we use are available for Mac (including our own). PTLens is Windows only but in many cases we can use LensFix.
Adobe Indesign: we have a suite for Windows and have for now to work in Indesign from the Windows PC. As far as we know Adobe does not offer a Windows to Mac upgrade.
Acrobat: we need mainly a PDF printer driver and this is standard on OS X
MS Office: We have a version for the Mac. Unfortunately it behaves different than on the PC (especially displaying fonts). A real issue is the missing MS Access application because we use this as our customer database and some statistics. We use Access now only on Windows.
Adobe/Macromedia Dreamweaver: Works on the Mac (this page is written with it) but shows some quirks:

Fonts are displayed very small
There is a limitation to filenames for JPGs for about 26 characters. We think this is a limitation of our old Dreamweaver version 6.0

Pixmantec RawShooter: This is an application we miss a lot but we can use it on the Windows machine anytime.
Other RAW Converters: Most other RCs work on both platforms
Extensis Portfolio 8: Works on both platforms. Unfortunately the layout is slightly different though.
Qimage: I may try to run it on a virtual PC and otherwise I just use it from a Windows PC
File Synchronization: We use FileBack PC on Windows and are now looking into a Mac equivalent
Screen Capture: Grab did not cut it and we bought AlphaCapture. Works fine for us.
Web Browser: I use Firefox and so no issue here at all
FTP: We used CuteFTP on Windows and now Cyberduck
Standard OS X Applications
DVD burning: On PCs you need to buy burning software and then pray that it works with your drive. On the Mac drive and software are a perfect match. Again less option are more.
iTunes: On Windows we used MusicMatch but iTunes is just fine to record and play our CDs. We also find that the standard sound card has a good quality.
iDVD: We even see potential to use iDVD for family and other fun projects to present slide shows on DVD
Mac OS X Spotlight Search
When I first heard about the Mac OS Spotlight technology I did not care because we used Windows :-).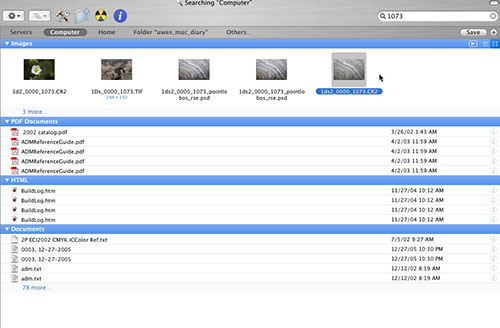 Spotlight search
Now we hardly can imagine to live without. Try to search one disk (disks with 100K files) on Windows and you wait.... Don't even think of searching all disks. On the Mac I enter a part of an image name and get the found images very fast. All our RAW files have a unique name (at least they should :-)). All derived TIFF files keep this name as part of a longer more descriptive name. If we work with a derived TIFF file we enter a part of this original RAW filename into the Finder search box and find the online RAW fast (also shows the thumbnail). Spotlight is a big help for our work.
---
1/14/2006 Update to 10.4.4
We have updated to 10.4.4 and cannot find any problems. We sometimes lose connection to a Maxtor One Touch III drive (seems to get busy on its own). We are not sure whether it maybe related to the update.
Too bad that iPhoto 6 is not part of this update.
---
4/14/2006 Four Months of Experience with the Mac
We now use the Quad Mac for over four months the Mac as our main workstation. Our Windows workstation is sitting idle for at least 3 months.
We miss only a very few programs from the PC:
RawShooter Premium (RSP). We use RAW Developer most of the time instead
MS Access (but we use it in a Virtual PC emulator on the Mac, slow but ok for lookup)
What do we like about the Mac:
Most operations are very intuitive
Spotlight searches are real time savers
Putting the Mac to sleep mode really works (we had many problems with our dual Dell or even some of our Sony notebooks
Less worries about viruses
Better support for dual monitors (at least easier to use also with monitor specific profiles)
In future we will use this diary to post to Mac specific articles on the net and talk about tools we use beyond the basic OS (which is very complete).
---
8/1/2006 New Macbook Pro
Our Powerbook got old (works like a charme but memory , disk, graphics and processor needed an upgrade). We now have a new (actually refurbished) Macbook Pro with the following data:
Intel Core-Duo 2.0 Ghz
100GB disk
2GB memory
We keep you posted about our own experience.
---
8/1/2006 Macbook Pro Experience and Tips
Unfortunately was our Macbook Pro one of these troubled children (this was in July). It suffered from the "Random Shutdown" syndrome. This means the notebook overheated easily and then shutdown without notice. When we first called the Apple service they did not even know about the problem. Now it has an official name "Random Shutdown" and I heard first about it at Photokina from German Mac experts. Now the Macbook was in repair (motherboard and other parts were replaced) and seems to work. But recently we had again a shutdown during a regular shutdown.
smcFanControl
There is a solution to control the fans and the heat of your Macbook Pro: smcFanControl (free donations based)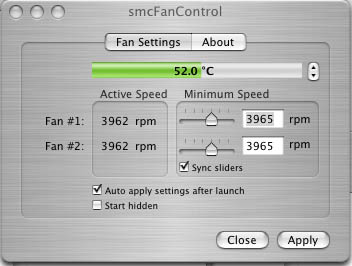 We added this tool to my login items so that it starts up whenever I use the Macbook Pro. Then I control the fans to keep the temperature below 50-55 degrees. This makes the fans go noisy but the processor and disks are cool.
Because the Macbook Pro is right now mainly a second Mac test platform it does not bother us that much but still annoying.
Carbon Copy Cloner
Carbon Copy Cloner a great free (donation based) tool to make bootable copies from your main OS X disk. We use it for quite a time already on our G5 Quad. Currently it is only a PPC binary but still works just fine on the Intel Macs under Rosetta. Make sure that your external disk is formatted for Macs.
There is also a great news for Intel Mac users. You can now also boot from USB drives. We tested it by making a disk clone with Carbon Copy Cloner of the Macbook Pro to a Western Digital 120GB Passport USB powered drive. Booting from the USB drive (power up and hit the option key) was no problem. Thanks to Andrew Darlow for this pointer.