Yosemite: A Feast in Color and B&W


field trip by Bettina & Uwe Steinmueller

Kind of surprising that we now live over five years in the Bay Area and this was the first time to photograph in Yosemite (have been there for one day in August 1998).
Normally begin of June is a bit late for a full spring impression (although the bad weather in April accounts for a late spring this year. But on the plus side we have:
Lots of water for the falls and the Merced
The road to Glacier Point was open
Our main preparation in Yosemite was done using the guide by Michael Frye: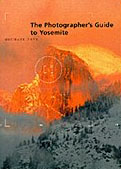 Michael Frye "The Photographer's Guide to Yosemite"
This year we were the first time photographing for only 3 days in Yosemite. Michael Frye's guide is the ideal preparation for any photographer who does not know Yosemite that well. We found this inexpensive book ($7.95) very helpful to determine the right spots, best time and season to photograph in Yosemite. Frye even shows great places to photograph wildflowers in less well known areas like the Merced River Canyon. The book is very handy and fits easily into your camera bags.
Recently we started again looking into B&W photography and we were sure that Yosemite is a good place for excellent B&W photography (of course we visited also the Ansel Adams Gallery in Yosemite Village).
We believe that the possibility to convert digital color photos allows us to photograph in color and B&W at the same time. This is the first report that comes in two versions.
While the workflow for color is covered in our e-booklets our new workflow in B&W was introduced just a week ago. We worked on all our photos first in B&W only and later in color.
You can order all these photos as prints?
All prints on this site with copyright Bettina & Uwe Steinmueller are available to our readers at a special low price (Printed on our Epson 7600/2200 on Epson Enhanced Matte Paper)
Print Size

Matted Size

Price

9" x 6"

11"x8.5" paper
not matted

$40 signed on paper
3 prints: $100

12" x 8"

19"x13" paper
not matted

$70 signed on paper
3 prints: $170

15" x 10"

19"x13" paper
not matted

$110 signed on paper
3 prints: $250
Send check (US $ and a Canadian or US bank) to:
Uwe Steinmueller
P.O. Box 24724
San Jose, CA 95154-4724
Please do not forget to include the following information:
Would be also good to send us an email that your order is in the mail: uwe@outbackphoto.com
Technique:
All photos with Canon 1Ds/10D and Canon 50mm Macro, 90mm T/S, 24-70mm f/2.8, 70-200mm f/2.8 IS lens. We used a Polarizer filter for most of our photos.
Workflow as described in our e-booklets: