Notes - Nature consist of a single photo with some annotation. The text might be technically, some text about the subject or what ever the photographer wants to associate with this photo.
Send your submission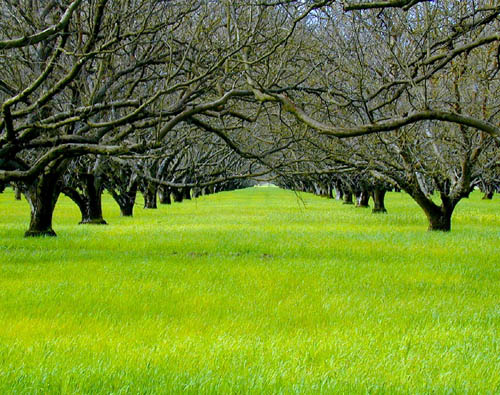 "Tunneltrees" by Reesa Hutchinson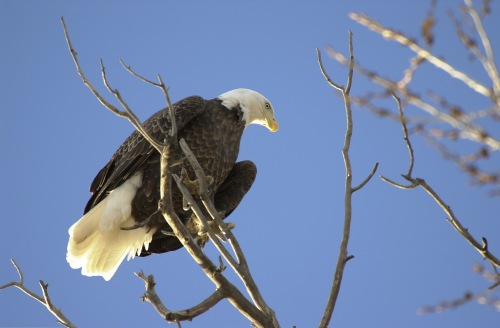 "Eagle Winter Nesting in Colorado at Sunset" by Michael Hiatt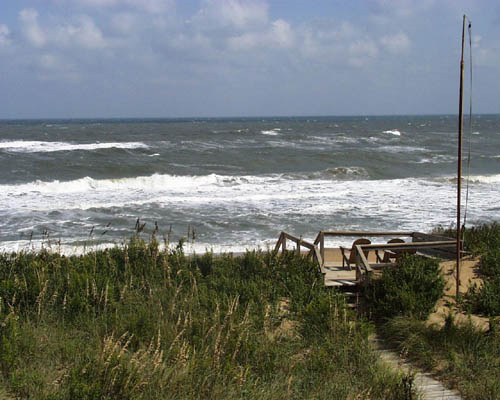 "Southern shores beach on cape Hatteras" by Andrew Leiser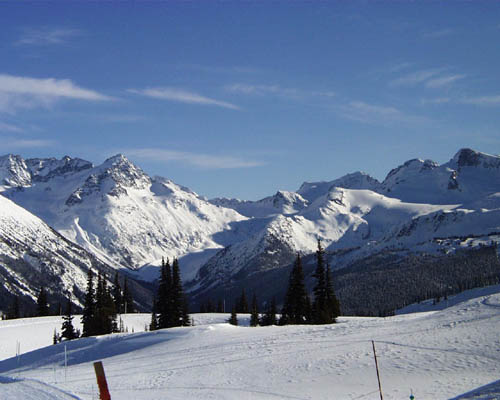 "Valley View" by Andrew Leiser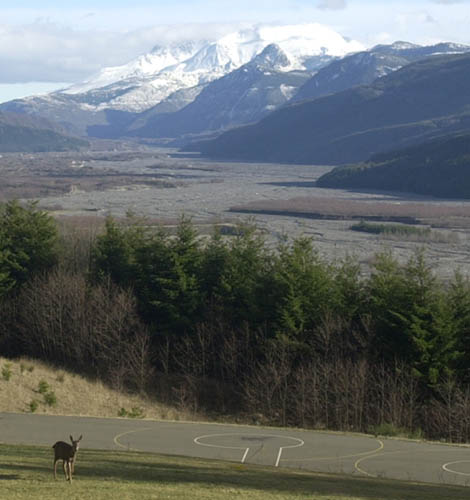 "Lonely deer below Mt St.Helens" by Jeff Miller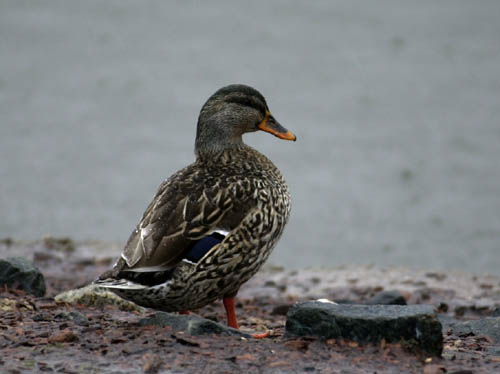 "Duck" by Dave Mayor
The photo was taken during a very cold, winter ice storm. The ducks loved it!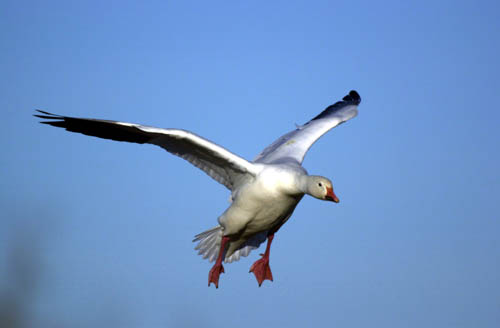 "Snow Goose" by Art Buesing
This landing Snow Goose was photographed at Bosque del apache NWR in Socorro, NM in November 2000. This was taken with a Nikon D1 and a Nikkor 600mm f4 AFS lens with a 81A warming filter. The exposure was 1/6000s f4 with white balance at -3 Automatic. The compensation was -0.7.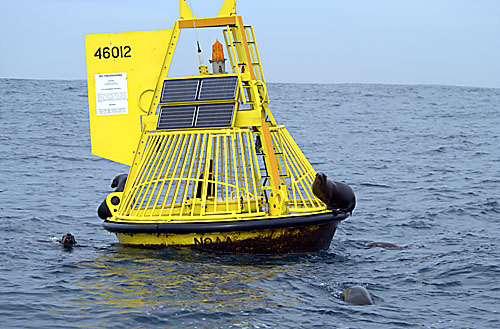 Jeff Cohen
Seals ignoring the "no trespassing" sign on a NOAA weather buoy, several miles off the California coast (near Half Moon Bay). Taken with a Nikon D1 with a Nikkor 80-400 AF VR. VR doesn't work very well on a boat. It interpreted my attempts to counter the rocking of the boat as "panning," thus defeating the VR circuitry. Fortunately, there was enough light to make it unimportant. Nonetheless, it was challenging just to keep the buoy in the viewfinder long enough to take its picture. Notice the curved horizon? It had nothing to do with the optical quality of the lens (which is excellent).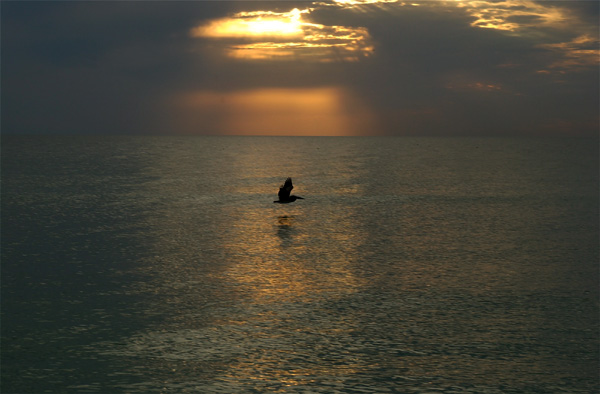 David Morel
While in Sarasota, Fl over the Thanksgiving holidays, I got a chance to take some pictures. One evening I went to the beach with my son and captured some shots of pelicans gliding just above the water's surface.
I was shooting my D1 with a Nikon 28-105 3.5-4.5 lens at iso 200. This iamge was taken in aperature priority at 1/250 and f/8. I processed the image through Bibble to adjust the white balance to Shade from the Sunny setting i had on the camera. The real problem with the shot is that my settings were off. I was shooting .jpgs and that would normally be ok...but i had the sharpening setting set to Normal instead of Low. This error left some jpg artifacts in the resulting images.
The nice thing is that the image still prints out quite nicely.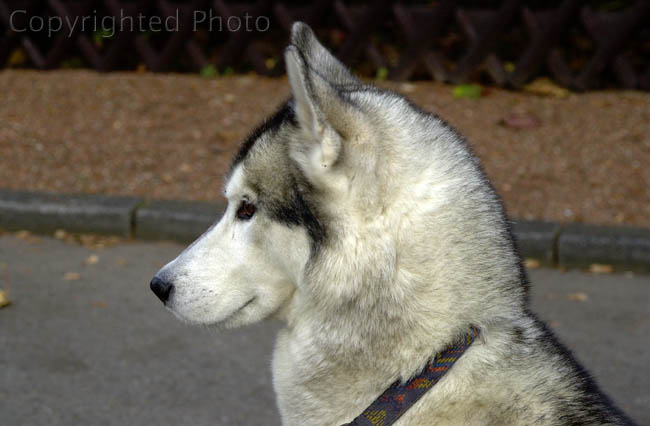 Uwe Steinmueller: "Husky Leo"
This is a photo of a Siberian husky and his name is "Leo". Leo lives close to my parents home and I probably could hug him all the time as he has such a great friendly character.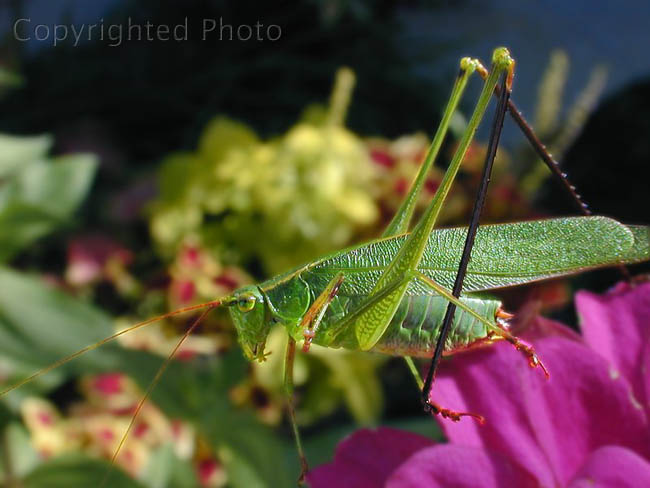 Dereck Willis "Non-Hopping Grasshopper"
This grasshopper seemed like he was "posing" for the camera. I took more than 40 photos over a 10 minute span, coming within inches of him. He seemed quite content and had no apparent fear of humans. At times, he would hang from the flower, showing his acrobatic skills! (Nikon Coolpix 800)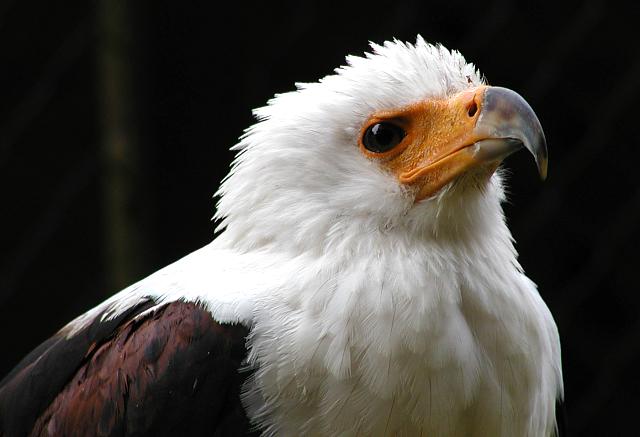 Andreas Petzold: Eagle
Also with the consumer level digicams it is possible to reach interesting results. The following portrait of an eagle was taken near Rüdesheim / Germany with a Olympus C2100 Ultrazoom, 380mm, handheld.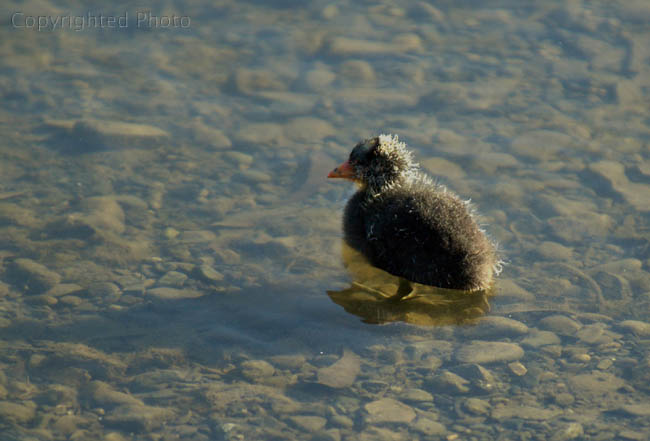 Uwe Steinmueller: "Young Coot"
The light, water reflections and the tone-in-tone colors made it quite difficult to capture this cute young Coot in the evening sun. The photo was taken with the D1 as a NEF (Nikon Electronic File) file. Converting with Qimage 9.32 I got enough detail and ok contrast. Bibble made a some more problem to handle this photo. These little creatures are unbelievable. We first saw 3 chicken who were fed by their parents and now only one is left. The remaining one is still close to both parents but has learned to dive.