---
3/23/2003
"So You Say You Want To Turn Pro?" by Michael Johnston
We are more and more a fan of Michael Jonston's "Sunday Morning" essays. He speaks the truth: "... The other question I usually ask of people who want to earn a living at photography is whether they think they have the energy and acumen to make it in any small business. Could they manage their own gas station or run a dry cleaners? If the answer is yes, then they also might be able to make it as professional photographers. It's a business — an entrepreneurial, high-risk business...."
This essay is actually directly related what we (Bettina & me) do right now. We hope to make our magazine "Digital Outback Photo" a business. You, our readers, will in the end decide whether we deliver some value for you and your photography.
Charles Cramer is a great photographer (see his web site) and also an exceptional printmaker. I met Charles a couple of times. I could stay there for month and learn. Now you can see some of his best work at the Highlands Inn in Carmel Highlands. Spend a day at Point Lobos and then visit Charles's show.
---
3/21/2003
Michael Reichmann's first look at a Kodak 14n
Michael borrowed a Kodak 14n from a Toronto dealer. We are not really very optimistic to get any sample from Kodak in the near future.
---
3/20/2003
DDI Software releases Profile Prism 4.0
Mike Chaney wrote us:
"We would like our friends at various review sites to be aware of the release of Profile Prism v4.0. This release represents a major breakthrough in printer profiling. Although v4.0 wasjust released on 03/19/03, we are already hearing from users who are expressing excitement over the ability to profile printers, papers, and ink that proved to be problematic with respect to accurate profiling in the past. Using the new 9,261 color patch printer target along with the supplied 753 patch reference target (or an IT8 / Q60reference), Profile Prism offers the ability to create incredibly accurate ICC profilesfor cameras, scanners, and printers and is quickly becoming one of the most cost effective and accurate profiling solutions on the market."
---
3/19/2003
Flying with Photo Equipment in 2003 (Michael Reichmann)
Michael explains the new regulations and how to live with it. Avoiding flights with photo equipment is one of our personal strategies. Fortunately is California rich in great photo sites and also the Southwest is not so far away that we could not reach most place in one or two days.
---
3/18/2003
Adobe (Russell Brown) Tutorial for Adobe Camera Raw
Fred Miranda's Web Presenter Actions
Many of you know that Fred's image presentation on the web is excellent. He now sells actions that he uses for his own image presentation. Normally we and many other improve their images to give the best possible prints. Downsizing in Photoshop loses a lot of detail and sharpness and the needed sharpening step often gives this over sharpened look. Fred's new actions do an excellent job to keep crucial details and to avoid any over sharpened look. We will use his Web Presenter actions now most of the time.
Highly Recommended.
---
3/15/2003
"Finding the View" by Mike Johnston
We agree with Mike Johnston that the viewfinder is probably the single most important feature of todays SLRs. Read this excellent introduction to the "minefield" of SLR viewfinders.
---
3/12/2003
Our Seminars on Raw File Workflow
Our seminars are now camera neutral as many of today's leading raw converters work with many different camera brands. Our core will be focused on Adobe Camera Raw and also Capture One DSLR from Phase One. We also know nearly all other raw converters on the market.
In the end it is your decision which tool you like best for your workflow. But the basic principles stay all the same. Sign up for one of our seminars (we plan to have also seminars in Los Angeles)
"My Own Self" the Self-Portraits of Asya Schween (DPReview)
The pictures by Asyra Schween have certainly a certain magic and show what can be done unsing a digital camera in creative ways. Read this interesting interview (and browse the images) written by Larry Berman/Chris Maher and published by DPReview.
---
3/10/2003
COBA meeting: Adobe Camera Raw
Fine Art Outdoor Photography Using Digital SLRs
"Uwe Steinmueller of Digital Outback Photo will review and demo the new Adobe RAW+JPEG2000 Camera Plug-In, a fantastic tool for editing your RAW images from your digital camera in Photoshop."
Looks like Dr. Ellen Rudolph is switching from nature to food photography. Excellent shots!
The Digital Shopping Dilemma (by Mike Johnston at Luminous Landscape)
Read this excellent article if you ask yourself "Which camera to buy?".
Here is Mike's conclusion: "My advice, though, is not to worry yourself sick about whether you've made the optimal shopping decision: you can't take pictures if you don't have a camera. So you pick your moment, jump in, and just hope you made a good enough decision this time around. If not, well, maybe you'll have learned something, and you'll do better next time. Here's one thing I've learned about photography over the years that translates to digital: photography is expensive. If you want to be a photographer, you just kinda hafta drop the cash you need to drop and then stop shopping and get down to work."
---
3/7/2003
Meet Alain Briot at some Apple Stores
I will be giving two additional presentations at the Apple Stores in Phoenix,the first one at the Biltmore Apple Store on March 28th at 2pm and the second at the Chandler Apple Store on March 29th at 1pm. These links give you road maps to each store together with their contact information, etc. If you scroll down you will see the ad for my presentations:
http://www.apple.com/retail/chandler/
http://www.apple.com/retail/biltmore/
---
2/25/2003

Alain Briot at Phoenix, Arizona Apple Store

Allain wrote us:

"Presentation at the Apple Store at the Biltmore in Phoenix, Arizona:

I will be giving a talk at the Apple Store at the Biltmore Mall, in
Phoenix, Arizona on February 28th at 2PM. The mall is located at the
corner of 24th and Camelback. If you are in Phoenix don't miss this
unique event! For directions call the Apple Store at the Biltmore at
602-977-0285.

This presentation will focus on my current work with an emphasis on
my workflow and on my images. Signed prints will also be available
for sale outside of the store.

See you there!

"
---
2/24/2003
"The Next Generation Digital Camera" by Dick Merrill
We are very happy that we got the permissions from Dick Merrill and OPN (Optics & Photonics News) to republish this very interesting article. Dick Merrill is the designer of the famous Foveon image sensor. The article is copyright by OPN.
New Licensing Terms for Capture One DSLR (Phase One Press Release)
"On March 1st Phase Oneâ releases a new and improved license policy for Capture One DSLR that provides unlimited use of the software independent of hardware platforms (Windows and Mac). This means that the software can be reinstalled as often as the user choices. The Capture One DSLR software license is maintained as a single user license to be used by a registered user only. ...."
---
2/22/2003
Photoshop World in Los Angeles
We are just back from Photoshop World in Los Angeles. About 1350 Photoshop users gathered in the LA Convention Center in downtown LA.
Highlights from our perspective:
Official launch of Adobe's Camera Raw plug-in that got quite some attention
Top class instructors (like Ben Willmore & Julieanne Kost)
Great place to meet many more Photoshop experts
---
2/17/2003
Nikon Capture 3.5.1 Updater posted
Rob Galbraith reported: "Nikon USA this morning has posted an update for Capture 3.5 that fixes an odd colour shift problem some users experienced when using the Set Gray Point function in Capture's White Balance tool. The free download, which updates Capture 3.5 to 3.5.1, is available for both Mac and Windows."
---
2/13/2003
Uwe & Bettina's presentation at COBA
We actually missed to announce our own presentation at COBA here in our magazine. But you can read here Adam Tow's summary.
---
2/12/2003
"Selective Saturation Improvement"
Read this article and it might change your thinking about improving saturation. The core idea is based on a great article by Ben Willmore. Only minutes after we published this article we got very positive feedback.
Michael Reichmann about "Sensor Cleaning"
Excellent article on the nerve-wracking issue of sensor cleaning. A must read!
---
2/10/2003
Fred Miranda tests the Canon 24-70mm f/2.8 USM L Lens
Fred tested the new Canon 24-70mm zoom. He seconds our findings that it is an excellent zoom, But of course fixed focus primes have still some edge.
---
2/9/2003
"Red Hot Red Show" at Gallery House Palo Alto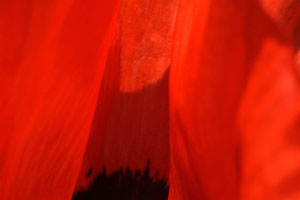 This month's show at Gallery House features some of Bettina & Uwe's "red" work.
---
2/8/2003
In pro digital photography, megahertz matters - revisited
Rob follows up on his Mac/PC comparison. Also look at his comments about MacBibble and how software can be optimized for a platform (Photoshop by the way is an other example)
New Version of Qimage 2003.200
Qimage implements many new features. Mike Chaney wrote us:
"
New "vector" interpolation: In addition to the existing Lanczos, bicubic, and other methods, Qimage 2003.200 adds a new interpolation called "vector" interpolation. Vector interpolation is an advanced resampling method that, in general, produces better results than Lanczos interpolation, rendering images with less noise and artifacts, and producing smoother edges. Skeptical? Check out this sample. Vector
interpolation is the new default for print interpolation and (like the other existing interpolation methods) can also be used to resample images. In addition to providing extremely high quality interpolation results, the new vector method runs slightly faster than Lanczos!
Interpolation performance: All interpolation operations in Qimage (excluding raw CCD image interpolation) have been optimized further and are now 20% faster. This means that even when using the new vector interpolation, both printing and upsampling operations will be 20% faster!
...
"
---
2/5/2003
First Issue of the CaptureUser magazine & 12-24mm Zoom
During a one day trip to Vegas I had the chance to get one of the first samples Nikon's new magazine "CaptureUser" for Nikon Capture Users. Nikon could win Scott Kelby (the founder of NAPP - National Association of Photoshop Professionals) as the editor.
Mr. LoPinto (V.P. at Nikon) also showed us the new 12-24mm f/4 lens. Very light and compact lens. We will review is ASAP (Nikon said about 90 days from now).
---
2/2/2003
Samy's Camera is now our official Merchant Sponsor
Samy's camera the largest camera dealer in Califonia (with 4 shops in LA, Pasadena, Venice and Santa Barbara) is now sponsoring our magazine as our official merchant sponsor. Not only does this allow us to spend more time on our magazine but will also enable us for more reviews as Samy's plans to support reviews of specialty items.
We plan to conduct seminars in Los Angeles at Samy's main store
We plan to offer our readers special deals in cooperation with Samy's
---
1/31/2003
"The Glory of Fall" by Paul Calwell
Paul describes how he photographs during one of his favorite times of the year.
---
1/30/2003
Power Retouche "Black Definition Filter" now as a single filter available ($32)
We are now acting as an affiliate for this Power Retouche filter. You can find the buy button right at the end of our review. If you buy filters through our links you help sponsoring this site.
---
1/29/2003
This could be extremely good news for all Win2K users that suffer from printing limits with their Epson printers.
---
1/28/2003
"
Full Raw Support for Nikon D1/X/H/100, Fuji S2Pro Oly E10/20 and Kodak 720x/760
Much Faster due to G4 Optimizations.
.....
"
From what we heard MacBibble seems to be really fast.

---
1/27/2003
Pictographics realeases a reasonable priced camera and scanner plugin for Photoshop
---
1/25/2003
Alain's Print of the Month 1/2003
You can now order one of Alain's art prints at a special price.
MF vs. 1Ds Shootout by Michael Reichmann
Michael compares the images of the Canon 1Ds to a Pentx 6x7 MF camera. What to say? Michael sold his MF gear!
---
01/23/2003
"Digital Printmaking & Printmakers"
This note talks about the challenge to become a good printmaker.
---
01/20/2003
Review of a new and inovative Photoshop filter.
How to deal with color shifts while using S-Curves.
---
01/17/2003
"Let there be Light" by Daschund Woof (@www.fredmiranda.com)
Nice article about setting up a better light.
---
01/16/2003
"Sony Artisan Color Reference System" review by Joshua Weisberg
Joshua Weisberg reviews one of the most inovative calibrated monitor solutions by Sony.
We just launched our first sharpening contest as part of our new "Workflow Contest" series.
Press release by GretagMacbeth
"GretagMacbeth enjoys excellent financial health and future potential
Although the names are similar, the GretagMacbeth affiliates of Amazys Holding AG, should not be confused with Gretag Imaging AG
..."
GretagMacbeth sends this note as there was recent news about financial problems of Gretag Imaging AG.
---
01/15/2003
First Photoshop Filter branded and distributed by Digital Outback Photo
A couple of weeks ago Jim Collum reviewed the filter "Smarter Sharpen X" by Kevin Dobson. We liked the filter so much that we are now offering the new 16 bit version here directly at Digital Outback Photo.
Kodak DCS 14n in February and first sample photos
You can find the latest info on Rob's website. We never comment on photos that we did not make or have close information on how they were done.
---
01/12/2003
Review of Chromasoftware "Photographic Filters"
A filter newcomer with a really nice gradient (and more) filter solution (PC only).
---
01/10/2003
Photo by Bettina & Uwe Steinmueller in the San Jose Mercury News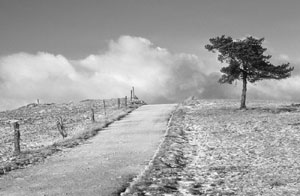 For the announcement of the Galleryhouse photo show (see below) the Mercury News printed above photo in the "Eye" section of the Friday 1/10/2003 edition. Unfortunately the photo cannot be found online (but the show announcement).
Visit our show:

Gallery House
---
01/09/2002
Seats for seminars #004 & #005 still available
We will also have a look into Phase One's Capture One DSLR (might even have a Nikon beta at that time). We also plan to cover the future Adobe RAW plugin as soon as it is available.
---
01/08/2003
Paul Caldwell's review of Neatimage Pro
Paul reviews the probably best noise removal tool on the market.
Alain Briot on selling photographs at art shows (at Luminous Landscape)
Once again you will love Alain's sense for details.
---
01/07/2003
New German Newsgroup/Neue deutsche News Group
(german text) Da wir nun einmal aus Deutschland stammen und die digitale Fotografie dort genauso stark ist wie in den USA, wollen wir unseren deutschen Lesern die Möglichkeit bieten, ohne Sprachprobleme über digital Fotografie zu diskutieren. Natürlich werden wir versuchen auch unseren "Senf" hinzuzugeben.
Bitte helft uns dieses Magazin noch populärer in Deutschland zu machen.
Falls jemand interessiert ist, einige Artikel ins Deutsche zu übersetzen, würden wir das Magazin 2-sprachig machen. Wir können natürlich Deutsch besser als Englisch aber haben keine Zeit alle Artikel in beiden Sprachen zu publizieren.
RAW Conversion Speed on Mac and PCs
Rob Galbraith presents one of his signature reports. Here is his conclusion and remember Rob is a longtime Mac user:
"What's there to say but the obvious? The fastest shipping Mac has been soundly thumped by one of the fastest current PCs. Even the Dell, a modestly equipped desktop by current standards, matches or bests the dual 1.25GHz desktop Mac in numerous benchmarks. And the recently discontinued Powerbook G4/800 trails by a significant margin throughout. If the processing of RAW photos in particular is where your workflow hangs up, a Pentium 4-equipped PC offers a compelling solution.
The same applies to Photoshop batch processing and card to computer transfer speed: except for certain Photoshop functions that appear to explicitly be tuned to take advantage of the G4 processor architecture, a P4 PC is simply a lot faster. If the Mac is your platform now, and you want to stay there, this week's Macworld Expo in San Francisco is a good place to let Apple know that a lot more speed is what you need."
We have been at the MacWorld in SF today. But the moment we read Rob Galbraith's report we knew we could not do a better job.
---
01/06/2003
We now are open for 2003 workshop registrations.
We got today a Canon 50mm f/2.5 Macro lens. Here is our first impression.
---
01/05/2003
"Five Photographers" Photo Show in Galleryhouse
From January 7th the five photographers of the Palo Alto Galleryhouse present a group show. The artists are:
Marina Brodskaya
Roy Harrington
Fred Roesler
The reception is Friday, January 10th from 6pm to 8pm.
---