The first step in creating a profile is to print a target (we use the RGB target for the Epson 7500) with all color management off(!) in Photoshop. If you use the Epson drivers you select the right or closest matching paper and turn all color adjustments off.
With any RIP you have to follow the instructions of the RIP manufacturer (Profiling with the ImagePrint RIP is simple too).
Note for Epson Printers:
Selecting the right paper setting in the driver can be very tricky as sometimes the Epson drivers do not allow higher DPI with certain papers. We always print with the driver set to 1440 and in doubt we use the setting for "Luster" paper.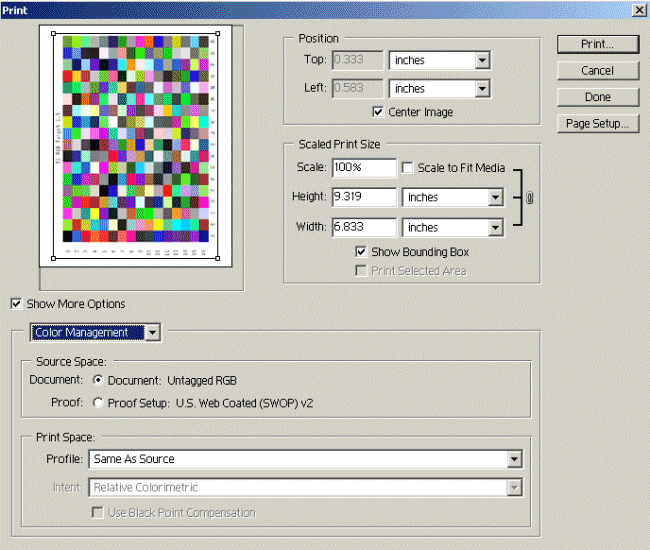 Don't change the target in size! PS 7 should show this printer dialog (with Epson drivers)
Remember all settings on the printer have to be the same once you use the generated profiles later. We try to code as much as possible information into the profile name (paper, driver, dpi, inks, ,,,).
Very positive is the fact that the Eye-One target only needs one letter sized sheet of paper. Once you have printed the target and also ensured that the print is dry you can create the profile with Eye-One Match.
All you have to do is to measure the 288 patches in the right order. Devices like the Spectrolino allow a fully automated process of this measurement. But also the designers of the Eye-One wanted to make your life easier. You can measure in so called strip mode.