The R2400 is the consumer model of Epson's new Ultrachrome K3 series of printers and represent the third generation of pigment based archival Epson printers (except that there have been some other consumer lines like the R1800 that also used pigmented inks).
The Epson 2000 was a breakthrough printer for archival prints, the P2200 with the Ultrachrome inks improved a lot over the P2000.
The quality of the P2200 prints were astounding but still there was a list of problem areas:
Bronzing on glossy media
Gloss differential on glossy media
Still noticeable metamerism
Desire for metamerism free B&W prints without extra software (first realized by the HP 8450)
Faster print speed
Better dmax or L* for black
Need to switch inks for matte and glossy media (only the Epson 4000 did have all inks at ones)
We hope to cover in the course of our diary many of these issues and how they are solve (or not) with the new R2400.
The Epson Stylus Photo R2400
Actually the R2400 looks from the mechanics a lot like the R1800. The main difference is the ink set and the printer drivers using these new inks.
Ultrachrome K3 Inks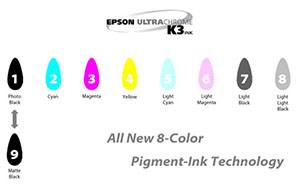 K3 inks
The full ink set consists of 9 colors. Unfortunately all K3 printers (even the new 4800) can only install 8 colors at the same time. This means you need to switch between Photo Black (PK) and Matte Black (MK) if you plan to switch between matte and glossy media. Switching inks cost time and also wasted inks. Probably the loss in time and ink waste is the lowest for the R2400 as it does not have long ink pipes that connect the cartridges to the heads.
The second time we switched inks back to Photo Matte (PK) there was not that much ink waste shown in the printer monitor: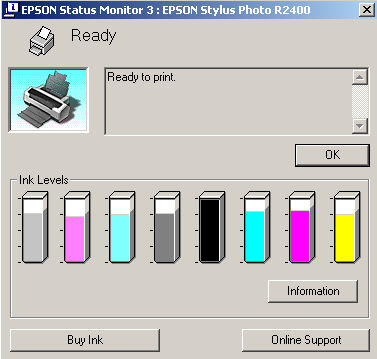 Before MK to PK switch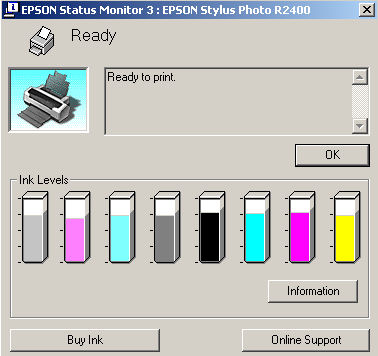 after MK to PK switch
Note: the black level shows a different ink cartridge after the switch. We had printed some with PK before we switched back.
We expect future printers to feature 11-12 inks at the same time installed:
all the 9 inks required now
additional red/blue for wider gamut
If you print only matte or glossy this is of course a mute point but otherwise switching inky is annoying.
Fortunately this seems to be one of the few disappointments with the R2400 so far and remember that switching inks with the R2400 is not as problematic as with the other more professional K3 printers.
What about printing with Photo Black (PK) on matte papers?
Even as Epson provides profiles for the Enhanced Matte paper using the PK ink we advise against it. We did test prints with both inks on Enhanced Matte paper and found colored artifacts in a dark black gradient using the PK ink. These artifacts were not present if we used the MK ink.
Installation
We cannot remember how often we installed new Epson printers over the last 10 years but it was rarely any problem on our Windows machines. Also the R2400 installed without any issues in about 5-10 minutes.
Color Printing form PS CS2
After installation we got the first (good) color print in no time from Photoshop CS2 (Photoshop CS is nearly the same).
a) CS2 settings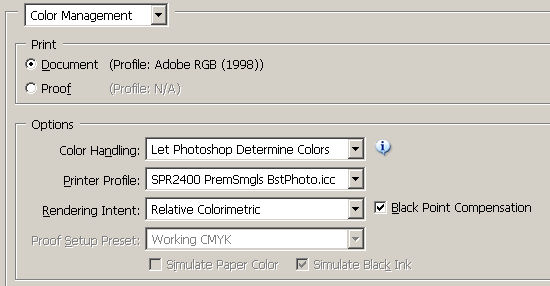 PS CS2 Color Management Options for color prints
Document: We printed from a file that was in the AdobeRGB color space
Color Handling: With color prints we control the profiling via CS2 and set "Let Photoshop Determine Colors"
Printer Profile: Epson provides a full set of generic profiles. They are probably not bad but can be improved by using custom profiles. Mainly in some more critical situations (see here for smudging) we may like to see improved profiles. We will check more into this later.
Rendering Intent: We use most of the time "Relative Colorimetric". If you have a lot of saturated colors that cannot be printed by the R2400 then you may want to use the "Perceptual" rendering intent.
b) Epson driver settings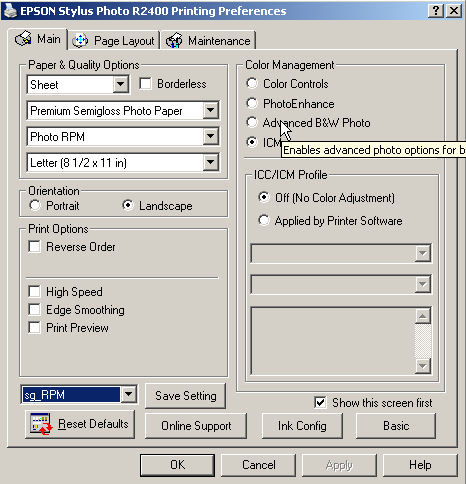 Our settings for color prints
Paper: Select you paper type
Quality: Photo RPM is the top quality for glossy media. We think that Best Photo saves us time/ink and still provides excellent quality
High Speed: We like to have high speed off
Color Management: ICM
ICC/ICM Profile: We set it for color to off as Photoshop CS2 controls the color management.
Note: Never let both PS and the driver control the color management as it will result in ugly double profiling.
B&W Printing form PS CS2
The new K3 inks and the new Epson drivers allow good B&W printing out of the box.
a) CS2 settings


PS CS2 Color Management Options for B&W prints
Document: We printed from a file that was in the AdobeRGB color space
Color Handling: This time we let the printer control the B&W printing
Printer Profile: disabled.
Rendering Intent: disabled
b) Epson driver settings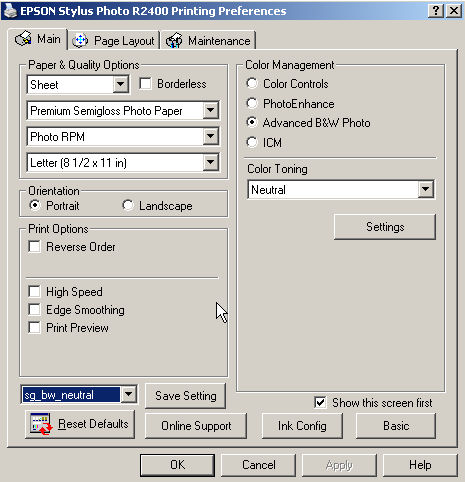 Our settings for B&W prints
Paper: Select you paper type
Quality: Photo RPM is the top quality for glossy media. We think that Best Photo saves us time/ink and still provides excellent quality
High Speed: We like to have high speed off
Color Management: Advanced B&W Photo
Color Toning: Neutral (or Cool, Warm, Sepia)
This setting allows to produce very pleasant B&W prints, But you can go much further and control your B&W prints even more (click "Settings"):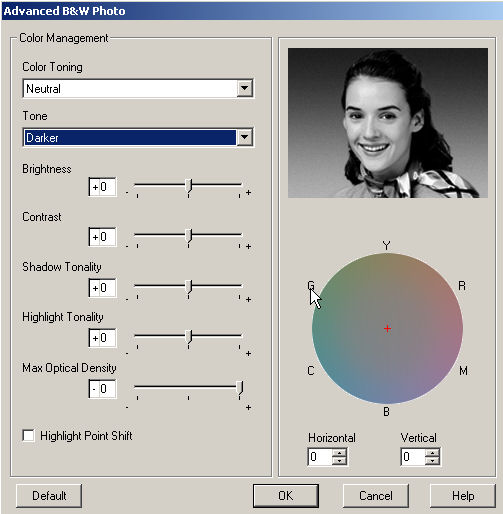 Advanced B&W settings
So far we only created Neutral, Warm and Cool prints and did not explore these advanced settings (maybe later).
We think that the R2400 produces very nice metamerism free B&W prints.
Note: The manual writes about the "Highlight Point Shift" option: "Highlight Point Shift" will help to reduce gloss differential by adding density to the highlights of you image". This means that there are situation where you still may experience some gloss differentials.
Note: We also tried to print a B&W image in AdobeRGB to print in color mode. This also produced very neutral B&W prints. Obviously Epson improved there driver to be way more neutral.
Better Black?
Yes, the black is better than previous Ultrachrome printers if you print on glossy media and use the Photo Black (PK) ink. As far as we understand the Matte Black (MK) is about the same black ink as featured by the last Ultrachome generation.
Print Speed
About the same as the R1800 and this means some improvement over the P2200.
First preliminary Summary
Despite some of our critical notes (yes, we want it all :-) ) we are at a great start with this new printer. Remember we liked the P2200 and the R2400 is a significant step forward from the P2200:
Better blacks on glossy media
Good B&W option
Faster print speed
---
7/1/2005 Extra R2400 generic Profiles
In case you missed this link during your installation you should download extra generic profiles provided by Epson for R2400 and a "Printer Basic Manual" from here.
---
7/2/2005 Comparing R2400 and R1800 prints
Despite some problems for certain images due to not optimal profiles the R1800 was always considered a very good printer by us.
We reprinted some of our sample pictures now on the R2400. Our friend Jack Flesher and me compared the R1800 to the R2400 prints (both printed on the Epson Premium Semigloss Paper).
Observations:
R2400 showed better black definition to our eyes
R2400 showed less bronzing (although the bronzing on the semigloss paper is not really bad at all)
R2400 is in an entirely different league if it comes to B&W prints
Overall the R2400 is easily worth the extra money. But if you have the R1800 and do not want to print B&W or larger (means also to use the 4800/7800/9800 printers) then there is no real urge for an upgrade.
Unfortunately the Epson Premium Semimatte is paper not available in smaller sheets (Letter or 13x19"). Overall we like this Epson glossy medium better than most other Epson glossy papers. Luster prints fine and also looks fine behind glass but we do not like the surface if viewed by itself (orange peel look).
---
7/20/2005 Prevent warping with Epson Enhanced Matte Paper
The Epson Enhanced Matte paper is a nice matte paper. But it is quite thin. If you print photos that have a lot of dark colors you may see some minor warping of the paper even if the print has dried.
Here is a solution:

Ink Configuration window
We use about 10% less color density and the problem is gone. In general you would need to re-profile the paper for this density but at 10% it seems to work just fine even with the canned Epson profiles.
---
8/15/2005 B&W printing on fine art papers
Today we printed the first time on some fine art papers with the matte black and the R2400.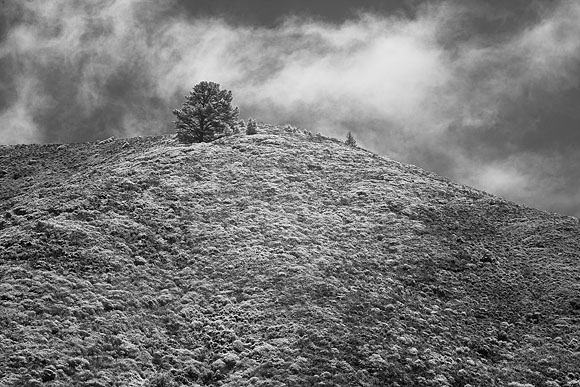 From our Digital Infrared Diary
We printed on both the Epson Velvet Fine Art Paper and Moab Entrada Natural. Both prints look very nice. We recommend to use matte papers where the absolute contrast and black density are less crucial and you like the smooth look of matte papers (we do).