We always liked looking at some B&W infrared (IR) photos. They have a sort of dreamy feeling to them.
With digital cameras real IR photography is more than just challenging. Why that? Nearly all digital cameras have a fixed IR blocking filter built into the camera because the IR radiation is degrading the color response of the sensor.
The old trusty Kodak cameras 760 and ProBack had a removable IR blocking filter. But even with these cameras IR photography is some sort of hassle as you have to use a black IR filter (blocks the visible light) in front of the lenses, adjust the focus for IR and also have much longer shutter speeds.
Some IR fans show on the internet how to remove the IR filters from your cameras. Nothing really for our nerves :-) and then you still need to use normal IR filters.
There also quite some recipes for photoshop that try to mimic IR. We think they don't even get close to the real thing as they don't simulate well enough the rendering of foliage, water and sky.
Here the company irdigital.net comes into play. They modify quite a few types of cameras for use ar IR cameras:
Canon 300D, 350D, 1ds, 1d2, 20d, 1ds2 and also Nikon D100. (Modification of the Canon 10D does not work). The cost depends on the model and is around $500-$600 (plus shipping). Here is what they do:
Remove the camera's IR blocking filter
Replace it with a Filter that blocks most of the visible light (the filter lets some visible color go through for color IR photography)
Change the internal WB parameters (we don't call it WB as the concept of WB does not really make sense for non visible light)
The modified camera needs to be used in the following way:
Does not work for normal color photography anymore (you be warned!)
Handles like before

You can focus as normal. Note:The IR filter is in front of the sensor and not in the way of the lens or focussing system! This means that the camera may even be used freehand at good daylight.
you should use at least F8 or higher because the the IR filter will shift the focus slightly
there is only about 1-2 f-stops loss in exposure (check the histogram and don't rely on the camera's exposure measurements, not problem for us as we do that all the time anyway)

You have to gain some experience how different subjects will show in this camera as the preview is to small to really judge it.
We got a modified Canon 1Ds for review.
Note: Camera Raw cannot make use of the custom WB parameters as they cannot be mapped to the color temp/tint settings of ACR. You still can use ACR to produce B&W IR images. We use RSE and also tested Canon DPP. Both show about the same false colors.
Our first Test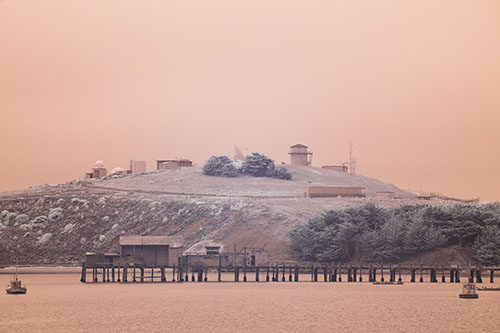 Direct from RSE (using WB "as shot", freehand)
For some images we may even like this tone but in a series it would be not that exciting. That is why we toned down the color and also changed the hue: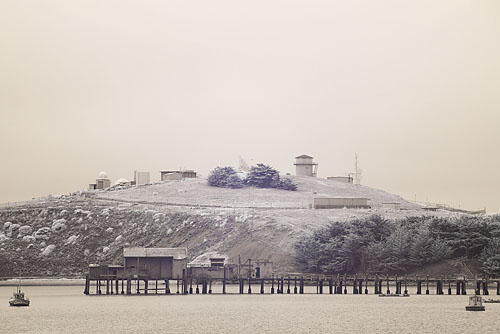 Final version
With the IR camera you can make quite nice photos where neither color or even normal B&W photography would work. The main reasons are:
Foliage gets brighter
Blue sky gets dark
The next two samples show the scene in color and finally in IR.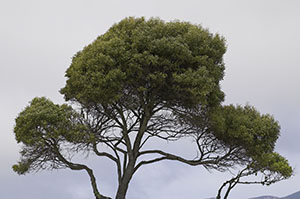 shot with a Nikon D50

This is a nice tree but not sure we like the color version.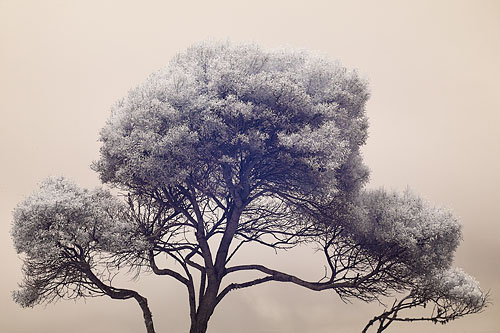 IR version (freehand)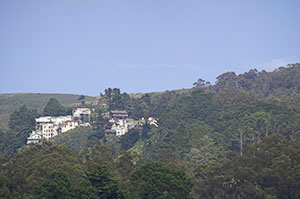 shot with a Nikon D50
In color not really a keeper but IR shows quite a surprising scene: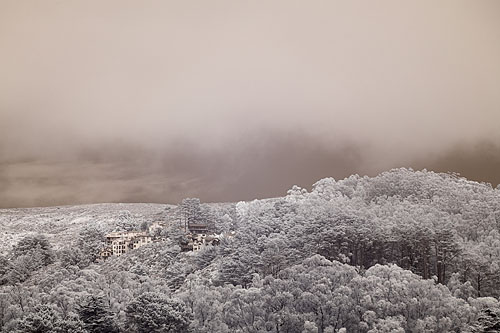 IR version (freehand)
We like the IR version quite a bit.
The following image shows how foliage is represented in digital IR.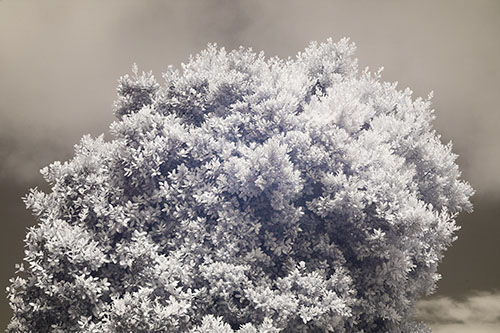 Tree in IR (freehand)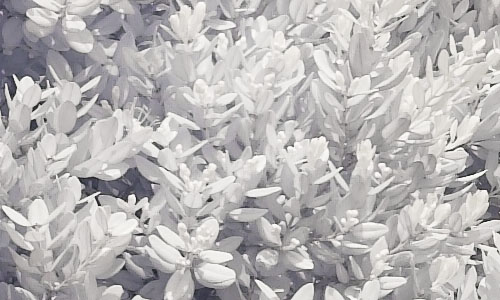 100% magnification
The IR photos are a bit soft but this can be changed with a more heavy handed sharpening: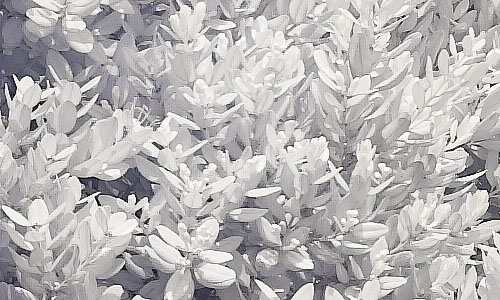 Strong Sharpening (maybe a bit too strong)
Some more sample from Big Sur and Carmel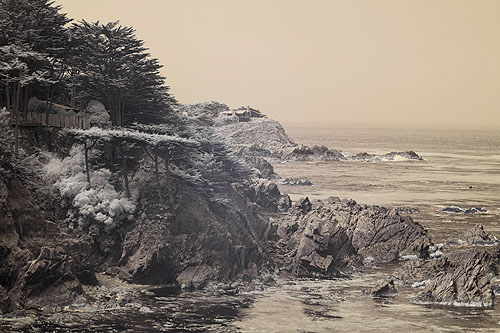 Big Sur (tripod)
Photographing water is a bit tricky as you need longer shutter speeds to photograph at f/8-11.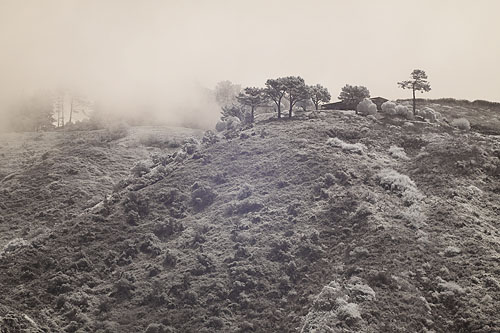 Hill at Big Sur (tripod)
We especially like to photograph the hills with foliage.
Also photographing architecture can be a lot of fun.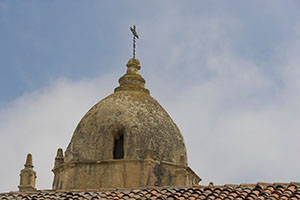 Mission in Carmel (Canon 1Ds2)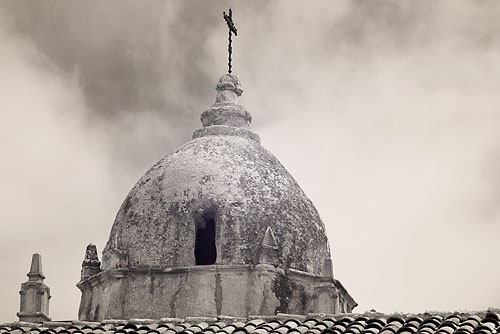 IR version (tripod)
All the images get some sort of dreamy old style look. We like if for now and don't hope it gets too boring over time.
We will let our 350D to be modified and plan not to be out of an IR camera in field in the future. Why the 350D? Because it is so easy the carry in addition to our other cameras. Maybe we let even later modify a different camera too.
We find the IR modified DSLR a very welcome addition to our creative arsenal. We hardly remember when we had been that excited the last time.
8/15/2005 IR B&W
In the end nothing beats the classic B&W IR look.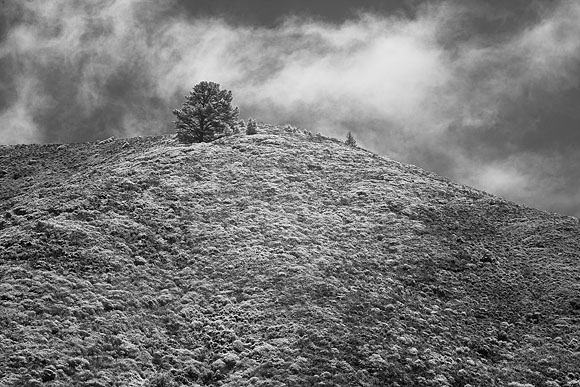 B&W IR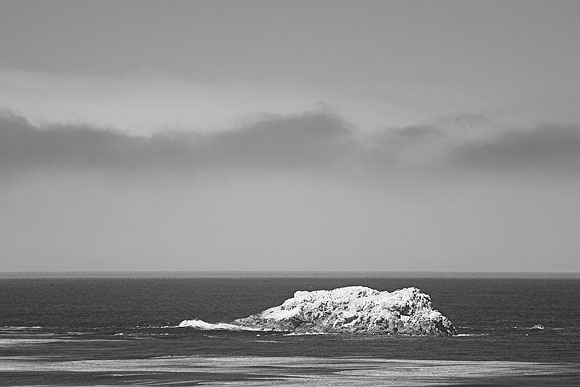 B&W IR
Most of the B&W conversion and the tonality were done in RSE. If you want the print slightly toned you can do that later in the printer driver (either in ImagePrint or the new Epson R2400/4000 drivers).
---
8/19/2005 Colorized shot from Point Lobos
Infrared photography captures a lot of our imagination right now. The following shot shows how nice a slight colorized version can be.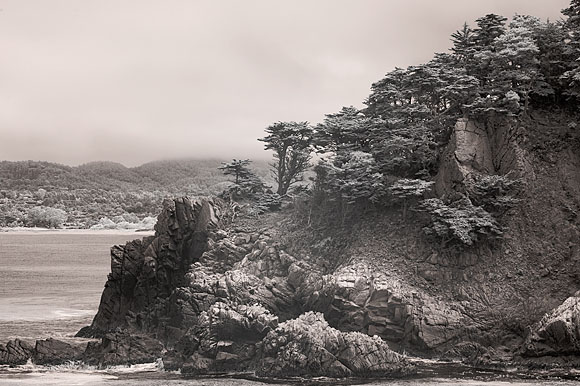 Point Lobos
Again a shot where neither pure B&W or color would have shown the dreamy character of this place. The picture looks like how we felt.
---
8/30/2005 Photos from our Santa Barbara trip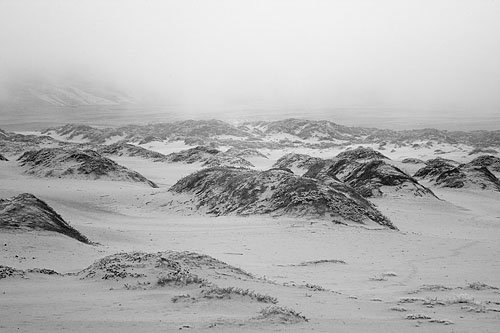 Dunes in Fog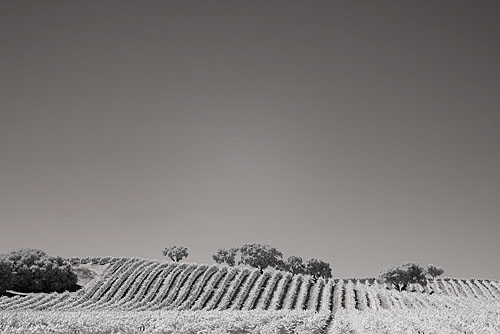 Vineyards ("Sideways" :-) )


Santa Barbara Mission
9/13/2005 Our new Canon 350D IR
We have now for about 2 weeks an IR modified 350D we bought at maxmax.com. We are very pleased by their modification. You can buy a new modified camera or let them modify your own camera. Their modification also tunes the AF to be more accurate on IR.
Cost is $450 + $20 return S&H for domestic USA ground insured
Turn around is typically 1 or 2 days from receipt.
Here are some of the results: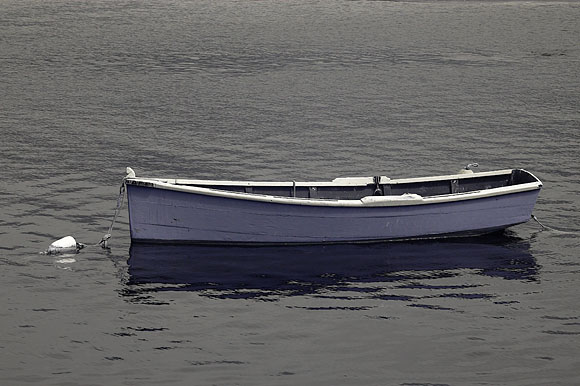 The boat is actually green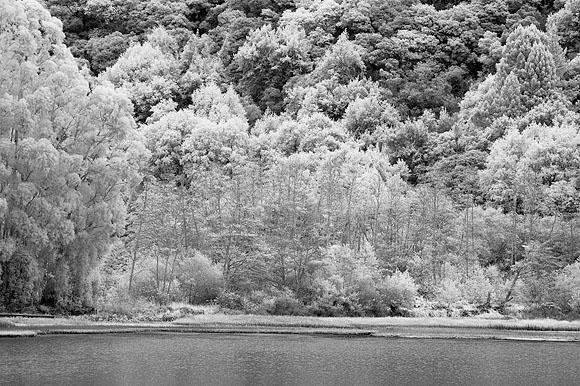 at ISO 800 (more effectively 1000)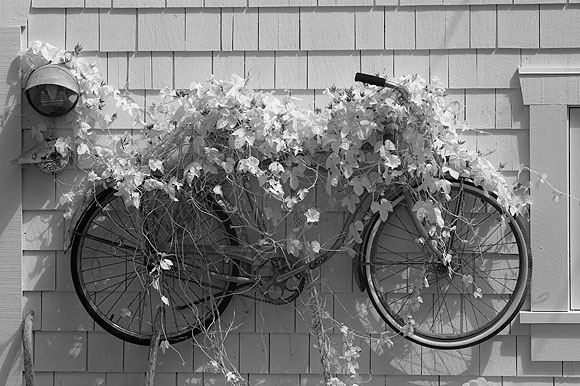 Home Improvement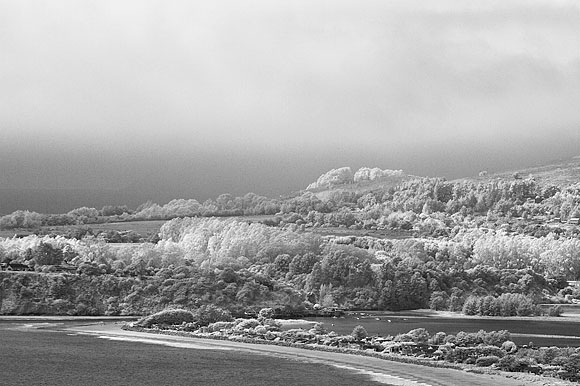 Again ISO 800
We also created a new gallery that only features our 350D IR shots.
---
2/4/2006 IR and lens hot spots
Not all lenses work equally well with IR (even very good lenses have issues). Some lenses show a hot spot (brighter area in the center of the frame (remember that your lenses are not built to work well with IR and some coating may be the reason for this effect).
Check out this page for more information and some lenses that work or do not work well.
We have good experience on our Canon 350D IR with the following lenses:
Canon EF 17-40mm f/4
Canon EF 70-200mm f/4.0 L
Canon EFS 17-85 f/4-5.6 IS
---
9/8/2006 Our new Canon 5D IR
Our friend Lloyd Chambers (see his IR review) showed us some IR shots from the Canon 5D modified for IR. This convinced us to get also a Canon 5D from maxmax.com. This camera is a fun IR machine. The larger pixels and the higher resolution pay off. The images are even useable at ISO 1000 which even allows handheld IR photography. Here are some photos from our first outing: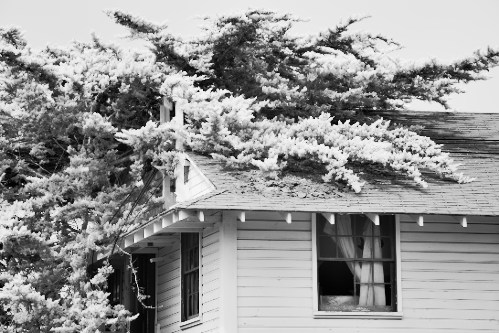 Barracks (Canon 5D IR)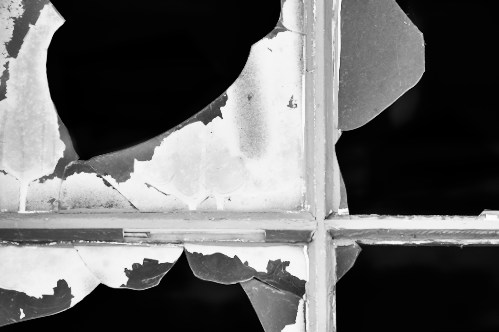 Broken Window (Canon 5D IR)
We are very happy to make the decision for getting the Canon 5D IR. This is an IR camera with a very high potential. We also want to thank maxmax.com for doing a great job.
All B&W images were processed in LightZone (from RAW to print).