The HP Photosmart 8750 Professional is the big brother of the HP Photosmart 8450 that we reviewed some months ago.
The 8750 uses essentially the same printing technology as the 8450 and also the driver settings (for Windows at least) seems to be the same.
What is new?
Prints up to 13x19" papers (this will be a main reason for many to look into this printer)
New #101 "Blue Photo" ink cartridge option (should improve the printing of blue skies and water)
Slightly larger #102 "Gray Photo" cartridge (the old gray cartridge had 15ml and this one is 23ml, means it save you some bucks)
Network interface included (we actually use the printer networked)
Installation
Installation as a USB printer was simple and fast. Also the installation using the network worked fine. The network option allows you to use the 8750 from multiple computers (software has to be installed on all of them). First we planned to use a different PC as a print server but then found the direct connection via network easier (no need to power up a different PC).
The network connection lets you check the ink status from your browser: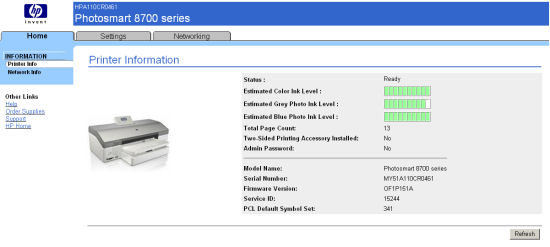 Check via URL
The different ink sets
The 8750 can use 6 different cartridges for its 3 head slots (for the HP 8750 the ink cartridges also include the heads - HP Designjet 30/90/130):
HP 97 Tri-color (3 colors)
HP 99 Photo (3 colors)
HP 96 Black (1 black)
HP 100/102 Gray Photo (3 gray/black at 15/23ml)
HP 102 Blue Photo (to enhance blue color gamut)
| | | | |
| --- | --- | --- | --- |
| Cartridge 1 | Cartridge 2 | Cartridge 3 | Image types |
| Blue Photo | Tri-Color | Gray Photo | Fine colors with lots of fine neutral gradients, B&W |
| Blue Photo | Tri-Color | Black | Fine color photos but no B&W |
| Photo | Tri-Color | Black | Normal color photos and office use |
Switching cartridges is simple but you may lose some ink. Because we still have some cartridges #99 and #96 we will first use them off and also may consider to use #96 "Black" instead of of the Gray cartridges for pure color photos.
First printing tests
We will of course start printing over the next weeks and months quite a bit more. Our initial tests look very good indeed:
Colors look very good using the standard HP profiles (very subtle colors)
B&W is first class as it was with the 8450 (especially very rich blacks)
Note: We have a friend that always complained about his other printers (clogging, not so good standard profiles). He seems to be the first time happy with a printer: his 8750.
We think the HP printers are best used for glossy and semi-gloss/semi-matte media (as here you get the full longevity). Our favorite is the HP Premium Plus Photo Satin (also called Soft Gloss).