What about longevity?
This is the first HP printer we have in for review. Up until now we only looked into Epson printers. Why that? The answer is pretty easy. We know that HP and Canon can make excellent printers, But Epson was clearly the dominating force to care about print longevity. Now it seems that the giant HP also takes longevity very serious.
Charles Cramer was the first who introduced us to the HP130. Charlie is a master photographer and printer (used Dye Transfer, Lightjet, Epson 9600 and HP 130) and pays attention to all the fine details. Means if he finds the HP DJ 130 interesting we listen.
Epson is going the way of pigmented inks to reach the goal of longevity. But this comes with the price of a more limited color gamut than dye ink based solutions and is also limited in the black level you can reach. It is also known that Epson mainly rules on matte papers while their glossy print show quite a bit of bronzing. HP stays with dye inks (improved formulas?) and uses swellable media papers that protect the inks from outside influences.
In the end Wilhelm Imaging Research predicts that the HP Designjet 30/130 prints on the HP Photo Plus Glossy and Satin papers could last 80 years or longer.
We know these are all prediction but so are also the data shown for the Epson Ultrachrome inks. A good paper to read is this HP document "Inkjet Photo Prints: Here to Stay" (of course HP biased but still with substance).
All this is reason enough to have a closer look at the HP Designjet 30/130 printers. The Designjet 30 can print up to 13x19" and costs about $700 (a clear competitor to the Epson 2200). The Designjet 130 can print up to 24" wide and starts at $1300 (competes with the Epson 4000).
Exciting and frustrating times?
We think these are exciting times as we can do now our own prints in a small office that needed 4-5 years ago a huge Lightjet printer with its own building.
Why is printing often still frustrating? Clearly we are still in the early times of high end inkjet printing and nothing is as perfect as we would like to see:
B/W printing
Glossy and matte media
Bugs
Calibration and profiling issues
Overall these are amazing times although making good prints takes a long experience and costs a lot of wasted ink and paper.
Out initial feeling is that the HP Designjet is worth to be explored.
Installation
We find the installation document could be much better with larger pictures. Have look at the documentation on the CD which uses animations to show the essential steps. Epson printers have the print heads fixed integrated into the printer while the HP DJ 30 uses extra heads (the HP consumer printers have the heads built in to the ink cartridges). Installing the heads means also an extra step. If you know how this extra step is very easy. As said we did not find the installation sheet that helpful.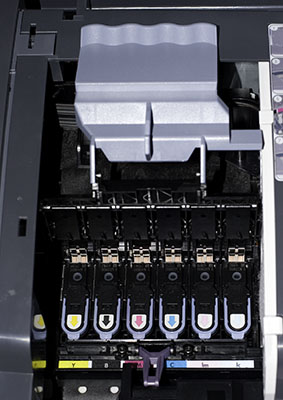 Print heads
The ink cartridges are pretty well sized and have more volume for the inks that are used up most (black, light cyan, light magenta and yellow). Very good idea.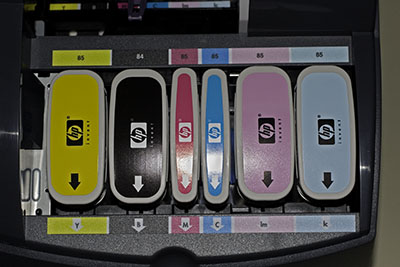 Ink cartridges
The panel on the front shows status information and how much ink is used: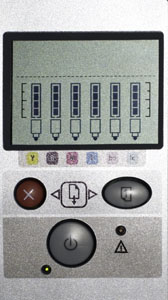 Operations panel
Note: The HP DJ 30 needs a lot of space for a 13x19" printer.
Color Management
We find that HP takes color management of their HP DJ 30/130 very serious. The color management is actually a two step process:
a) Paper type printer calibration
b) Profiling
Color Calibration
The color calibration is a great idea. The printer prints a target, checks it and optimizes settings for a certain paper type and stores the data in the printer's flash memory. Even without the calibration the printer works quite well. You should calibrate the printer when:
Using a new paper type the first time
After switching heads
Every 2 weeks (we hope this is a too aggressive schedule)
But on our road to color calibrations we had to overcome some problems:
1. It won't work through a USB hub (HP service helped us here very efficiently)
2. Somehow HP software designers got the idea to assume that every Windows user has the Internet Explorer as its default browser (what were they thinking?). We did not. If not then you are out of luck to use the software. Solution: Make IE you main browser. (HP service could not help directly but brought us on the right track).
For the next problem you have to understand that you calibrate the printer for certain HP paper groups (not really down to the single different papers).
To understand which paper belongs to which group read here. We also don't want to repeat all the details of that process but show the excellent article by Neil Snape.
3. But even if you understand all this there is a major glitch. The printer won't do proper calibration of the Photo Plus Glossy paper. Fortunately there is a known workaround. You calibrate the printer for the Photo Plus Satin paper and use this setting in the driver settings.
How to use the HP 30/130 from Photoshop is also described by Neil Snape here.
Is the calibration worth it?
So far we think clearly yes. Before the calibration we got great prints but this image showed a color cast in the marked region: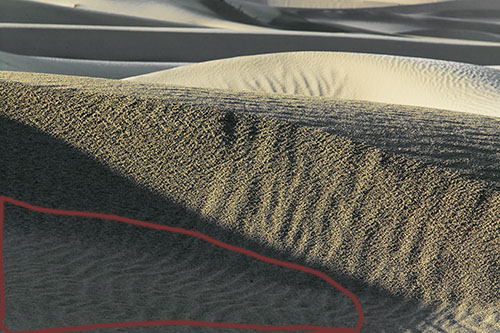 Death Valley Dunes
After calibration this color cast was gone.
Profiles
The HP DJ 30/130 comes with many HP stock profiles and they are really good.
First print results
So far we don't have a lot of experience. But what we see looks very good so far. Including the prints we have seen at Charlie Cramer's studio we think that the HP DJ 30/130 is a strong solution for glossy media.
We like the gloss and satin surface quite a bit
Blacks are excellent and deeper than the Epson UltraChrome inks can produce
Some gloss differential (also called bronzing) but a lot less than on the Epson printers with gloss media
We have some open issues though and will follow up on them:
The printer smells very strong in our small room. Have to see where it is related to the burn in process or not (interestingly the smaller HP 8450 consumer printer does not have that problem)
We see roller marks on the paper. But it seems that this is healed by the printer heat on the actual picture area.
HP 130/30 resources
This is a diary and more to come.....
Other Opinions