On a trip to San Francisco we used the Pro1 a first time. As mentioned above this review diary is written from the perspective of a long time DSLR user.
Electronic Viewfinder (EVF)
This is the single most negative difference to any DSLR we have used so far. The optical viewfinder is so much more clear than any EVF we have used. The Pro1 is no exception here.
Size
The Pro1 is a lot of camera for it's size. We like to handle larger cameras as they feel better in our hands (our hands are pretty small). The Sony F828 is much bigger and we tend to see this as a plus. But if you want a small camera the Pro1 may be for you.
Handling
The handling of the Pro1 is easy to learn and is pretty good for such a small camera. We hardly will get used to the slow handling of these types of cameras:
AF is slow
The camera is not instantly ready for the next shot
Autofocus
We are not sure about the camera's feedback on autofocus. There were situations where the autofocus seemed not to lock in. There is also a danger that you may push incidentally the button for manual focus with your thumb. This is not a good ergonomic solution. We found the feedback from the Sony F828 a lot better.
Images
Overall the images from our first session seem to be nice. There is only slight CA (chromatic aberration) or PF (purple fringing).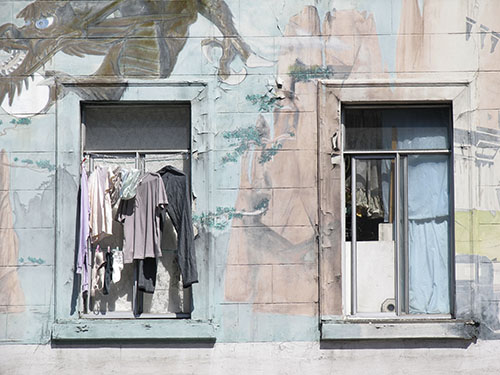 Mural in SF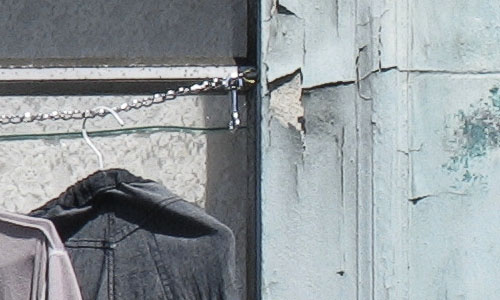 crop at 100% magnification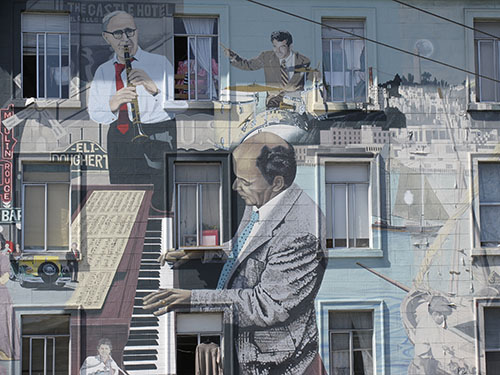 Freshly painted Mural in SF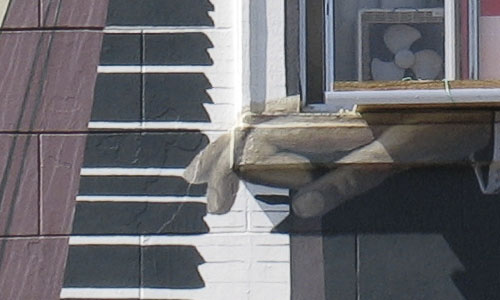 crop at 100% magnification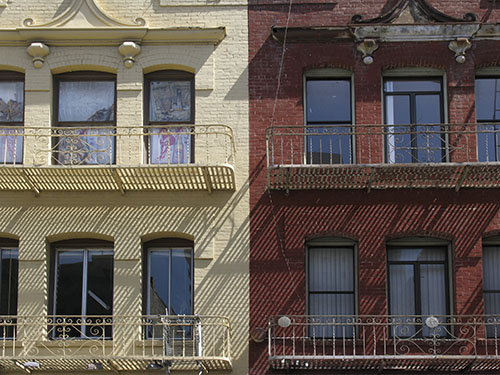 Iron Stairs in China Town
Overall the images are very nice and match the other 8MP cameras we have tested so far (Sony F828 and Nikon 8700). There is some CA but is is very low on these first pictures.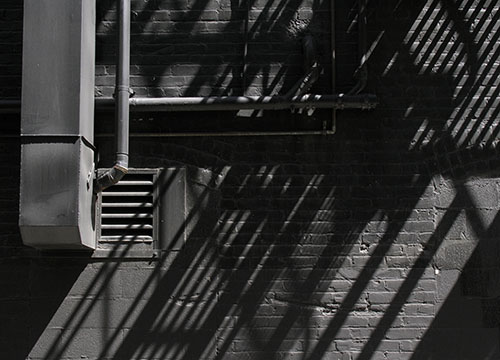 Black Wall in SF (ISO 100)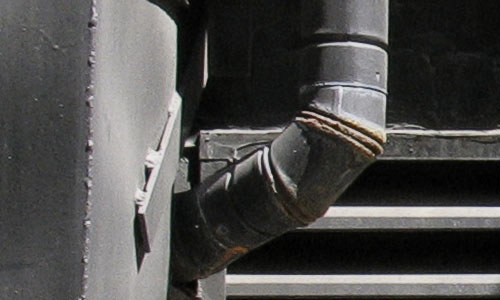 Crop at 100% magnification
This black wall test shows a slight trace of purple at a high contrast edge. Overall the Pro1 mastered this difficult black test very well.