As always a new Canon 1D series camera is a major event and these cameras marked milestones in the top end of digital SLRs:
2001 Canon 1D: First true digital sports SLR with 8 f/s (4 MP CCD sensor)
2002 Canon 1Ds: First full frame digital SLR (11 MP CMOS sensor)
2004 Canon 1D Mk II: First digital sports SLR with 8 f/s and 8 MP CMOS sensor
2004 Canon 1Ds Mk II: improved on the 1Ds with 16 MP CMOS sensor
2007 Canon 1D Mk III: 10 f/s with a 10 MP CMOS sensor and many new features
2007/8 Canon 1Ds Mk III: Open question ???
Canon celebrates 10 years EOS system in 2007 and the 1D Mk III is one of the birthday presents. There are quite a list of new features packed into this new camera. We list the most important ones and will try to feature some of them in more detail later.
New body with new battery system (looks very much like the Nikon battery, same supplier?). The new battery reduces weight. Still not really a light camera and it cannot be light to balance large tele lenses.
Huge 3" LCD
Live View for focusing directly on the LCD with mirror up (more about this in future postings)
Dust cleaning feature
10 frames per second at 10MP bursts
14 bit A/D converter
Improved ISO performance (allows ISO 6400)
Improved auto focus system
The histogram
Histogram shows now all 3 channels and the luminance histogram at the same time. So far so good. Unfortunately it is hard to see whether the data clip because the background of the histogram is dark gray and the rest on the LCD is black. It would be much easier to check the histogram if there would be a clear visible line around the histogram area.
Los Gatos test shots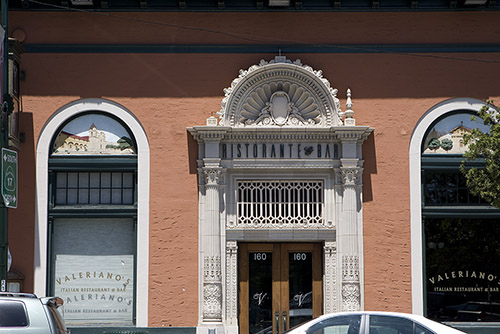 Ristorante @ISO 100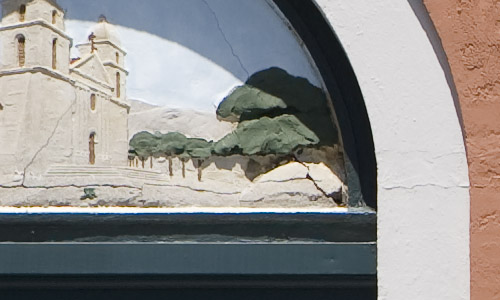 Crop @100% magnification
We used for this test our top EF 24-70mm f/2.8 USM zoom. The resulting image is is excellent. The colors are excellent. Like most digital SLRs (the Fuji S5 is an exception) a contrast range like this is a challenge. We did not mention this in the past but got spoiled by the dynamic range of the Fuji S5.
We think the next real frontier for digital SLRs is to improve the single shot dynamic range and Fuji leads the way here.
You can download the original RAW from here (>16MB).
Note: Remember that the service we provide is financed by selling our ebooks and PS tools. Also direct donations are welcome.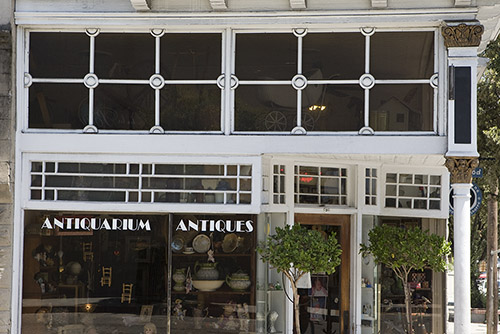 Antique store @ ISO 400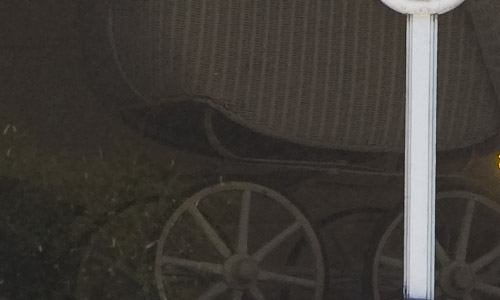 @ 100% magnification
Shadow noise at ISO 400 is hardly existing.
ISO Test
We converted with Camera Raw 4.1 (luminance noise removal to zero) and then sharpened with the same level in ACR 4.1 and EasyS Plus (actually very minor).
Note: Because of the bright blossoms of this tree the scene had a very high contrast.Our goal is not to judge the full scene but the window crop.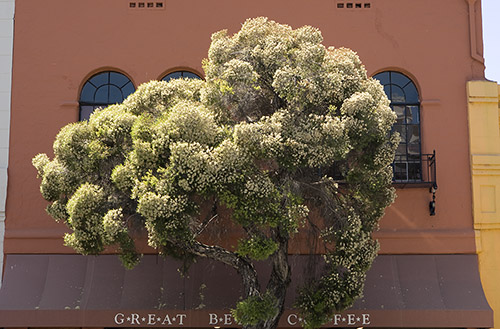 Bear Coffee Shop
Canon EOS 1D Mk. III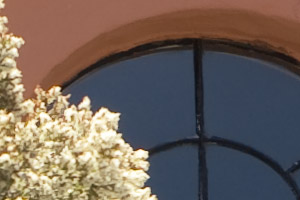 ISO 100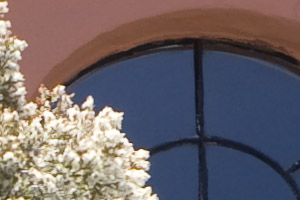 ISO 200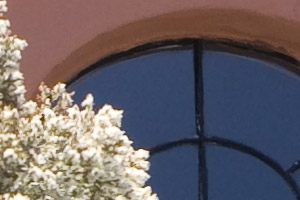 ISO 400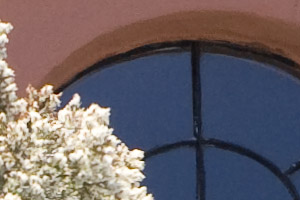 ISO 800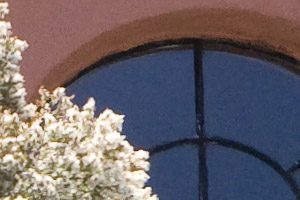 ISO 1600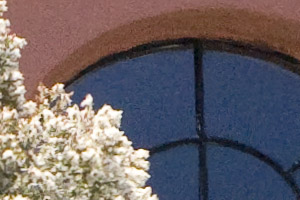 ISO 3200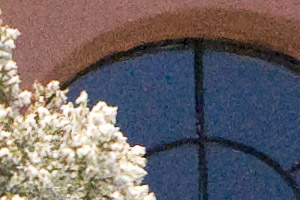 ISO 6400
Remember all these shots are with all luminance noise removal off in camera and raw converter. Up to ISO 400 very smooth with virtually no noise. ISO 800 is still excellent. At 1600 some fine grain but still pretty good and if you need 3200 this camera delivers. Even in some situation ISO 6400 may save your day. For images at 3200-6400 we would try some noise removal tools and would not sharpen the shadow parts. Clearly the best high ISO performance we have ever seen.
For the first time we also have the ISO 800-6400 shots as original RAWs available for download.
First conclusion
Clearly the new Canon EOS 1D Mk. III seems to deliver on its promises. Some users may have issues with the size and weight. On the other side I think a sports camera to be used with lenses from 300-600mm needs the weight to be rugged and also to counter balance these long lenses. Important is also that this technology will likely be used in the next generation of 1Ds and 5D bodies.
We played also a bit with Live View and think that this is really a great feature (more in future postings).
This camera with 10 MP image size, excellent noise characteristics and 10 f/s gets close to the one size fits all camera. 10 MP pictures with this level of quality per pixel will allow 16x20" prints for all but the ultimate detail fans. Remember that the Canon 1Ds (Mark I) was the camera of choice for many demaning photographers. It had only 1 MP more pixels and showed quite a bit more noise.
So far we only dislike the display of the histograms (hard to see the boundaries of the histogram area in sunlight). Overall we are at a very good start.
There is a lot to explore with this camera. Stay tuned.