Getting Started
Right now the following cameras are often compared on the net:
We will explore over the next few weeks how these very different cameras compare. For this purpose Jack Flesher and Uwe Steinmueller shot the same scene with all these cameras.
Lenses used:
Canon EF 24-205 f/4 IS USM (on Canon bodies)
Nikon AFS 28-70mm f/2.8 (on Fuji S5)
We shot the following scene in Alviso (South Bay, CA):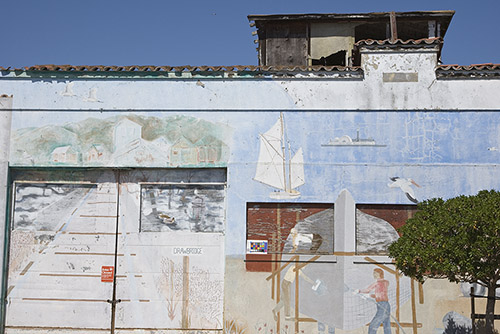 Landmark building in Alviso
We shot this scene like this because we wanted to have the following challenges:
High contrast scene to show DR of the camera
Shadows to show noise and shadow detail
Macbeth ColorChecker included (a bit small)
We used a position that can be used also for future camera tests
Many different detail elements
In this first posting we want to share the original RAW files and let the photo community discuss the following aspects:
Detail
RAW converters and RAW converter settings
Best sharpening practices
Noise
Colors
You can download the original 3 RAW files from here ( about 53MB).
Note: Remember that the service we provide is financed by selling our ebooks and PS tools. Also direct donations are welcome.
We appreciate your feedback and may publish some selected comments. We ourselves plan to comment on the files over the next weeks.