The Sony DSC-R1 is an interesting camera for quite a few reasons:
Works like a larger digicam
Has an 10 MP APS sized CMOS sensor
Features a Zeiss zoom with an equivalent range of 24-120mm in 35mm terms and f/2.8-4.3
Price below $1000.
When we reviewed the smaller brother the Sony F828 we were not really impressed:
Image quality (the infamous purple fringing, probably a problem of the lens and sensor)
The EVF was not really up to our taste
Poor RAW support (large files and very slow handling with RAW)
Because we find this a very important camera we bought a Sony R1 as we did not yet receive a review sample from Sony in time.
Some first observations:
We find the range of the zoom with 24-120mm (135 equivalent) very useful. Restricting the zoom range allows to build better lenses.
We expect the R1 to behave much better in terms of image quality because the APS sized sensor (about the same size as used in the Canon 20D and not a lot smaller than used in the Nikon DSLRs). For such a sized sensor 10MP makes sense but the 8MP were overkill for the small digicam sensors.
Don't expect us to fall in love with the R1 EVF. But in some way it feels better than the one from the F828 and the manual focus is quite well implemented.
The RAW support is as poorly implemented as with the F828. Sony does not use any compression to store the RAW files (20MB for the RAW file and the R1 also always stores a JPG). The R1 is also not buffering more than 2 RAWs at a time. For the R1 this is even more disappointing as we want and will use RAW to get the maximum image quality from the R1. For us this is a signal that Sony does not take RAW really serious because we think can do better if they want. We still hope this will change over time. Maybe also a good chance to use DNG for the next cameras.
The autofocus does not supply us with the same solid feedback as e.g. a Canon 350D and does not lock in as fast. Time will tell how well it works for us.
As with the F828 we love the live histogram for best exposure. The R1 also features an easily visible "Zebra" pattern to show potentially overexposed areas. The handling of these areas seems a bit too conservative but is still helpful. We would like to see with the live histogram 3 indicators that show the clipping of individual channels. Showing all 3 color channels in the live histogram would either take up too much space in the finder or could be confusing.
After the shot the R1 can show 4 histograms (3 channels + luminosity). Very well done (like with the Nikon D2x, unfortunately the new Canon 5D shows only either the 3 channels or the luminosity histogram).
We find the camera handles very well. We like cameras that are not too tiny and are still compact.
We would like to see an external battery charger as part of the package. Charging in camera is not that practical.
The LCD on top of the camera feels nice because it is not in your way while using the viewfinder. Makes also a nice control center on top the tripod.
For the use on the tripod we would like to have a setting with less than 10 seconds for the self timer.
The R1 has an auto mode that activates automatically the viewfinder or the LCD. We were able to fool it sometimes.
The R1 supports shutter speed and f-stops in 1/3 increments. Unfortunately ISO is only supported in full f-stops (160/200/400/800/1600/3200).
Sony's RAW converter: Image Data Converter SR V1.0
We spent a few minutes with this tool. Life is too short to wait for this tool to react to changes. We plan to use Adobe Camera Raw 3.3 (which has preliminary support) or Pixmantec RSP once it supports the R1.
This does not mean that you may not get good results if you are patient enough to use the Image Data Converter. Many of the manufacturer's RAW converters (Nikon and Canon are exceptions) are not really designed to be used in a workflow with many images.
---
12/9/2005 Some Los Gatos test shots
We use the beta of Camera Raw 3.3 with preliminary R1 support.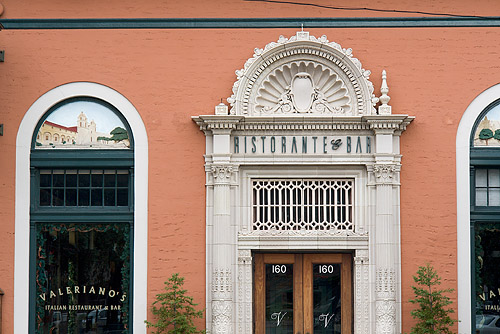 Ristorante @ISO 200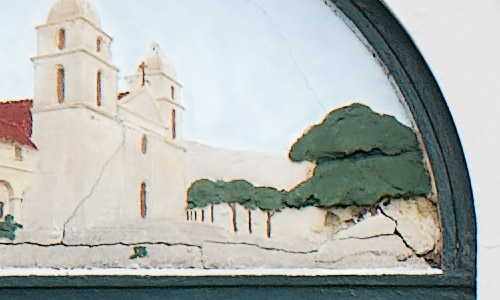 Crop @100% magnification
Colors are nice (most of the time we have sun light during this test and this time overcast). The details are not quite at the level we like but we are used to Pixmatec RSP that certainly gets more detail than other converters. But we also did not use the self timer and this could have introduced some shake. If we would have used the 10 second self timer we would needed to take many pictures because in 10 seconds many cars could have been in our way. Overall we think the picture is very useable. We start to like the R1.
You can download the RAW and JPG from here (>20MB).
Note: Remember that the service we provide is financed by selling our ebooks and PS tools.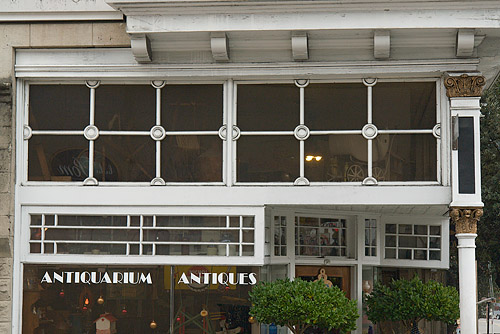 Antique store @ ISO 400
With other cameras and lenses we often see strong distortions with this scene. The Zeiss lens did very well.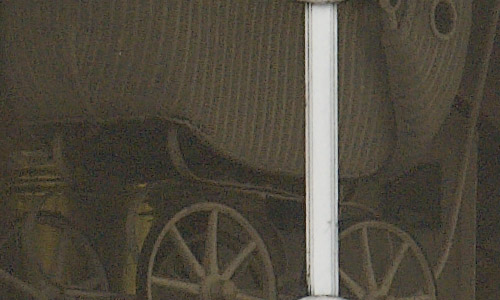 @ 100% magnification (no noise removal)
The noise level at 400 ISO is quite acceptable. If you want less noise just use a noise filter like Noise Ninja.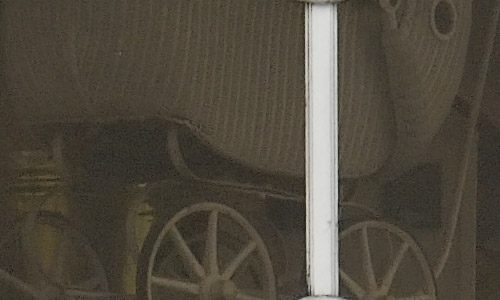 Mild noise correction with Noise Ninja
Also in this test the R1 behaves quite well.
ISO Test
We use the beta of Camera Raw 3.3 with preliminary R1 support and then sharpened with the same (strong) level of EasyS Sharpening Toolkit. No noise removal in ACR 3.3.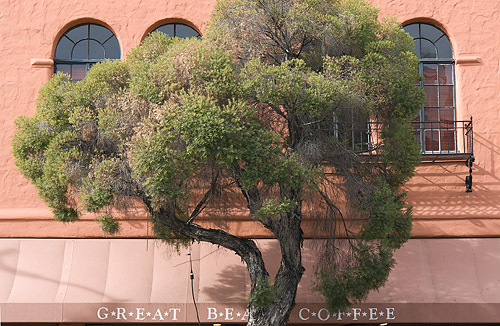 Bear Coffee Shop
Sony DSC-R1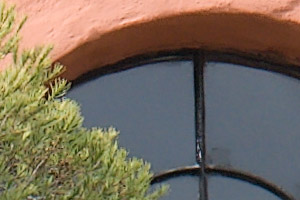 ISO 200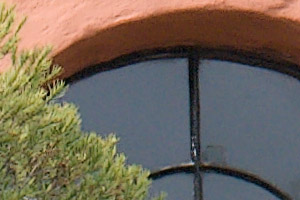 ISO 400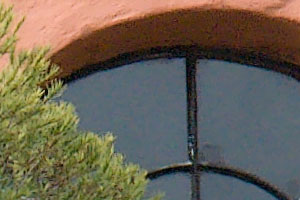 ISO 800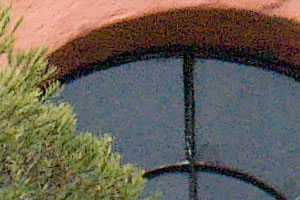 ISO 1600
The lowest ISO level for the R1 is 160. Because this is close enough to ISO 200 we skipped this test. ISO 200 is very good, ISO 400 not bad, ISO 800 can be used still for good images. We would try to avoid to use ISO 1600 and higher although with tools like Noise Ninja you may get still nice photos. Overall the R1 does not disappoint at all in our noise test.
12/10/2005 Note on Image Stabilization
Some people may think that missing image stabilization is not a real problem with the R1 24-120mm zoom. We beg to differ:
The range 70-120 can make a lot of use from image stabilization
The R1 invites to be used handheld and here image stabilization can give a 1-2 f-stop advantage
If you use the 1.7 tele adapter lens (we get one next week) the focal range gets up to 204mm and here image stabilization is even much more needed.
We hope that Sony may get access to the Minolta anti-shake technology and use it in future cameras (Sony and Konica-Minolta announced a partnership) . All main players in the camera market need an anti shake option either in their lenses or at the sensor level.
---
12/14/2005 Sony 1.7x Tele Extender Lens
The 1.7x tele extender is quite a monster: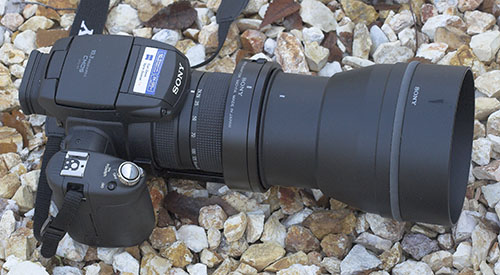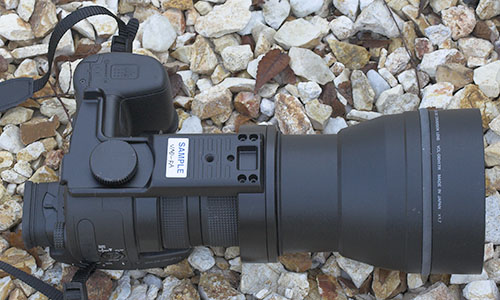 We have no real impression about the image quality but just feel it hat way too many quirks:
Heavy and big (a Canon 350D with 70-200mm is way more compact)
Needs an adapter mounted and then you can't put on the lens hood for the normal lens (means adding and removing the extender is way too tedious)
Can only use the zoom from about 100-120mm. Otherwise you get vignetting like this: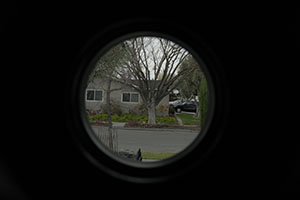 at 24mm :-)
With a lens of this focal length you want image stabilization because the R1 can get noisy at even 400 ISO