Bibble 3.0 Review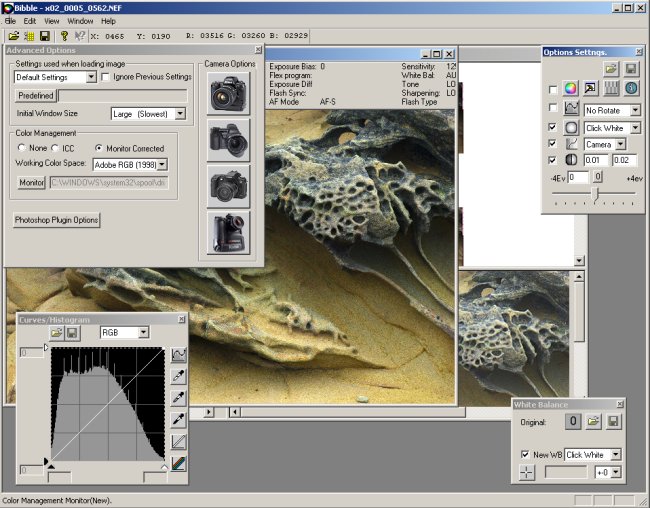 Review by Uwe Steinmueller (last updated 5-3-2002)
Bibble 3.0 from Bibblelabs is now available.
Bibble has been one of the most successful Nikon NEF RAW converters in the market for about 2 years. Since we reviewed the version 2.99 in June 2001 there have been only a few bug fixes to that version. Bibble is not only a new version it looks like a new product.
To describe all features of Bibble would take many pages so we will try to describe and review the essential features of Bibble 3.0.
Basically we are using Bibble 3.0 in early version for the last 3 months and must say that this version is worth the wait.
Before we dive into the different dialogs and options lets have a look at the new highlights. The quotes are directly from Eric (author of Bibble).
Fully Multithreaded
This sounds very technically but it pays off once you really use dual processor machines. I want also to caution a bit as making a highly multithreaded program bug free is a difficult task. I don't doubt that Eric is up to this task but also would not be surprised if early on we users pay for it by some nasty bugs. Hope Eric proves me wrong.
Live Options
All editing options work now live (like the most in Photoshop and Nikon Capture)This is a plus compared to Bibble 2.99 and gives the program a new feel. Bibble is now even more live than Nikon Capture 2.0.
New Cameras
Bibble now supports most current digital SLRs (Nikon D1/X/H, Canon D30, Olympus E10/E20, Kodak 760/720x ) RAW files using the same application interface. Whether you like Bibble better for your camera than the original tools or other third party applications is your call. We can say that currently Bibble 3.0 is our Nikon D1x NEF converter of choice (but also Nikon Capture 2 and Qimage have their strengths).
The Canon D60/1D are currently not supported as I don't think Canon SDKs are available right now.
Great Color
Bibble and Qimage are known to improve on color permanently. We think the Bibble is again improved in color rendition. Whether it is more accurate is a hard call. We like the color rendering better for the D1x NEF files. We had often complained about some color issues in Capture and Bibble which finally were improved in both software packages. Bibble and Qimage provide in our opinion probably the best color rendering for D1x NEF files today. As we never got to love the interactive UI of Qimage (which we currently use as out print processor) Bibble 3.0 is a clear winner.
Actually the good color rendition of Bibble is our main reason to choose Bibble 3.0 as our default NEF converter.
Batch Processing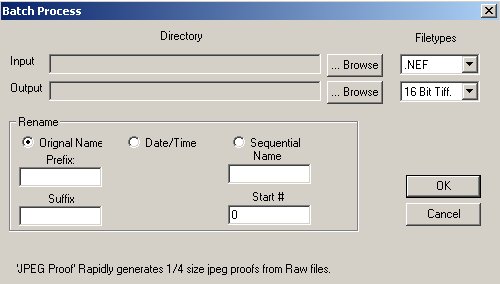 We use Bibble 3.0 for the generation of proof JPG files for a selection of files which are worth for further processing. This generation of proof files is very fast.
Browser Overhaul including larger thumbs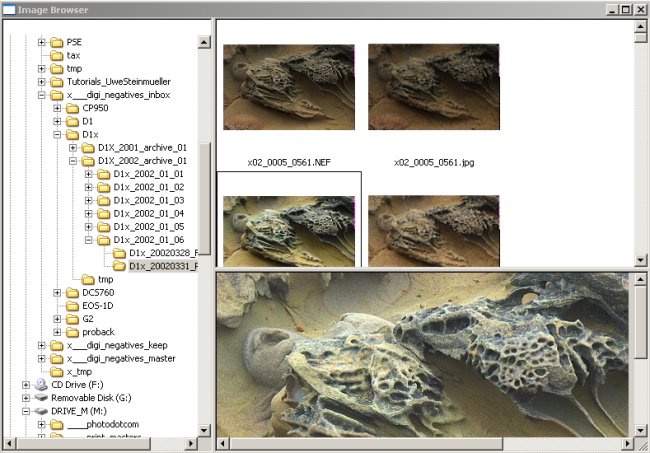 The new browser is pretty neat. For us the main features are
Instant (close too) image preview
Thumbs reflect the last settings for this image
Persistent Options
Bibble now remembers all settings you made for a certain image. This is an important feature as you start over the next time exactly with the last settings for that specific NEF file.
Sticky Dialogs
You will like the free floating options dialogs (like in Photoshop) and that don't have to rearrange them over and over again.
Photoshop Plugin
Bibble comes again with a Photoshop plugin and you can also transfer images from Bibble to Photoshop with one click.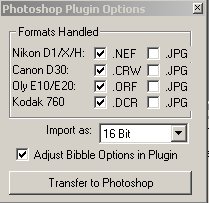 IPTC Captioning support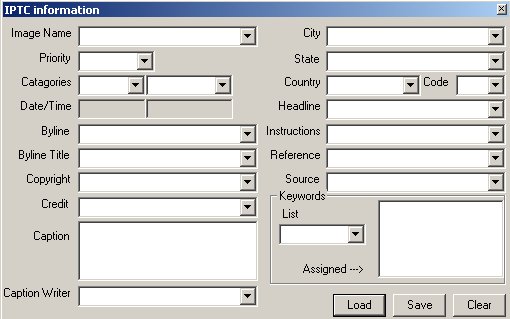 Bibble 3.0 now supports an extended support for IPTC information.
Bibble 3.0 Settings and Features
Persistent Options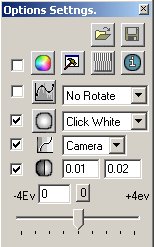 1st Row

Load settings
Save settings

2nd Row

Color dialog
Advanced Options dialog
Filtering dialog
IPTC editing dialog

3rd Row
4th Row

Tone curve settings (we leave it mostly on "Camera"

5th Row

Autolevels (the defaults are pretty much our standard)

6th Row

EV exposure compensation (+/- 4EV)
Advanced Options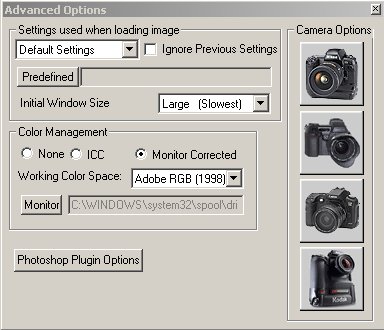 1st Row

You can store multiple settings in Bibble and then specify here which should be used on new images

2nd Row

Here you define your settings for monitor profile and your working Space (we use Adobe RGB (1998)). It is highly recommended to profile your monitor if you intend to get consistent prints.

3rd Row

Button to call the Photoshop Plugin Options

right column

Adjust special settings for:

Nikon D1,D1x,D1h
Olympus E10/E20
Canon D30 (Hopefully soon also D60)
Kodak 760/720x
White Balance (WB)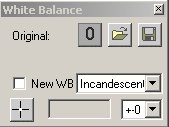 White Balance (WB) can be set in terms of light categories (like cloudy, sunny, flash). Each setting then allows to have 7 variations (-3 to +3).
As an alternative "Click" allows you to select a neutral gray area in the photo and the WB is then calculated by Bibble automatically.
Settings can be save and loaded.
Curves/Histogram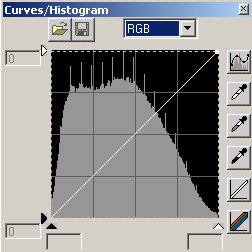 Curves are now also much improved and most importantly you can now save/load settings for future use.
Camera Options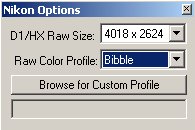 For each of the different camera models settings can be customized in special dialogs (here the Nikon dialog is shown)
Color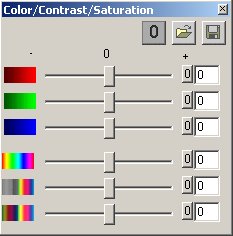 Also the settings of the "Color/Contrast/Saturation" dialog can now be saved and loaded.
Filtering
This dialog controls the settings for sharpening and noise filtering. We have most of the time sharpening set to "Standard"
Output Options

Summary
Bibble 3.0 is an impressive piece of software and can easily compete with all the vendors specialized RAW conversion programs.
For Nikon users Bibble 3.0 is clearly a must have program
For the other cameras you have to check for yourself whether you like Bibble's results better than your camera manufacturers tools. Although it is very obvious that no other tool provides this broad range of options.
Eric, this version of Bibble was worth your effort.