This is an enhanced version of our Simple Sharpening (we reduced the price of Simple Sharpening now to $24.95).
Why EasyS?
First it is easy to use and we think is does also a nice job to avoid many sharpening artifacts (especially halos). We think that this will be all the sharpening you need in most cases.
The EasyS plugin sports only 3 controls (easy!):
1. Amount
2. Method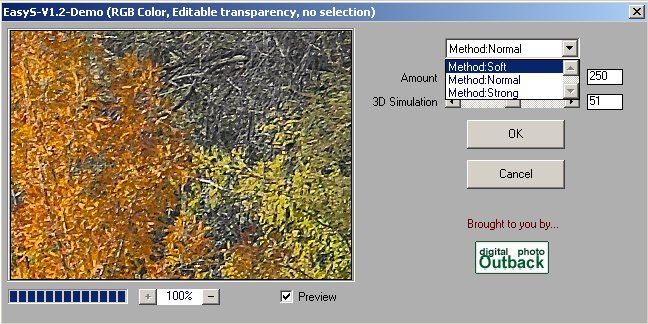 Methods:
The method is about related to what would be otherwise Radius in USM.
3. 3D simulation
This is the main and only difference to Simple Sharpening. Actually if the 3D slider is set to zero it is identical to Simple Sharpening. Read this article by Michael Chaney to better understand that files from digital cameras that use a Bayer sensor need more sharpening in the red and blue components. You can get this effect by using either our "PreSharpen 3D" filter or using the 3D slider. We call it "simulation" as EasyS uses a completely different sharpening technique than other sharpening filters. If the 3D slider is set to 0% there is no 3D simulation active. But otherwise EasyS will sharpen less the luminosity part of the image. Don't expect huge differences (it also depends on the image) but setting the value to 50% or more allows you to sharpen stronger without destroying the image content.
We actually use EasyS with a set of actions that add edge masks to the sharpening. These actions are included in the EasyS package.


Sharpening Actions
How to use?
Look at our samples for Simple Sharpening.
Demo version
Note: We recommend that you first get the free demo version to get the feel whether you like this tool or not. We don't want to waste your money. The demo version creates a watermark that sometimes is hard to find (be cautious). Why do I write this? Simply because we want that our customers like what they buy.
Here you find the documentation and the readme file (for some known restrictions)
Note for all customers that bought Simple Sharpening before 5/25/2004:
Send us an email and you get the new version for free.
Where to buy?
Finally if you like the filter you can find order information here:
Note: This plugin by Kevin Dobson/Uwe Steinmueller will be exclusively sold here at Digital Outback Photo.
Current EasyS actions for EasyS owners (updated 6/5/2004)
We improve over time the actions supplied with EasyS. All owners can download them for free. For readers that do not own EasyS these action will not work as they require the full EasyS sharpening plugin.
Change history:
6/5/2004 Now two main actions
Standard action removes the edge mask and applies the result to the layer. This solves issues you get if you flatten the layers but the alpha channel still stayed.
A second action allows to keep the edge mask