Glacier National Park: Part 2
Varina Patel
Continued from part 1…
Glacier National Park offers some of the most beautiful landscapes in the US. I spent several years of my childhood living in the Rocky Mountains, and returning to them feels like going home. This trip was a return to my childhood - evergreen forests, crystal clear lakes, cool mornings, and sudden storms…
and then there is the light…
Our plans for day two included a hike to Grinnell Glacier – 11 miles round trip with an altitude gain of about 1600 feet. We took a few shots along the road to the trailhead at Many Glacier. Mist on Lake Sherburne provided a beautiful setting and a welcome break from driving. After a brief stop, we continued on our way.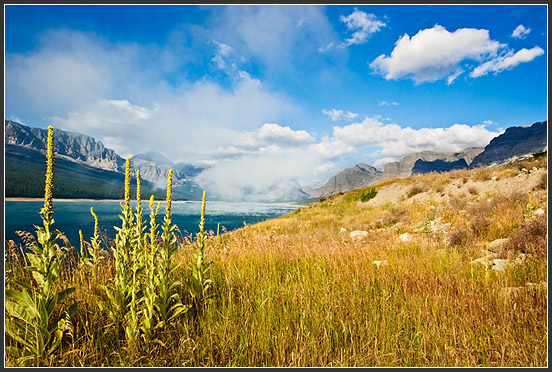 The trail to Grinnell Glacier is truly beautiful. We noted a few likely locations and planned to photograph them on the way down, when the light was more to our liking. Our pace was fast, since we wanted to spend as much time at the top as possible before it was necessary to head back down - and we wanted to have time for photography on the downward trip as well. Grinnell Glacier was amazing, but the light was too harsh for photography. We didn't photograph the glacial lake or its beautiful rocky surroundings. A trip like this one is never wasted, though – we'll return to Grinnell Glacier on another trip to photograph its unique landscape.
As we began our downward climb, I slipped on the steep, rocky path and fell hard. My camera survived the fall and although my ball head has a new dent, it is none the worse for wear. I was surprised to discover that I felt no pain other than a dull ache in my leg. My seemingly minor injury was exacerbated the following day… but for the time being, all was well. We photographed Grinnell Lake on the way down and arrived at the trailhead well before dark. Our feet were tired, but we were ready for more.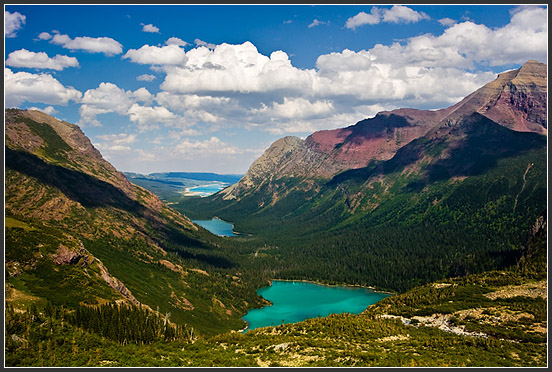 The following morning, we rose before the sun once again. Today, the sky was heavily overcast. Rather than crawling back between the sheets, we scouted possible locations for future trips, and set our sights on another long hike. This time, we planned to visit Iceberg Lake. The hike started out well. After 4.7 miles and an altitude gain of 1200 feet, we reached the end of the trail. Iceberg Lake lacked any icebergs – but it made up for that disappointment with sheer beauty. The lake is a deep turquoise color and the passing clouds made patterns of light and shadow on its surface that defied belief. We waited in the cold wind for openings in the clouds in order to capture the beauty, and finally – satisfied with the results of our patience – we returned to the trailhead.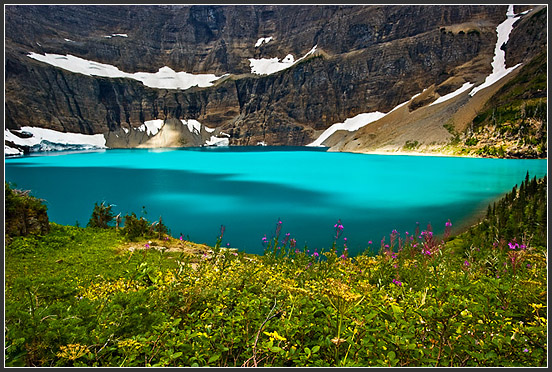 Unfortunately, while stepping down from a large rock, I pulled a muscle that I had aggravated the day before on our hike at Many Glaciers. The pain was so intense that I was unable to hike at our usual pace. I couldn't lift my leg effectively, and I gasped each time I bumped my foot against a rock as the pain shot up my leg. It took three times as long to descend 4.7 miles as it had to climb the same distance. I was glad to climb into the car and rest, but my leg continued to cause me pain for the rest of the trip – and for weeks afterward.
Much to my husband's chagrin, I refused to relax and take some time off from hiking. I insisted on taking our planned evening hike – a short walk on a relatively smooth path – and I photographed the sunset over St. Mary Lake as well. The rocks along this stretch of the lake were a soft blue color spotted with orange lichen, and the clouds turned gold in the last light. Afterwards, I was ready for bed – and painkillers.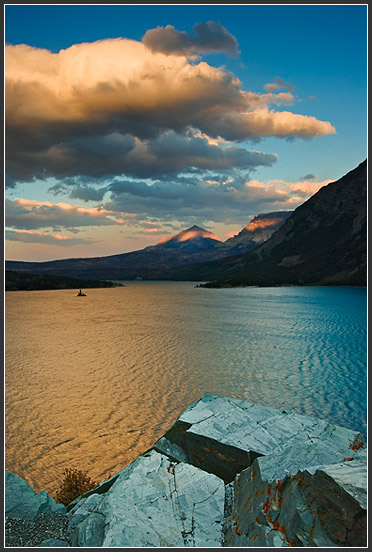 On our final morning in Glacier, we rose early as usual and drove into the park in the rain. With such heavily overcast skies, a pleasing sunrise was unlikely, so we pulled over and slept for a few hours on the side of the road. My leg was still very painful, and time was short, so we turned towards the highway. We captured one last shot as we left the park and the skies began to clear.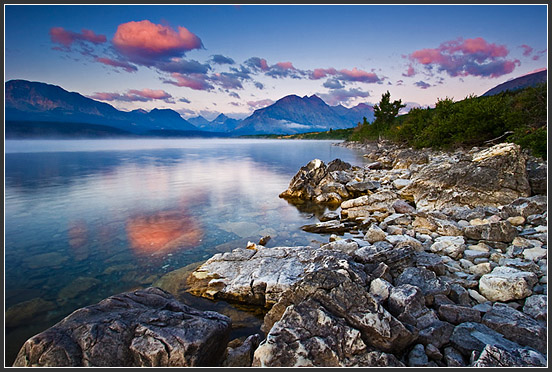 Glacier National Park is a fantastic place. Nature has provided an amazing variety of textures and colors that make photography a true pleasure. If you learn to follow the light, you will discover that the beauty of the park extends far beyond the usual tourist attractions. Both the Montana earth and its breathtaking sky are inspirational.
---
This years 6th Photography & Fine Art Printing Summit