We now use RAW Developer (RD) on and off for 3 years (here is our full original review). We will follow RAW Developer more closely because we now process most of our RAW files through RAW Developer. We want to briefly outline the major strengths of RAW Developer.
Excellent Detail
We think the detail is excellent with RAW Developer and always has been. This is especially more and more important if you deal with high resolution cameras and lenses that match the camera's quality.
Good Sharpening
We often turn sharpening off in other RAW converters because we get too many halos and artifacts. RAW Developer does a nice initial sharpening for our work.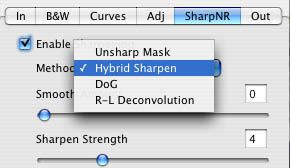 Highlight Recovery
Finally RAW Developer has a good highlight recovery: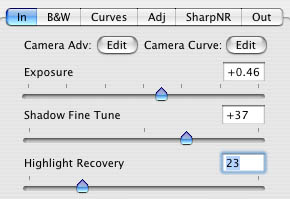 Today highlight recovery is essential and finally RAW Developer features a very good highlight recovery. Why is it so important? Because at default settings many images seem to be clipped in the highlights but most cameras today allow quite a latitude to recover them without losing image quality. This feature alone made us rediscover RD once again.
Top class Histogram
The histogram is RD is in a class of its own.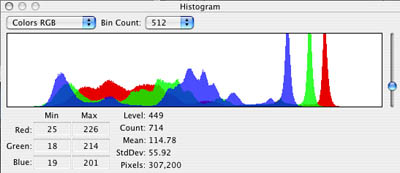 Especially the Min/Max values help to find out any clipping in the image.
Custom Tone Curves
RD allows the user to create his own custom tone curves (also save/restore them).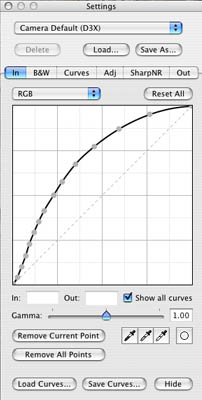 Color Profiles
Overall we like the colors produced from RD a lot. With 1.82 the reds are very much improved. We are not too fond of some blue skies but we never were with other RAW converters either. We processed some of our Bryce Canyon images with RD and got for the first time results we liked.
No aggressive Noise Removal
RD does not perform aggressive noise removal. This means two things:
Fewer lost details due to noise removal
At higher ISO levels you may want to use dedicated Noise Removal tools
Overall we mostly stay in low ISO regions and here RAW Developer shines.
Supports many Cameras
RD is supporting many cameras and tries to be quite current.
RD is still missing some features:
Lens corrections (we use PTLens or CS3/CS4 Lens Correction)
Chromatic Aberration (CA) corrections (we use CS3/CS4 Lens Correction)
Workflow like Lightroom. This turns out to be less of a real issue because we use Lightroom as our organizer/preview application and RD as our main RAW converter. A future entry will show how well Lightroom and RD can work together.
Conclusion
Over the last weeks we used RAW Developer on many images and we are very pleased with the results. Too bad that we even may need to re-process old images again to get the improved RD quality. There is no single RAW converter that is always the best on all images. But we trust RD most of the time.
Highly recommended