11/21/2010 Major Firmware Update (on Mac) Problems with Happy End
My Firmware Update (on Mac OSX 10.6.5) horror story with hopefully happy ending.
Normally we don't often apply firmware updates if it does not fix issues we experience. This update does not seem to be important to us (AF with Sony Alpha Lenses). But somebody thought this firmware may actually improve the issues with moire and aliasing on the VG10. Likely Sony is not talking about aliasing in public. So we performed the update.
Tried update from Mac Pro 8 Core and the the update crashed the Mac during the real update step (Mac blue screen equivalent). VG10 was inoperable.
Used then MacBook Pro and here strange things happened too:
- Crashed if we performed update if we run the update (app was launched from the MacBook Pro disk)
- Worked finally if the disk image was opened via the network
All good firmware updates on camera operate from the card. This avoids bad firmware update software for Mac or Windows.
Seems I am back in business. Had a scary morning hour.
Be careful. Best use the Windows updater as we think it maybe better tested.
---
11/19/2010 VG10 Firmware update
This update allows to autofocus with Sony Alpha lenses. We won't update because there is no win for us. We hoped to see some other improvements too.
More info can be found here.
---
11/15/2010 VG10 short from Moab
We have used now for some videos a Tiffen Pro Mist Black 1 filter on the 18-55mm zoom and it helps with aliasing. We have now a 67mm Pro Mist Pro Black 1 filter for the 18-200mm stock lens on order and will test it then on this lens. Looks like we can manage that the VG10 works for us.
Moab & Arches 2010 from Uwe Steinmueller on Vimeo.
---
11/02/2010 VG10 short: "Faded in Time"
We are trying a new solution to reduce aliasing. Right now we test the Tiffen Pro Mist Black 1 filter. Making some progress we think.
Check out our latest video at Vimeo.
---
10/31/2010 VG10 short: "Helloween Vampires in Town"
Finally some short we like from the VG10. We met this family just by pure luck.
---
10/21/2010 Reducing Moire
The VG10 is really not much fun in terms of moire. We did a lot of tests to get the moire/aliasing reduced.
We tried:
Zeiss Softar 1 Filters (resulted in blurred spots in the video)
Caprock Filters (1.0, 1.4, 2.0, 2.8)
The Caprock 1.0 had an effect but was way to strong for our taste while the the 2.0/2.8 had hardly any effect. The last filter we tested was the 1.4 and it seems to be a usable compromise.
Watch our test video at Vimeo here.
Note: I think it is about effective till 50-80mm. Then it gets very soft. We only use it with the kit lens (18-200mm).
---
9/26/2010 Getting Started
The new Sony NEX-VG10 is a new development in the world of hybrid stills/video systems. With the NEX-5 Sony launched its new E-Mount mirror-less camera system (featuring an APS-C sized sensor) and of course these cameras can do video too. Now Sony also released the NEX-VG10 (like the more professional and way more expensive Panasonic AG-AF100) which uses the same lenses but is optimized for video (a classic video body design).
We find the rational to create a special video body very convincing. As so often the one-does-all design fails to do both sides (stills and video) justice. The NEX-5 is clearly optimized for stills. While video is not much in the way for the stills photographer (except that it is easy to hit the video record button unintentionally), for video the NEX-5 leaves much to be desired.
Note: This review is based on our own camera bought in normal retail channels.
One of our ongoing projects is working on documenting the San Juan Bautista State Park with stills and video an official volunteer. Here is our special video section.
Here are our initial findings.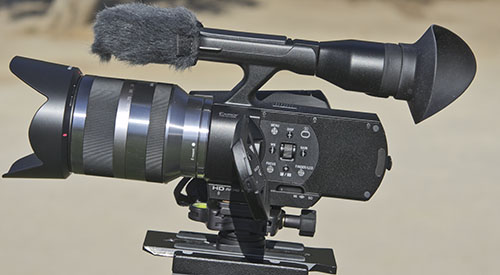 The Good
Large APS-C Sensor
The sensor (the same as in the NEX-5) has the size of regular 35mm movie film frames (about 50% of the size of 35mm still frames). You can create nice shallow DOF images if paired with fast lenses (here you may need to use right now Sony Alpha or 3rd party lenses). The sensor also shows quite good low light capabilities.
Handling
Handling is of course very subjective. Top professional use HDSLRs on high budget movie sets. For them rigging up these cameras is normal. We judge the handling from our own experience as opportunistic documentary filmmakers. We want the camera out of the bag and being able to start shooting fast. Our main perspective are right now stills photos we take with other cameras. Video helps us to document places and scenes we photograph.
So far we find the handling the best we have seen with HD cameras (leave alone cameras using larger sensors). The Panasonic TM700 is a great camera but maybe too small in our hands and the EVF is not really very useful.
Swivel LCD
The swivel LCD is nice and not too bad to view in stronger light. We do not miss it not having a touch interface.
Tilt EVF
The EVF is a surprise. While the image is not very large and makes it hard to check focus (we talk about it later) it provides a good picture and is nice to use. Often looking through the EVF gives you a more stabile shooting position. The tilt is very important to allow the most comfortable position.
Battery (compared to NEX-5)
The batery in the box may be too limited for many shoots (they claim about 90 minutes). You can get larger batteries that may last up to 3 hours. If you use the NEX-VG10 often you should add this larger battery.
Sound
Good Stereo (actually 4 channel) Mic on board. Great for simple interviews.
---
Maybe not so optimal (depending on your point of view)
Lens (that comes with the kit)
At a first glance the 18-200mm f/3.5-6.3 maybe impressive because of the huge range. Unfortunately there are quite a few downsides:
Lens is slow
Makes the camera front-heavy
11x zooms are an optical compromise
We also can use the 18-55mm f/3.5-5.6 from our NEX-5. Here the range is a bit on the short side and the stabilization does not match the 18-200 lens (no active mode).
We know that 18-200mm lenses are very popular but that does not mean they are that useful (except for marketing). We think a 18-105mm f/3.5-4.5 would be a much more useful lens and may even be cheaper.
Compression Bit rate and Codec
The VG10 records in AVCHD (read our article on compression and transcoding) which many do not like. The VG10 has at least increased the bit rate from 17 to 24 (compared to NEX-5 and Panasonic GH1). Likely helps but is still not a very good codec. We try to see it from the positive side and welcome the improved bit rate (compared to the NEX-5 and GH1, the GH2 features also 24).
---
The not so Good
User Interface
There needs to be a button for direct access to the image stabilization settings. There is enough space for extra buttons (compared to the tiny NEX-5).
If you close the LCD you cannot change any settings.
Missing support for manual focus (e.g. peeking or enlarged preview like the NEX-5). Very hard to judge the proper focus on hte LCF or EVF. A larger magnification on the EVF may also be a possible solution.
A dedicated video camera should have Zebra Stripes to show overexposed areas. A histogram does not work as well.
Missing Features
Support for remote control and a remote in the box (Panasonic TM700 has it and most consumer cams too)
Missing built-in ND filters
Allow to set manual sound levels
Support for time lapse videos (like the TM700 has)
Support for slow motion and maybe fast motion
Still photos
Cannot save images as Raw. On the other side we would not really be worried if the camera did not even shoot stills and Sonywould instead have fixed the moire (see below). As is we don't see much reason not to enable Raw.
The Bad
Aliasing/Moire
We hoped that the dedicated video camera NEX-VG10 would show less moire than the NEX-5. This does not seem to be the case as this test video shows. The moire is as bad or maybe slightly worse than the Canon 7D.
Over the next weeks we will try to find ways to deal with this kind of moire.
You have to know that this scene is a worst case scenario and many great movies shot with the Canon 7D prove that you can handle the situation in ways to avoid some of the impact.
Barry Green wrote a classic article on aliasing with modern HDSLRs. This means we are worried about the aliasing but it won't stop us working to improve the pictures we get from the NEX-VG10.
First Sample Video
This sample video is a single take and shot with the 16mm f/2.8 lens E-Mount lens.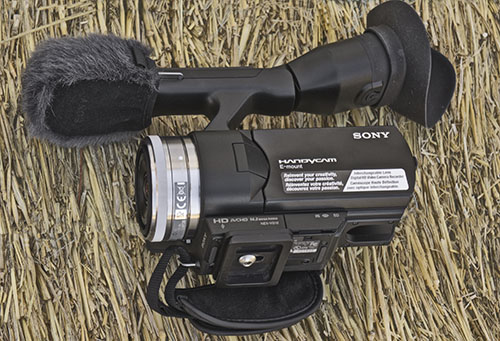 Hard to believe but this is the body with the 16mm f/2.8 lens. This is a nice combo for indoor shooting. Sound recorded with on board mic.
First Conclusion
As you can see we have some mixed initial findings. Overall this is a very unique camera. Its only Peer is right now the much more expensive Panasonic AG-AF100. We plan to use the NEX-VG10 for small projects and find ways to improve our results.
Other Resources