5/27/2008 Really Right Stuff L-Bracket
For all our tripods we use heads with Arca Swiss mounts. You can get a L-Bracket plate from Really Right Stuff for your G9 and still keep access to all connections on the G9(mainle cards and battery):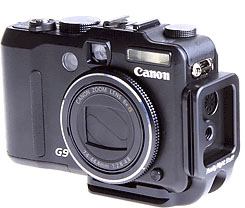 If you want to be way cool and safe they also offer the G9 Body Armor accessory (machined from a solid block of aluminum):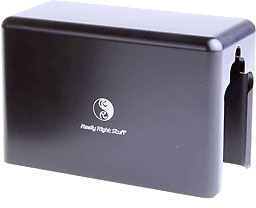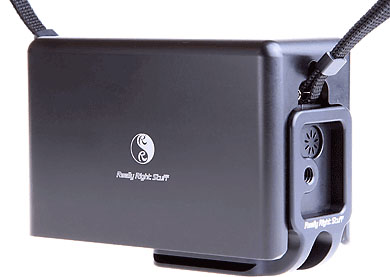 ---
3/3/2008 User Review by Paul L. Richman
This is a review about the G9 by a Canon 1Ds Mark III owner.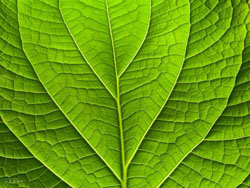 We think this review shows what a talented photographer can do with the G9. The more we use the G9 we can second Paul Richman's findings. We have a G9 on order and plan to use it as our "take everywhere" camera.
---
2/20/2008 Wish list: ISO Lock
We normally use only ISO 80 or Auto (which switches between 80 and 200). But then we found later that many of our shots were taken with ISO 200 at bright light. What was going on here? It turned out the dial was set to ISO 200. We are sure that we did not do this intentionally. I likely happened during handling or storing the camera into the bag. That is why we would like to see a lock for ISO that would help preventing this to happen again.
---
2/19/2008 Essential Accessories
We checked out two of the most popular 3rd party accessories:

G9 with Lensmate and Grip
Lensmate
We consider the Lensmate essential because we can hold the camera so much better (handles like a very small SLR). It also acts as a lens hood at the wider angle settings of the zoom (see below). Then of course it is also an adapter for filters and lenses. The built quality is just excellent.
We also wanted to have a lens hood at the longer zoom range and added a cheap wide angle rubber lens hood to the Lensmate: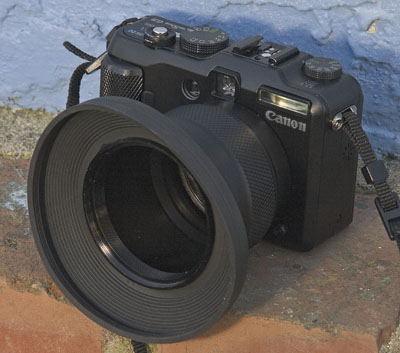 Lensmate with rubber lens hood
Richard Franiec's Grip
The grip helps to hold the camera much better. The grip is also a fine piece of craftsmanship.
Richard Franiec also offers a "Thumb Rest":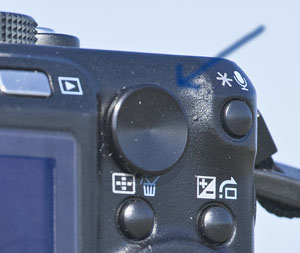 Thumb Rest
We like the Thumb Rest too.
Clearly the Lensmate and the Grip get you much more fun out of the G9.
---
2/16/2008 G9 Gallery #1
We have now used the G9 for a while taking real photos (means no test images). Overall the results are very positive. The main issues:
LCD in normal sunlight. It could be brighter, have more resolution and show better shadow detail. It needs to get a swivel in the next generation.
Top class and precise viewfinder would be welcome.
Shutter lag too long. Overall speed is an issue.
Images at full resolution look grainy. If printed at smaller sizes this is no major issue.
The gallery we post is from two different sessions:
Photographing at our last "Capture More Light" workshop in San Francisco (shooting with the other photographers)
Trip to some wetlands near Los Banos
Main tools used:
Lightroom and ACR
Photoshop CS3
EasyS Sharpening
LightZone Relight
Photomatix
Here is our first gallery from the G9. We enjoy the results.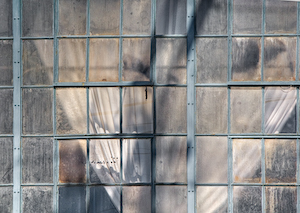 ---
2/14/2008 G9 Review and Tutorial by Alain Briot
---