3/18/2008 Diary Start
The Ricoh GX100 is a 10MP camera with quite a few unique features:
The 3x zoom reaches from 24-72mm (in terms of 35mm equivalents)
Records RAW in DNG (the RAW standard created by Adobe). This means that all versions of Adobe's Camera Raw should be able to open these RAW files.
Features an optional removable swivel EVF (Electronic Viewfinder)
Some first observations:
Positive
Very solid feel
Two dials for aperture and shutter speed (clearly improves usability)
Compact and light
Image stabilization by a shifting sensor (did not check yet how efficient it is)
excellent 3x optical zoom range (24-72mm in terms of 35mm equivalent)
Nice manual focusing
Gives the user lot of control
Shoots RAW (DNG)
optional removable EVF quite usable (we won't want to miss it). Shows all the info and an ok preview)
Controlling the zoom feels ok (at least smoother than the G9)
So far hardly any CA (chromatic aberrations) at the long end (72mm equivalent)
Macro for getting very close (we hope to test this at some point)
Can also be used with simple AAA batteries (Lithium battery is in the box)
Live histogram
Not sure about
2.5" LCD is smaller than most new cameras. On the other hand it allows a better handling of the camera (the GX100 feels very good in my smaller hands). The LCD quality is quite good (wide viewing angle).
Not so positive
slow write time for RAW (means waiting for the next shot)
Records always JPEG with RAW files (add space)
10MP is still a lot for such a small sensors
Hard to capture a nice smooth blurred background. Result of the short focal length required by small sensors.
Los Gatos test shots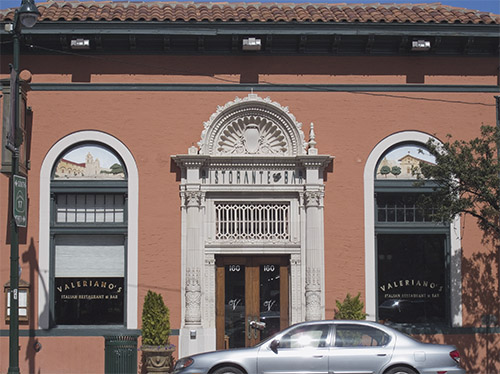 Ristorante @ISO 100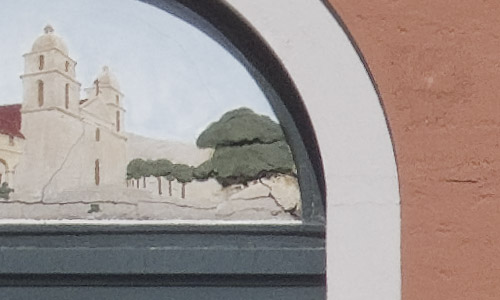 Crop @100% magnification
For a P&S camera it is quite good. There is a graininess which is likely related to the small pixels. Images need quite a bit of sharpening.
Note: We use our Detail Extractor 2.0 and this will show more grain in an attempt to pull out more detail.
You can download the original RAW from here (~14MB).
Note: Remember that the service we provide is financed by selling our ebooks and PS tools. Also direct donations are welcome.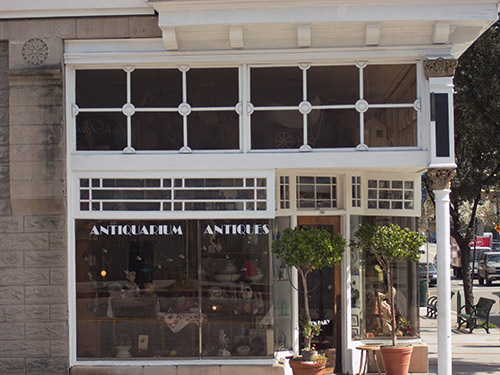 Antique store @ ISO 200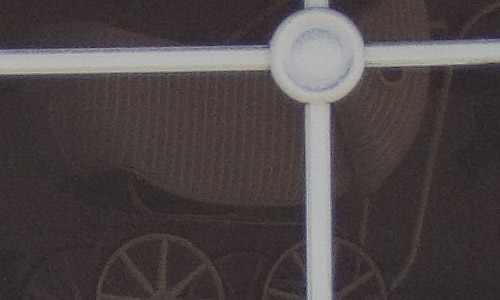 @ 100% magnification
Normally we take this shot at ISO 400 but that would be not much usable. A bit grainy but overall a still a very usable shot in many cases because the noise pattern looks more like grain.
ISO Test
We converted with ACR 4.31 (luminance noise removal set to zero) and then sharpened with the same level in Detail Extractor 2.0 and some low EasyS Plus settings.
Note: Detail Extractor shows both more detail and more grain. This way we can see how much real detail is available.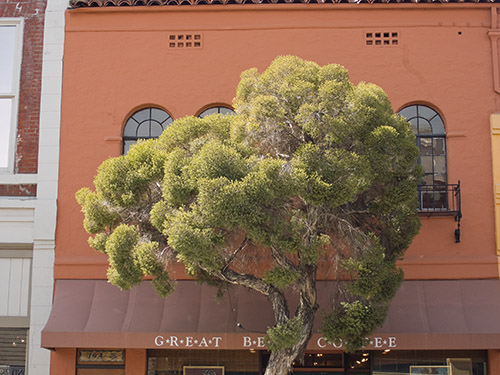 Bear Coffee Shop
Ricoh GX100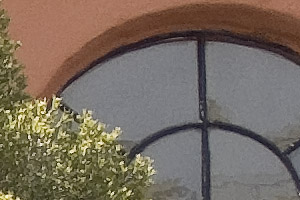 ISO 80
ISO 100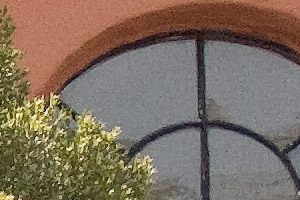 ISO 200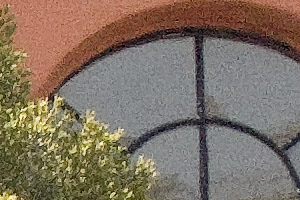 ISO 400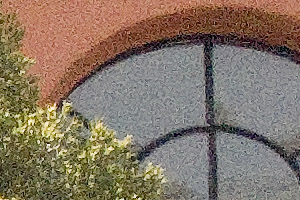 ISO 800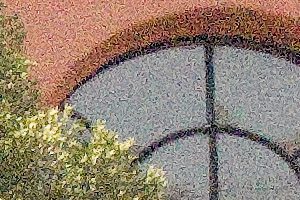 ISO 1600
Remember all these shots are with all noise removal off in camera and raw converter (except color noise in ACR). Up to ISO 100 just the slight inherent graininess. ISO 200 noise is quite manageable and ISO 400 can be ok (especially fro B&W). Starting at ISO 800 it gets hard to take good pictures with low grain/noise. People used to the grain of classic high ISO B&W film may be far less shocked. ISO 1600 is hardly usable anymore (of course this is no surprise).
Note about high ISO noise: Many people ask why they should worry about noise at ISO 800 or more if they only use 400 ISO at max. This is of course a good question. In the past we did not care either. Then we changed our photographic style and make now often use of Tonemapping (learn more about HDR and Tonemapping). During this process we brighten the shadows and this brings out the noise otherwise seen at way higher ISO. It often starts to matter at even ISO 200 photos.
First conclusions
Very well engineered (shows some unique features and love for detail in terms of usability)
24mm is unique in such a small camera. We personally use more longer focals.
Overall really fun to use
This is what Ricoh could improve
Allow higher EV spacing for AEB (exposure bracketing)
Improve write speed
We would like a version of this camera with zoom range of 28-112mm (35mm equivalent)