10/1/2008 D90 and video
We mentioned below that we are not experts on video. Fortunately our friend Peter iNova (we contribute to his camera e-books) understands video in depth.
Here his short bio:
Peter iNova is a photographer who remembers film, enlargers, slides, darkroom stains and all the things you don't have to. His checkered career has included big studio photography (8 x 10 transparencies) in Chicago, video production in Florida, and exotic multi-projector synchronized video presentations for Universal Studios, National Geographic and theme parks around the world.
At one time racked up over a million dollars worth of film stock and lab fees, commenting, "Geez. We have to find a way of doing this with computers."
He is the prime inventor of a number of patents in extreme video display technologies.
When digital cameras passed the million pixel threshold, he turned once again to still photography and created the first interactive digital photography eBook in 2000. His experiences with video are a match with the emerging talents of what he calls HDSLRs.
Here is Peter's first take on the Nikon D90 for video.
---
9/30/2008 Diary Start
The Nikon D90 replaces the Nikon D80. We think the new D90 is closer to the Nikon D300 than the old D80. The main reason is the new CMOS sensor (the D80 used a CCD sensor).
Here are the key new features of the D90:
12MP: like the D300
Live View: Helps a lot for manual focusing
3" LCD
Useful viewfinder image
AEB (Auto Exposure Bracketing) up to +/- 2EV (in the past it was only 1EV for many Nikon DSLRs, D80 an exception, Nikon listened)
4.5 fps (not bad for a sub $1000 camera)
Sensor Cleaning (very important feature)
12-bit processing (not sure why not 14 bit)
Here is the unique feature
D-Movie Mode — Cinematic 24fps HD with sound (mono)
Note on Video: We are photographers and no experts in video. That is why we won't review the video part of the D90. We just consider this a nice bonus feature of the D90. Our review only judges the still image capabilities of the D90.
Los Gatos test shots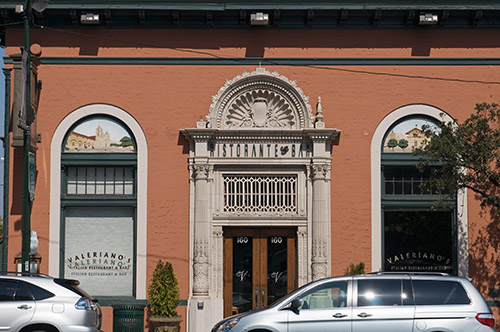 Ristorante @ISO 200 AF-S 24-70mm f/2.8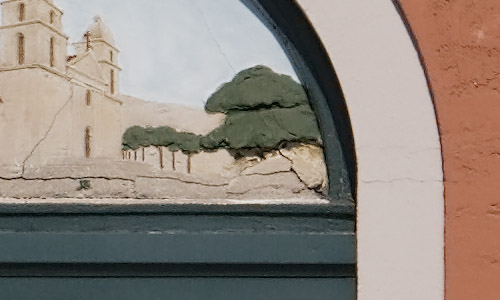 Crop @100% magnification
We used for this test the AF-S 24-70mm f/2.8 zoom. Shows excellent detail.
Not many will use this expensive zoom. We use it to show what the camera can deliver. Here is the same scene with the AF-S 18-105mm f/3.5-5.6 kit lens.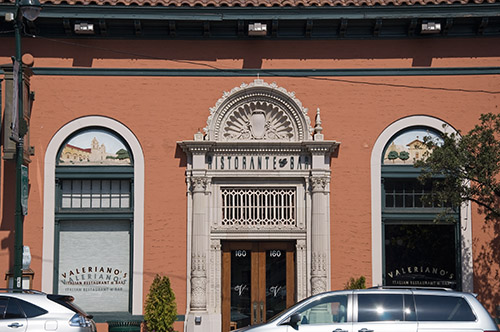 Ristorante @ISO 200 AF-S 18-105mm f/3.5-5.6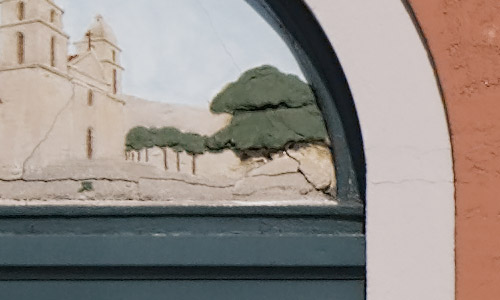 Crop @100% magnification
The image is clearly softer and shows very strong pincushion distortion. This distortion can be corrected in PTLens (once the 18-105mm is supported).
Note on lenses: In the old film days there was this rule: save on the camera body and spend on lenses. Over the last years this rule was not quite true anymore because the lower end cameras did not have the same quality of sensors. Now we think that a sensor of a D90 and the D300 are quite close. But on the other side the top lenses (zooms especially) can be quite heavy and balance better with a more substantial body. Still you should never save on lenses if you care about good image quality.
You can download the original RAW files from here (about 20 MB).
Note: Remember that the service we provide is financed by selling our ebooks and PS tools. Also direct donations are welcome.
Missing Antique Store photos
For quite a few years we photographed as part of our test a small antique store in Los Gatos. The scene is now gone and the store is sold.
ISO Test
We converted with ACR 4.6 (luminance noise removal set to zero) and then sharpened with the same level in EasyD Detail Resolver 1.0 and some low EasyS Plus settings.
Note: EasyD Detail Resolver shows both more detail and more grain. This way we can see how much real detail is available.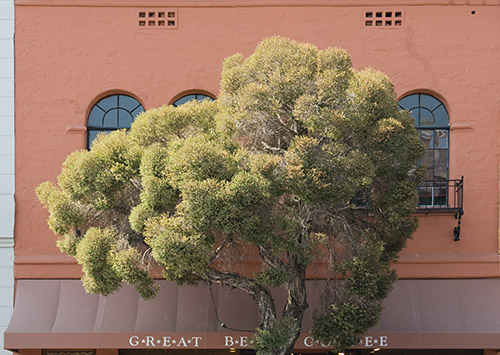 Bear Coffee Shop
Nikon D90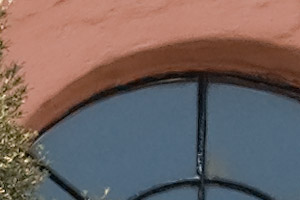 ISO 200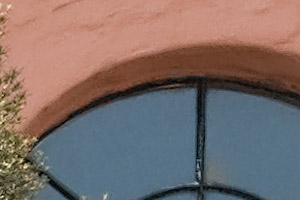 ISO 400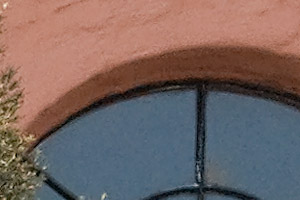 ISO 800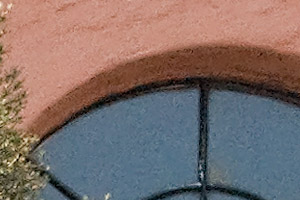 ISO 1600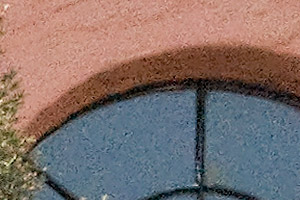 ISO 3200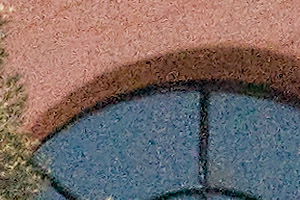 ISO 6400
All these shots are with luminance noise removal off in camera (as much as the user can control this) and raw converter (color noise removal was at default). ISO 200-400 very smooth with hardly any noise. ISO 800 is very good too. Even ISO 1600 looks still ok. ISO 3200 can be used if needed while ISO 6400 will be a lost cause most of the time.
Overall we are very pleased by these results from the Nikon D90.
Note: Because we use now also the DOP EasyD Detail Resolver (at moderate levels) noise actually is even more visible than in the past.
With most cameras today ISO 100-400 define our comfort zone. This means we use this range without any further thought. With the Nikon D90 we may risk ISO 800 more often.
Note about high ISO noise: Many people ask why they should worry about noise at ISO 800 or more if they only use 400 ISO at max. This is of course a good question. In the past we did not care either. Then we changed our photographic style and make now often use of Tonemapping (learn more about HDR and Tonemapping). During this process we brighten the shadows and this brings out the noise otherwise seen at way higher ISO. It often starts to matter at even ISO 200 photos.
Note about frame rate: We hardly photograph action and still we find the high frame rate very important. Why? We shoot high speed exposure brackets freehand. Please read this article for our motivation behind high speed brackets. We find that the Nikon D90 at about 4.5 fps is just fast enough for our new technique.
First conclusions
Excellent high ISO noise behavior
Live View is very useful (has now an extra button)
Viewfinder is quite ok.
Nikon D90 has full support for AEB (Auto Exposure Bracketing)
Excellent value for the money
Video mode as a bonus
Our wish list
Swivel LCD (actually essential for Live View)