In March 2000 we bought our first digital SLR (with our first camera review ever). The Nikon featured 2.7MP, was quite noisy compared to todays DSLRs even at low ISO settings and had cost about $5,000. Now just over 6 years later you can buy the Nikon D80 featuring 10MP at about $1,000 and we don't get ahead of our review in saying that also the noise is way lower than with the Nikon D1.
We reviewed in the past all major Nikon DSLRs. We bought this camera again through the normal dealer channels as we have no idea when we would get a review sample from Nikon and we wanted to help our readers early on. As some readers may know we use both top of the line Nikon and Canon cameras. Read our field reports:
Unfortunately we don't have a Nikon D200 at hand but we liked the D200 quite a bit. The D80 inherited quite some features from the D200.
Some highlights:
We are quite certain that the D80 uses a sensor that is close to the one used in the D200 (and likely also the Sony A100).
D80 is smaller than the D200. We don't have big hands and handling feels fine.
The D80 viewfinder is excellent for a camera at this price point.
D80 has a built-in flash.
A 2.5" LCD is by now standard for nearly all new DSLRs. 3" any one?
D80 uses SD cards. We mainly use a 2GB Kingston card. Looks like more and more consumer cameras will use the SD cards.
Features missing:
Real mirror lockup for longer exposures on a tripod. The D80 has a feature that set a delay for 0.4 secs. We don't think this is any replacement for a real mirror lockup.
The Nikon D80 supports only compressed NEFs. These RAW files use a lossy compression and a difference maybe visible in some more extreme cases (extra smooth highlight gradients, we personally used the D2x, D100 and D70 with compression and did not feel bad about it).
We had dust on the sensor after a few shots (does not make us nervous though). Still we think that better solutions are urgently needed to minimize dust spots.
Some Los Gatos test shots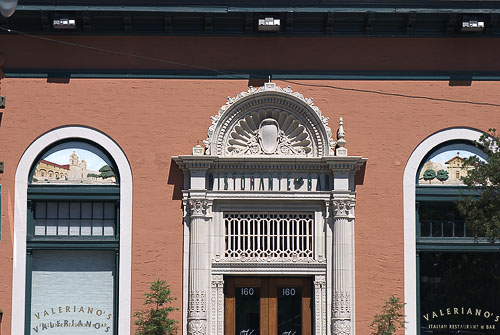 Ristorante @ISO 100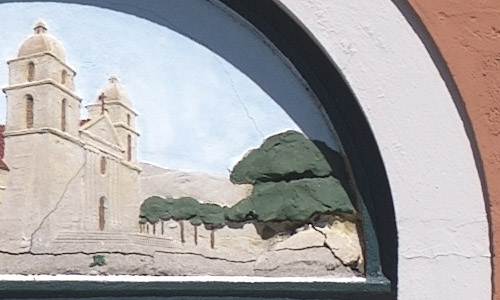 Crop @100% magnification
We used for this test our top AF-S 28-70mm f/2.8. This is one of the best zooms we know. The resulting image is sharp (after sharpening with EasyS Plus) and the colors are very good. We wrote the same text for quite a few cameras and that means today's 10-12MP cameras are very good at ISO 100.
You can download the original RAW NEF file from here (9MB).
Note: Remember that the service we provide is financed by selling our ebooks and PS tools.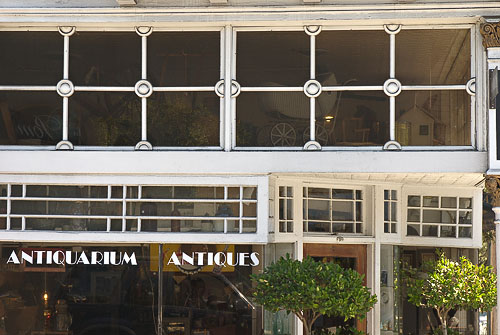 Antique store @ ISO 400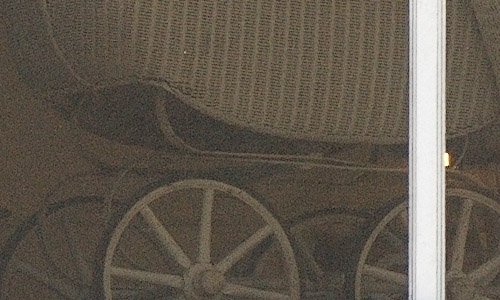 @ 100% magnification
Shadow noise at ISO 400 is good.
ISO Test
We converted with RawDeveloper 1.5.4 (only color noise smoothing enabled) and then sharpened with the same level of EasyS Plus.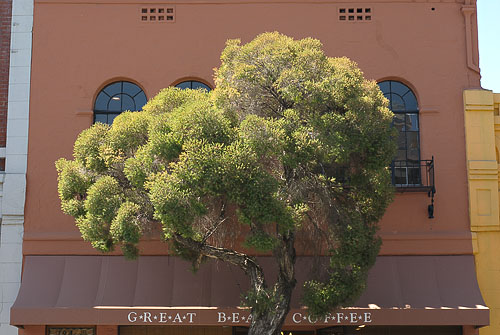 Bear Coffee Shop
Nikon D80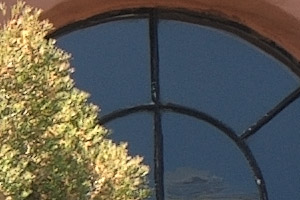 ISO 100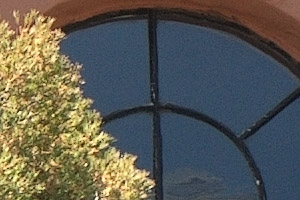 ISO 200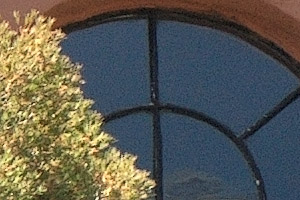 ISO 400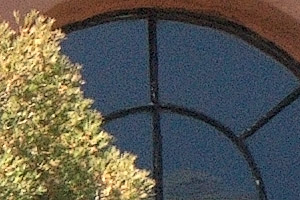 ISO 800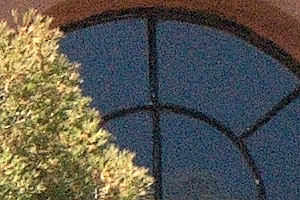 ISO 1600
Note: These images are a bit darker than our normal shots. This means we see even more noise than a correct exposure would show.
Remember all these shots are with all noise removal off in camera and only color noise removal in the RAW converter). Up to ISO 200 very smooth with virtually no noise. ISO 400 is still good and ISO 800 ok. At 1600 we can see strong grain like noise that may even be interesting with B&W images.
Over the next weeks we will use the camera now in the field and hope to learn more about the D80 performance. So far we like the D80. Seems to be a great D70 replacement.
---
9/8/2006 First Session in the Field
We used the D80 today the first time for our real work. Nothing really to complain. We think the D80 images need some more sharpening than the images from D2x or D200. This could be the result of a stronger AA filter in the camera and would follow a common tendency to include a stronger AA filter in consumer cameras to avoid moires.
Here are some of our images from today. RAW file processing was done exclusively with LightZone 1.6 (if the version 1.6 you downloaded does not support D80 then please try again a few hours later).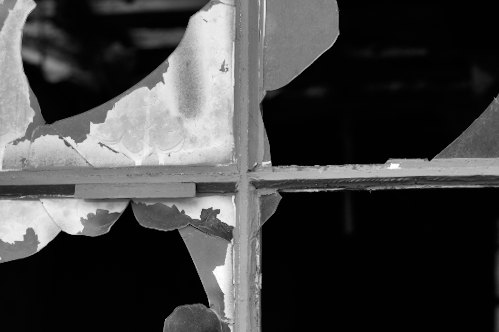 Broken Window (Nikkor AF-S 28-70mm f/2.8)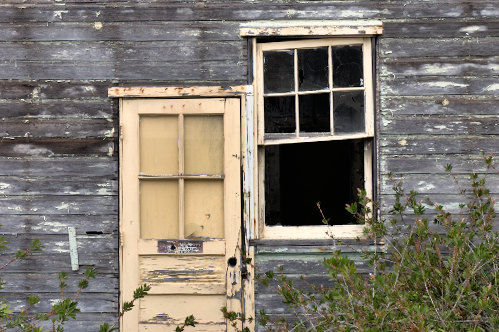 Barracks (Nikkor AF-S 28-70mm f/2.8)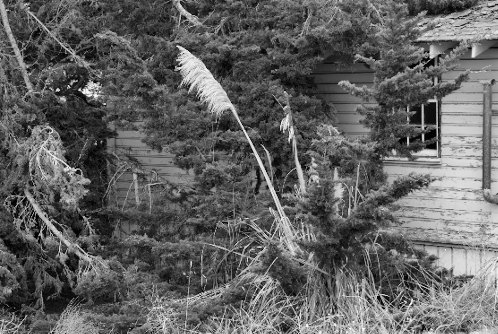 Barracks (Nikkor AF-S 28-70mm f/2.8)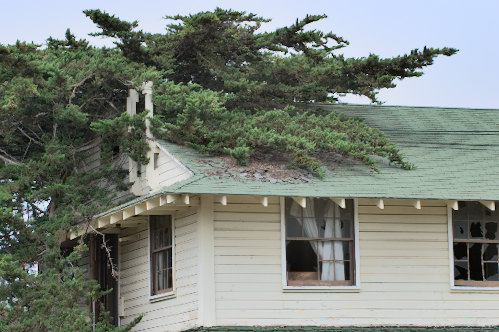 Barracks (Nikkor AF-S 70-2000mm f/2.8 VR)
All photos were taken handheld at ISO 200.
As said so far no surprises. Viewfinder is really very good.
A lot of camera for under $1,000.
Some extra fun and surprise
When we photographed the barracks Bettina observed a fox on the roof of the building (left when we took the above shot). But on inspection of some previous image we we did not find only one but two foxes on the roof (tree foxes we guess):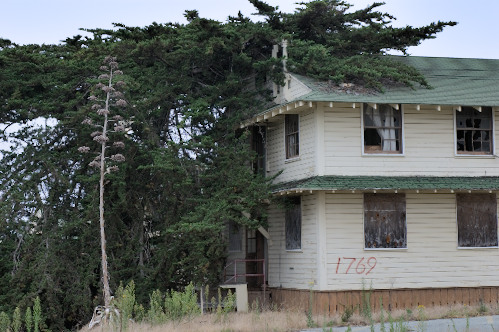 Full size image as reference (Nikon D80 with AF-S 28-70mm f/2.8 freehand)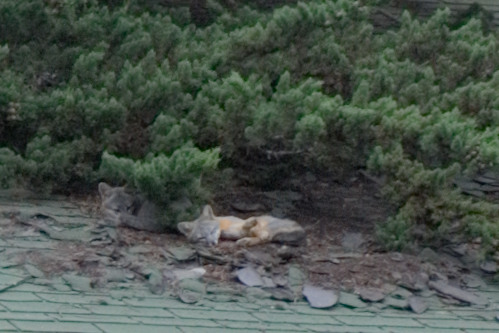 Fox pair (at 100% magnification)
Feels like in the movie "Blow Up" :-).
---
9/12/2006 Some Carmel Photos
Unfortunately we had strong sunshine at Big Sur and also in Carmel. We still got some nice Carmel photos though: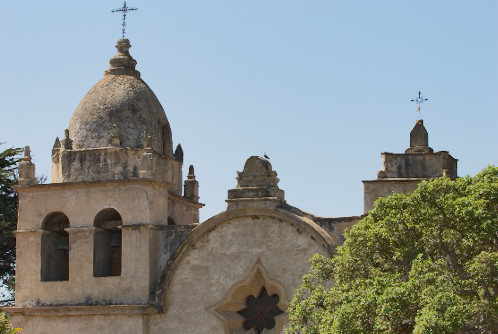 Carmel Mission (Nikon D80 with AF-S 70-200mm f/2.8 VR freehand)
We still find the Carmel one of the most beautiful missions in California we know (and we have visited quite a few).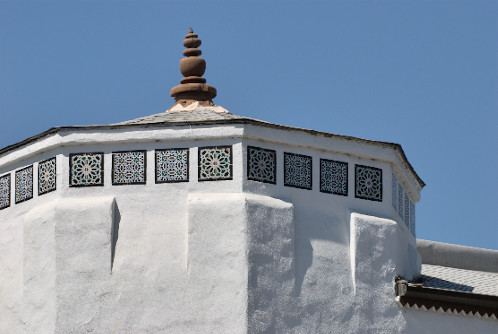 Roof top with tiles (Nikon D80 with AF-S 70-200mm f/2.8 VR freehand)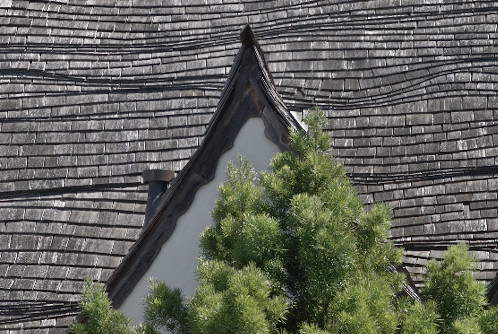 Wood roof (Nikon D80 with AF-S 70-200mm f/2.8 VR freehand)
Very nice results for such a strong sun. Processing with LightZone helped to manage the harsh contrast.
---
9/13/2006 Note on tripod plates and brackets
We use the Really Right Stuff plates now for many years on all our cameras and longer lenses. There are now plates and L-brackets available for the D80. For more info check our "Uwe's Tripods, Heads, Clamps, Rails and Plates" article.
You have to know that the D80 has such high resolution that it can very much benefit from good tripods, heads and plates. In many case handheld shots will waste a lot of your megapixels due to motion blur. Forget the following attitude "I can hold 1/8th of second without blur". Look critical and you find a lot of motion blur. Also better spend the time on the tripod for better framing than doing all these tricks for handheld photography. We hardly use any of these tricks and use VR instead (but only assuming to be able to to get 1-2 f-stops longer exposure than without VR).
Note: We are aware that in some cases you can capture the moment only having a good shooting technique. But first consider higher ISO and also a good tripod.