We just recently presented an alternative method to tonemap HDR images. We have now processed many images and can say that we use it nearly exclusively. This does not mean that once we sometimes need to fine tune the process. Here is an example where we use masks for more pleasing results.
Here is a photo from the Valley of Fire National Park. This image was converted to HDR via Lightroom and Photomatix. We start after we converted the HDR file to 16 bit in CS3/CS4 (for more details please read the initial article).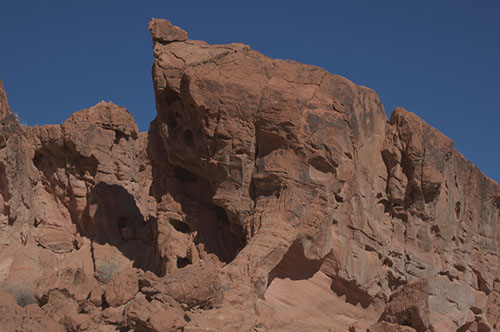 This image is dark and flat. Processing in Photomatix using the Details Enhancer brings it to life. But there are issues with the sky: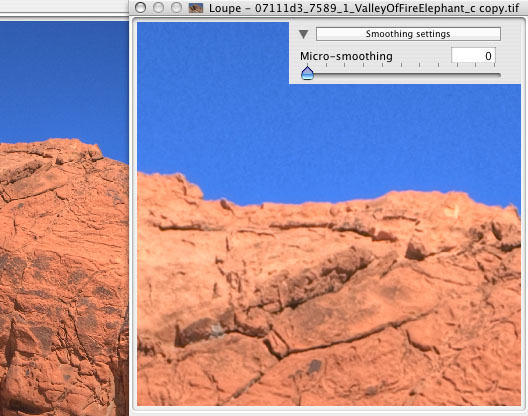 The sky gets very grainy (Micro-smoothing at 0) and we are also not happy with the color. You can reduce the graininess be setting Micro-smoothing to higher values: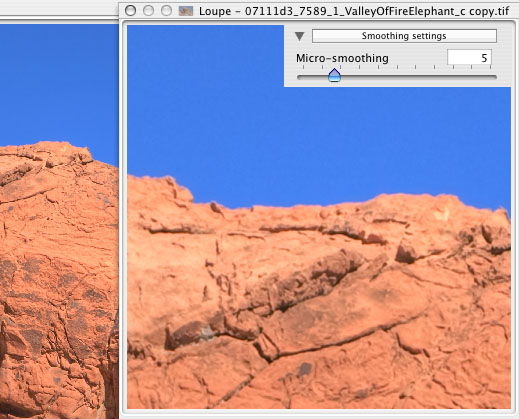 But still there is enough graininess to object and Micro-smoothing removes the fine details we are after. Also the color of the sky still looks bad. That is why we decide to keep Micro-smoothing at 0 and solve the issue later using a mask.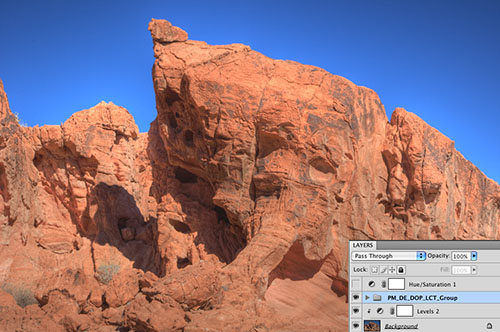 In the full image you can also see this wide halo over the rock. Halos can be minimized be reducing the strength in Details Enhancer. Again we don't care because the next step fixes this for good. The insert in the picture shows the layer stack at this point.
We deselect the Photomatix Layer Group and create a selection using CS4 Color Range (works in CS3 too but is way improved in CS4):
We add the selection as a Layer Mask to our Layer Group: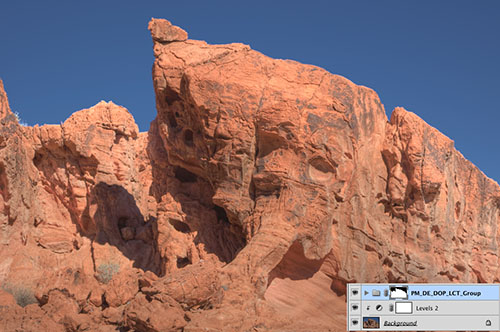 We have now a much smoother sky to work with. The insert in the picture shows the layer stack including the masking. After some use of EasyS Plus Detail Resolver, fine detail sharpening and sky tuning we get the following result: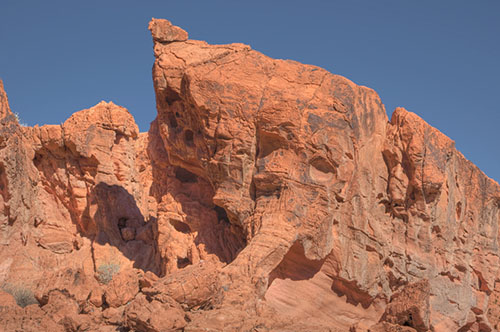 As you may realize our method has the advantage that we can use the result of the initial simple 32 to 16 bit tonemapping as a background if we use masks.
We use masks very often if we tonemap images that show clear blue skies. If the sky contains strong clouds we actually like the fact that the Photomatix Details Enhancer can pull out more details out of the clouds because this results in more dramatic skies.
---
Get a demo or order DOP Luminance Color Tuning