6/3/2009 Blurb 12x12 Large Square Books and the new BookSmart 2.0
"Blurb BookSmart® 2.0 is available for download, and includes several new features to blow your book designing mind, not the least of which is a new book size – the 12x12 Large Square.
We built this version with your feedback in mind, and have given you the tools to take your creativity to new levels. Now, using BookSmart, you can customize your book right down to the pixel.
Some of our new features include:
* Customizable Cover and Page Layouts with Flexible Containers
* Customizable Book Templates
* Better text and image handling
* 24-bit color and improved Vista support"
---
12/23/2008 Premium Paper and ImageWrap Binding
Blurb introduced two main new features:
Premium Paper: Thicker paper that also shows better color fidelity and contrast
ImageWrap Binding: Dust covers are beautiful but they also get so easily damaged. The new ImageWrap feature creates more robust covers
Both features are highly recommended and worth the extra money.
---
12/4/2008 The Summit Blurb Book
Here is the Blurb book with photos shot at the 2008 Bryce Summit.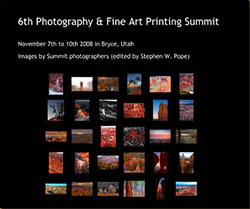 This years book was edited by Stephen W. Pope. Stephen, thanks a lot for your great work. You can order the summit book here at Blurb. These Summit Blurb books are a great way to document the Summit experience.
---
4/17/2008 "Capture more Light" Workshops #2+3
Just published our 5th Blurb book. This time it covers the photos taken at our "Capture more Light" workshops in February + March 2008 in San Francisco (attendees and instructors were photographing together near the workshop location).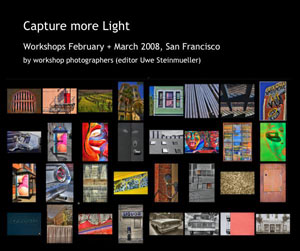 Our next "Capture more Light" workshop in San Francisco are scheduled for July 2008.
---
12/8/2007 Summit 2007 book published
This year for the first time we publish a book featuring a joint portfolio by the Summit photographers. I think this book documents the passion we brought to the Summit and also shows the broad variation of views we had on the location Zion. Hope you enjoy this book.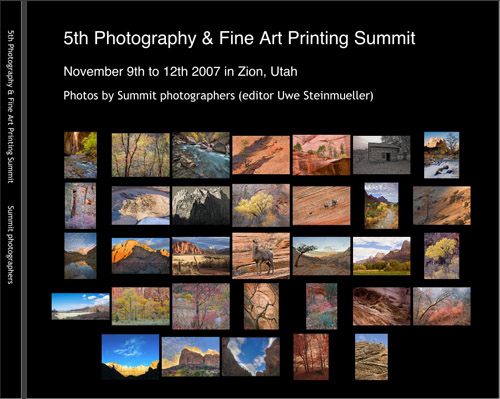 Note: We find the hardcover books nicer than the soft cover versions.
---
11/27/2007 Earthframes 2007 book published
Hopefully, this book starts a new tradition: Making a book of the pictures that defined the year (here 2007) for us.
In 2007 we started using a new technique that we call "Capture more Light". We are no longer that afraid of photographing at light that most photographers call "bad light". We use techniques to overcome some of the challenges that harsh sunlight introduces (we call it "Capture more Light" where we photograph different exposures in a blink of an eye).
2007 also got us again excited photographing urban scenes in San Francisco. At the same time we also are more and more fallen in love with the American Southwest (as part of our Summit in Zion).
Overall, 2007 revived (if that even would be nescessary) our passion for photography by broaden our vison (urban and landscape).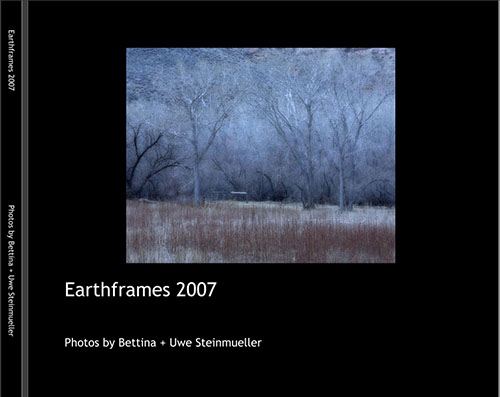 ---
11/24/2007 "Capture more Light" Workshop #1
Just published our second Blurb book. This time it covers the photos taken at our "Capture more Light" workshop October 27-28 2007 in San Francisco (attendees and instructors were photographing together near the workshop location).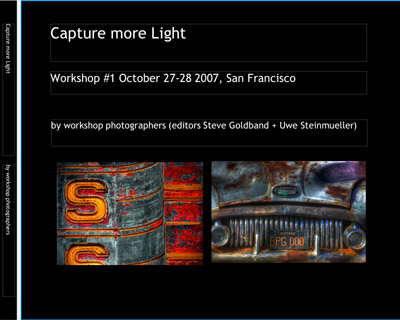 Our next "Capture more Light" workshops in San Francisco are scheduled for February and March 2008.
---
8/1/2007 The final book
We now received the final book and like it very much. The B&W pictures are nice and even the color photos look as we wanted them to be.
We did some tweaking of colors before using Photoshop softproofing. Our color spectrum is a bit on the muted side (at least for this book) but we think the book looks great. We clearly plan to make more Blurb books in the future (trip books, year books, ...).
---
7/20/2007 Getting started with Blurb
Making a book is always a great experience. There are two main reasons to make a book:
Making serious money for income
Sharing your work with other people
Making serious money from a book is not possible for most of us because it needs:
Volume (likely 1000 books or more)
Lots of work in careful layout and book preparation
Serious marketing effort (translates into $$$ too)
This mean you have either deep pockets or are one of the few top photographers in the world.
There is now a different more affordable way to get your work out as low run prints (actually starting with 1 copy!). Blurb is one of these print-on-demand companies that supports this new emerging market.
What is required to make such a book?
A print-on-demand infrastructure
Easy authoring tool
Web authoring
Web store
About 3 weeks ago we met some people from Blurb in San Francisco. The sample books they showed to us looked nice and so we wanted to give it a try. Also check out the Blurb book store and you will see that people publish who care about their work.
Authoring
The authoring of Blurb books is done via a free software called BookSmart (can be downloaded for free for all registered members - membership is free too).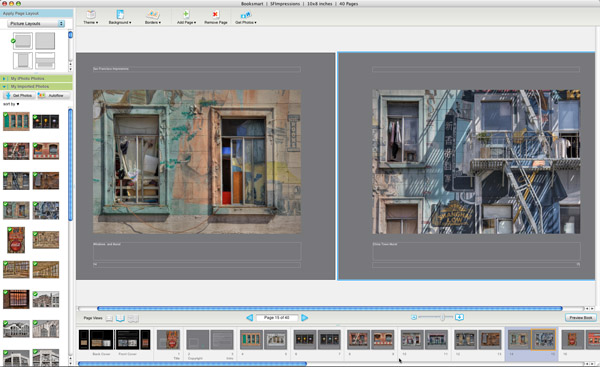 BookSmart authoring tool
We think that this authoring tool is very easy to use and can still produce nice books. Don't expect it to be an Adobe Indesign which would be too complicated anyway. Also BookSmart is been improved all the time.
Because we are very busy right now (nothing new here) we did a quick (hopefully not too dirty) try to create a book called "San Francisco Impressions".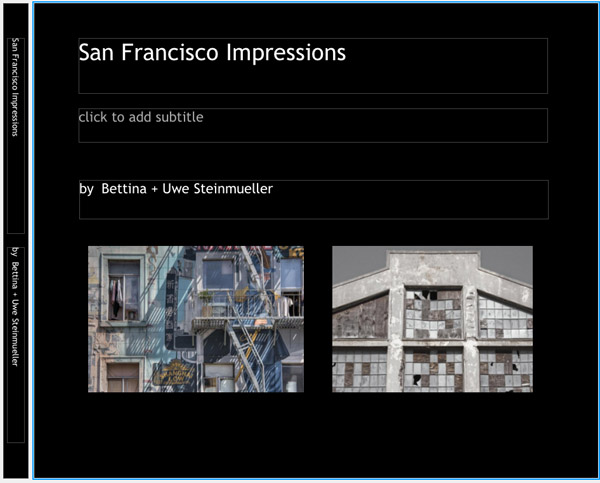 Outer Cover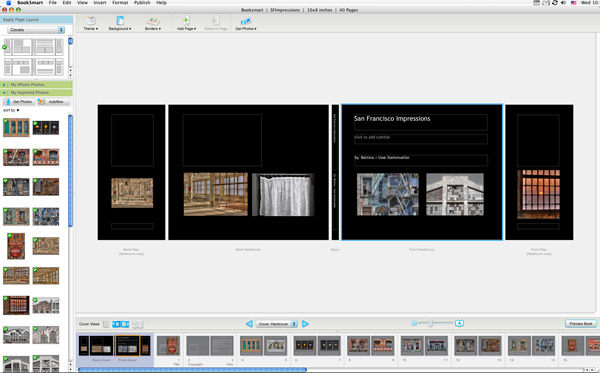 All covers
The hardest part is to soft-proof the pictures and we still learning here (and have not seen the results). There is a very helpful article here.
Once the book is ready on your computer you can upload it to Blurb (good to have a DSL connection).
Once the book is uploaded you can make it ready for sale:
Set your price (Blurb price + your wanted profit).
Make it public or not. If it is not public only you can order yourself (which can make perfectly sense)
Allow a preview PDF (with low resolution images to protect your copyright).
Here is our first Blurb book "San Francisco Impressions":
40 Pages (color and B&W). We wanted to see different types of photos for our test.
10" wide x 8" high
Soft or hard cover
We added a reasonable extra of $10 for hard cover and $8 for soft cover.
Here is the preview PDF (remember this is intentionally very, very low resolution)
Here is the book in the Blurb bookstore
Important Note: As of today we did not get the book yet and comment on the quality. If you order now you are at your own risk.
We wanted to start our diary now so that all our readers can follow our journey. We are excited. We will publish our next entry once the book is here.