Otherwise it feels exactly like the pro version. We feel that we can live with these limitations. On the other side you may consider the pro version if you miss the more pro features.
C1 Rebel is what we call a "Full Service RAW Converter" . That means you can do nearly all operations for your final picture inside this tool (except retouching like cloning, lens, perspective corrections and printing).
Note: The C1 Rebel raw conversion is not based on the Canon SDK. Phase One uses own algorithms used for their high-end digital backs for many years.
Actually, C1 Rebel is implementing a very productive workflow for the Canon EOS 300D. C1 is fully color management aware which is essential for any serious color work.
This section is not a replacement for the manual and we will only cover the main steps and settings.
Note: We use Capture One DSLR Pro and C1 Rebel for our work with our 1Ds, 10D and 300D.
Note: When we mention Adobe's Photoshop we actually mean both the full Photoshop (we use already PS CS/8) or Photoshop Elements 2.0 (which comes in the box with the EOS 300D)
This Preview of C1 Rebel is based on the V1.0 RC1 version, there may be some changes in the final version.
---
Setup
We only cover these settings that we feel are essential to change for our workflow (the rest stays as is C1 Rebel's default).
Preferences
Develop Settings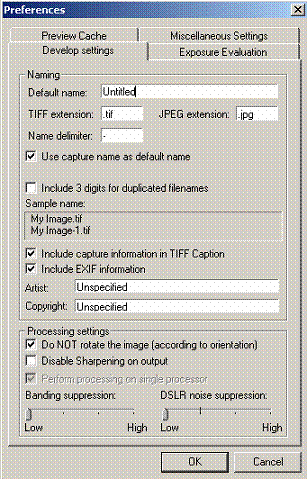 · DSLR noise Suppression: We would set it to low or medium/low for lower ISO images
· We enable sharpening on output if we use the two phase sharpening technique. Most of the time we do all sharpening in Photoshop and check this box.
Note: Two phase sharpening use mild sharpening in the raw converter and then later a final sharpening for printing in Photoshop. To better understand the sharpening workflow read our article about the Photokit SHARPENER sharpening workflow.
Exposure Evaluation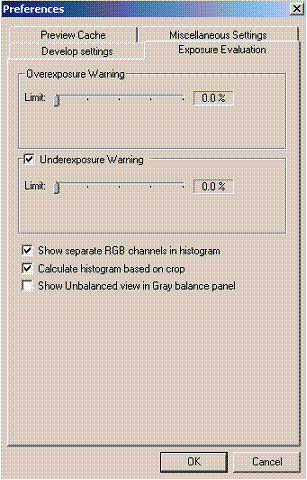 · We set both values to 0% as we would like to get a warning about any overexposure (underexposure is important too but not as critical)
· We always want to see the separate RGB channels in the histogram to check for overexposures in the single channels
Preview Cache
· One of the powerful workflow features of C1 is based on the creation of previews. But the downside is that these previews use up space on your disk. C1 allows you to manage the preview caching strategy using these settings
· We always select a special folder for the C1 preview cache using the "Choose the location for the preview cache" as doesn't like to mix software and data folders.
Miscellaneous Settings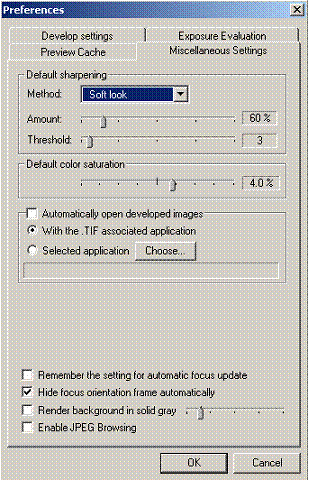 · If we use the two stage sharpening technique we set the default sharpening to a very mild sharpening level:
o Method: Soft Look
o Amount: 60%
o Threshold: 3
· We like to set the default color saturation to 4% but this is entirely up to your personal taste. Try to avoid too strong saturation settings.
· We uncheck "Automatically open develop images (would mean mainly in PS Elements) as we keep the PS Elements File Browser monitoring the target folder of C1's "Develop Folder". This way we have C1 and Elements open at the same time and work in C1 or Elements whenever we like. (Develop in C1 and post process in PS Elements)
· We disable JPEG browsing as we only want to see C1 Rebel supported raw files (these are in fact only 300D raw files with the extension CRW)
---
Color Management Settings
Best you select this dialog while you have a 300D photo selected in your raw file browser.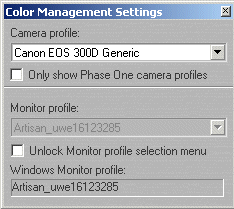 Color Management setup
· Camera Profile: Capture One offers one generic profiles for the 300D
· Monitor: Here you need to check that the correct monitor profile is selected (if not, then check you Windows System profile)
---
Image Browser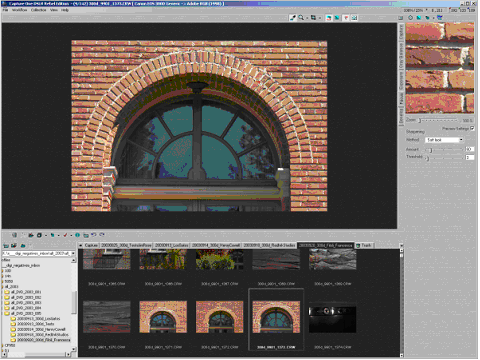 Image Browser in Landscape Mode
At first, it looks like a nice but quite normal image browser. There are some major differences.
· With the function key F8 the browser can be toggled to work in portrait or landscape mode (to allow the most space for the preview image)
· The browser and C1 do not use the original RAW files for preview. For preview C1 creates preview images in the background. Once these previews are created you can switch from one file to the other in real-time.
· C1 allows the user to define permanent collections. Each new permanent collection gets a new tab in the browser. Non permanent collection show with an italic title in the tab name. Using permanent collections allow you to get to all your current project folders fast. The preview images of these permanent folders stay even after cleaning the cache.
---
Image Processing
Image processing in C1 is a five step workflow process (one tab per step):
· Inspect
· Gray Balance your image
· Correct exposure and contrast
· Sharpen (called focus)
· Develop
(Capture) Inspect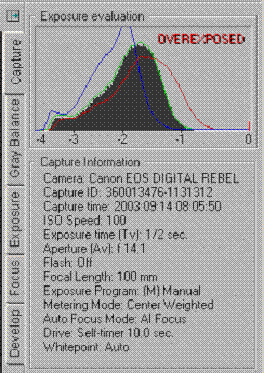 The first thing you might want to do is to look at the photo and the capture information:
· Histogram (also the three channel histograms) and the over or underexposure warnings (in our example you can study a slight overexposure in the red channel)
· Data recorded by the camera, like:
o ISO
o Exposure time and aperture
o Lens used
o Flash
o Camera White point (WB method)
Gray/White Balance (WB)
Correcting the white balance is one of the essential steps. C1 Rebel provides all the controls you need.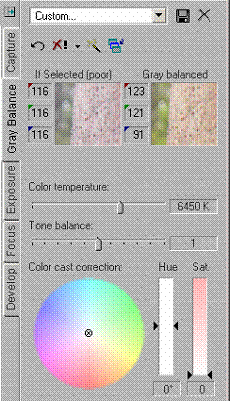 C1's Gray Balance tool
The main tool for gray balancing is the eyedropper. You select a gray area (actually an area that should be gray/neutral and is not due to the wrong color temperature setting) inside the image and click with the eyedropper. C1 even gets you some hints whether this might be a good spot for gray correction.
If there is no gray/neutrals in the image things get bit more complicated and you want to use the color temperature controls.
Best you take a shot with a gray card (we have one with us all the time) or a GretagMacbeth Color Checker at the same light you photograph the other photos to make gray balancing easier.
Because you can save/restore WB settings, you can save some sample settings for the same light conditions.
C1 also provides an automatic correction. As all automatic corrections, this may not always, what you want but sometimes it might give you some good results.
Exposure
Next to WB the exposure is the other important correction tool.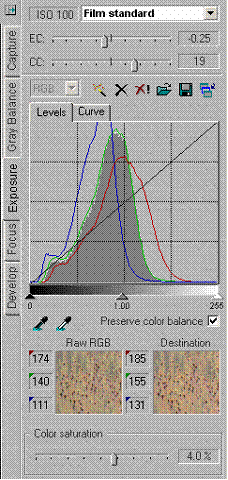 C1 Exposure
Here you can correct +/- 2.5 EV. The histogram and the preview image (use the "Exposure Warning" option in the toolbar and overexposed area will turn red) let you inspect all areas for over/under exposure. Important are the RGB channel histograms as there might be overexposures just in one or two channels.
Besides EV, you also can correct the contrast and also tweak the saturation
In addition, C1 comes with different tone curves:

Tone Curves
For most situations the standard tone curve "Film Standard" will do. If you need more shadow detail, try "Film extra Shadow". The curve "Linear Response" is mainly for profiling purposes.
C1 Levels
C1 Levels very much work like Levels in Photoshop.
C1 Curves
Because PS Elements does not support a "Curves" tool we like to use C1's Curves to open up some shadows: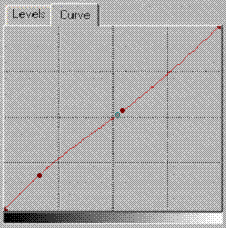 Sample curve to slightly brighten the shadows
Sometimes it is very useful to use the "Shift" key while manipulating the curves control points. This way they move in smaller increments.
Focus/Sharpening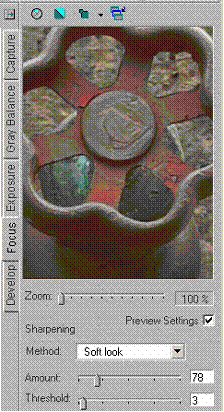 C1 Focus
The C1 sharpening tool is a classic Unsharp Mask (USM) tool. Do not try to over-sharpen your images. .
Develop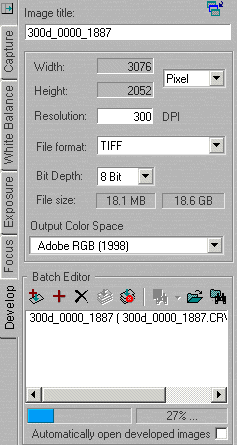 Develop
Important: Select as Output Color Space as "Adobe RGB (1998)" if you plan for printing.
If you click the develop button (or the "Insert" key while you are on any tab)  the real RAW conversion is performed. Again, C1 demonstrates the focus on workflow. How? The RAW processing is done in the background and C1 is free for the next interactive image corrections.
Note: The C1 Rebel can only have 10 files for development at any time. We work around this limit by working on the developed files in PS Elements. Then we add more to the queue. If this is a limit, then you are most like a real pro and buying the C1 Pro version would save you time and money.
Because PS Elements only supports 8 bit files and we also use layers in our workflow we set the output "Bit Depth" to "8 Bit". If you work with a full version of Photoshop (especially the new PS CS/8) use "16 bit".
Additional Features
Tagging
While you explore your images you can tag files (Ctrl+T) that you want to convert later.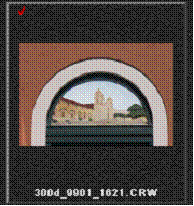 Tagged Image
Once you have tagged all your winners and improved their WB and exposure you can select all tagged files (Alt+T) and add to the development queue (here you have to watch for the 10 files limitation).
If you own a Canon EOS 300D (Digital Rebel) you should start using the RAW file format and C1 Rebel is a first class raw converter to get the most out of these RAW files.