This year we have our third annual Summit: this time in Page,AZ. We (Bettina and Uwe) will try to show some pictures from our trip (more than 2000 miles):
San Jose, CA - Page, AZ
Page, AZ - Monument Valley, UT
Monument Valley, UT - Chinle, AZ
Chinle, AZ - San Jose, CA
The Summit 2005 was organized by Alain & Natalie Briot and Bettina & Uwe Steinmueller. The two one day workshops were organized by Alain & Natalie. Bettina & Uwe joined the workshops.
We use again mainly the Canon 5D and the Nikon D2x.
Note: We hardly ever create final images on our notebook computer. This means that all photos posted here are first drafts.
11/9/2005 San Jose - Mesquite (600 miles)
Today 600 miles driving from San Jose, CA to Mesquite, NV. This allowed us only little photographing. Still here is one photo: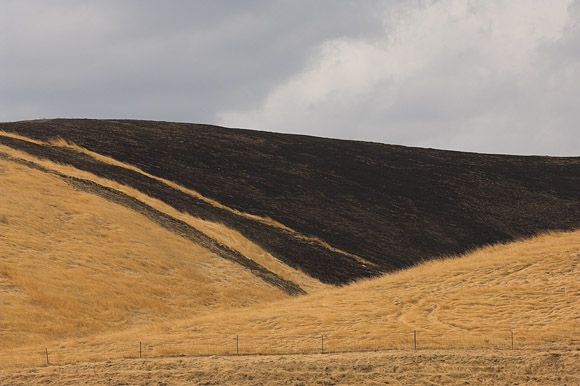 Burned Golden Hills (Nikon D2x)
We found today miles of grass land along CA Hwy 5 burned down (probably wild and not controlled fires).
11/10/2005 Mesquite - Page (200 miles)
We had a pleasant trip. The permanent overcast was nice to photograph some grass and bushes that showed beautiful pale colors. Probably hard to see on these small JPEG images. But we hope you get the idea.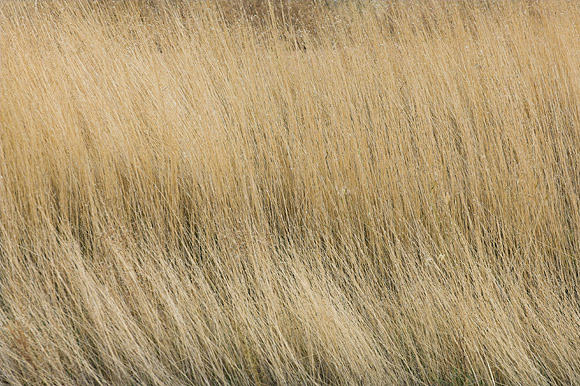 Pale Grass, Nikon D2x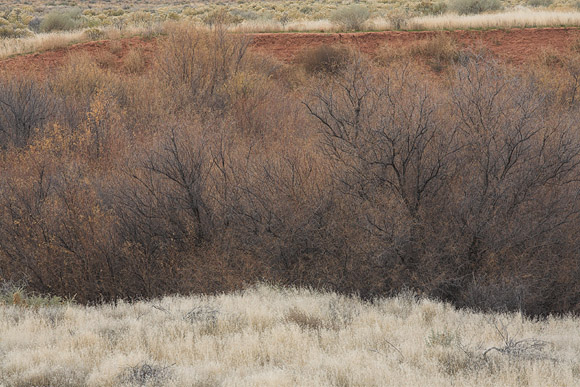 Grass and Bushes, Canon 5D
Our summit starts tomorrow afternoon.
11/11/2005 Page (Summit Day 1)
In the morning we still had some time for first photos in Page. The Horseshoe Bend was even temporary in overcast.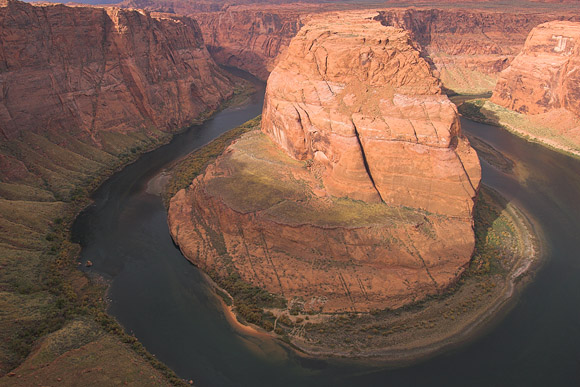 Horseshoe Bend (Nikon D2x)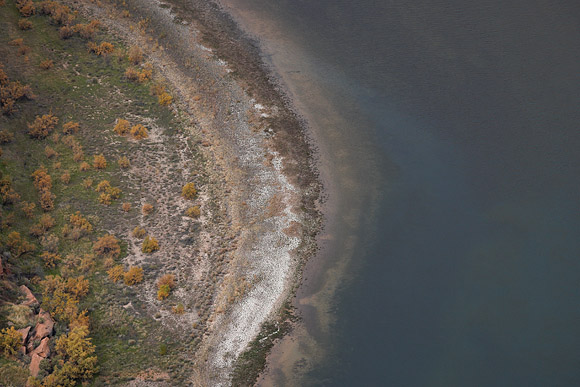 Colorado at Horseshoe Bend (Canon 5D)
In the afternoon we opened the summit with some portfolio presentations by Alain and Uwe. Tomorrow we photograph Horseshoe Bend, Lower Antelope Canyon and Lake Powell.
11/12/2005 Page (Summit Day 2)
We photographed today Horseshoe Bend (sunrise), Upper Antelope Canyon and Lake Powell (sunset). We also had a session on raw and image workflow and finally tonight working on the own images.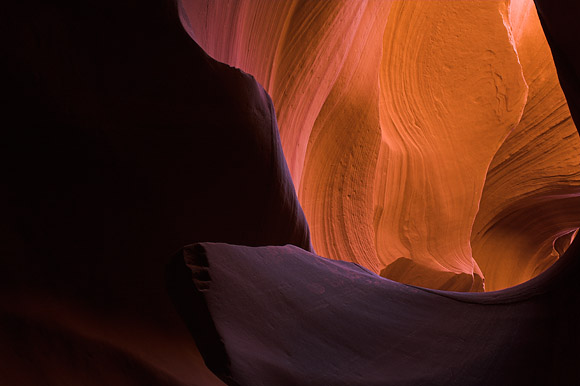 Lower Antelope Canyon (Nikon D2x)
Note: The above image was converted with RSP with very minor corrections.
11/13/2005 Page (Summit Day 3)
Today again into the Lower Antelope Canyon. Great inspiration once again.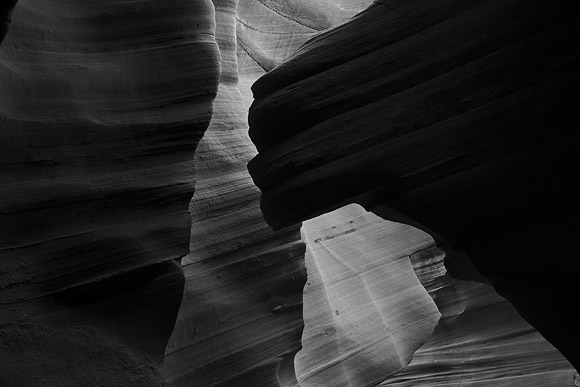 Lower Antelope (Canon 5D)
In the afternoon we printed on the HP Designjet 90 quite a few pictures. All were actually amazed how well they turned out. Mainly by the excellent work of the attendees and also the printer delivered very nice photographic quality.
11/14/2005 Monument Valley Workshop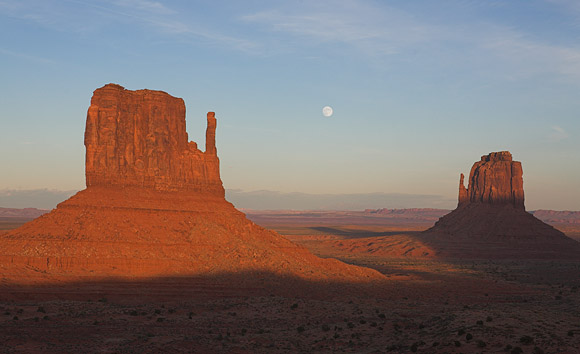 Monument Valley (Canon 5D)
11/15/2005 Canyon de Chelly Workshop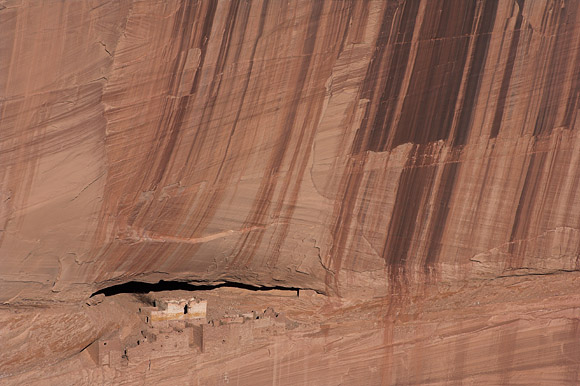 White House (Nikon D2x)
THe Summit 2005 and the following workshops are now over. We think the attendees found it a great success. We are starting out planning for 2006.
We will now drive two days back to California (1000 miles).
11/16/2005 Way back (Chinle - Barstow, about 600 miles)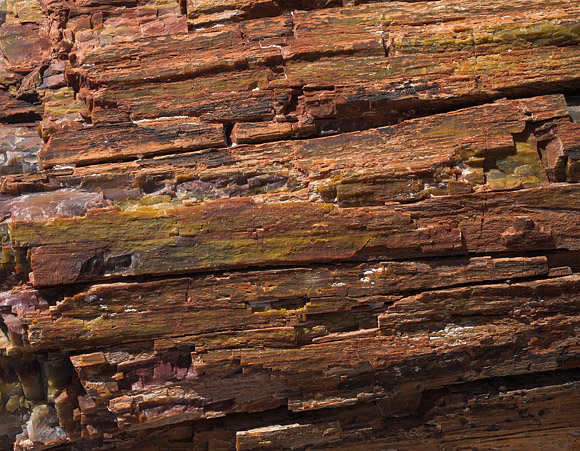 Petrified Wood (Canon 5D)
11/17/2005 Way back (Barstow - San Jose about 400 miles)
We are now back from our summit and workshops.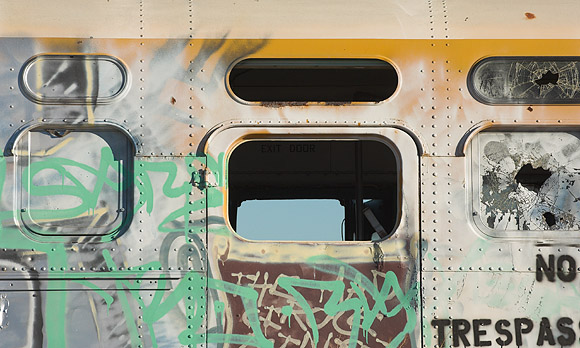 Human created "Nature" (Nikon D2x)
Conclusion
This was our third summit and was as or even more successful as the last two. Key to this success were always the wonderful attendees that share our passion for photography. The locations were world class which made this summit and the two one day workshops special.
Page: Antelope Canyon is worth a travel from anywhere in the world (actually we had a guest from Australia)
Monument Valley: No need to say that this place is rather special
Canyon de Chelly: Amazing place that is worth any travel
We are now starting to plan the Summit 2006 (again in November). You can be certain that the location also will be world class like this year. If you want to be one of the first notified once we have the plans finalized then please send us an email to uwe@outbackphoto.com or alain@beautiful-landscape.com.
See you all next year!
Adendum
Now home we also had some time to work on a few IR photos (read more here). Here is one we especially like: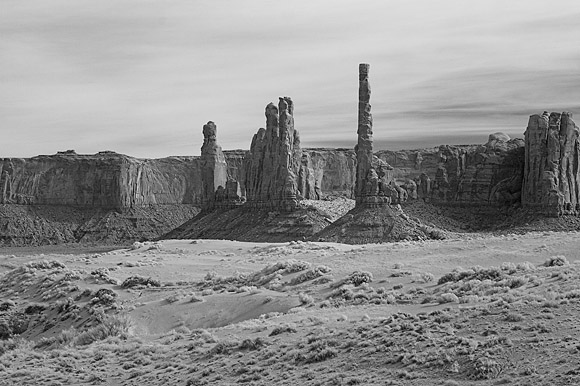 Monument Valley (Canon 350D modified for IR)
Next time we need to take more IR photos.
Find these and more images at our Summite 2005 Gallery.