On the net the discussions what camera to get are very hot: Nikon vs. Canon or Full Frame (FF) vs. 1.5x crop. The recent introduction of the Canon 5D and the availability of the Nikon D2x fuel these discussions.
We use our cameras as tools and have as much experience with the Canon line as we have used Nikon in the past. This time we used 2 sets of cameras for a 4 day photo trip to the area around San Luis Obispo in California. We packed two nearly identical camera/lense (Nikon D2x and Canon EOS 5D) sets into two backpacks (Lowepro Mini Trekker AW).
Note: Our Equipment gets smaller/lighter all the time and we hardly carry larger bags these days. We would love to have the 70-200mm lenses at f/4 (but of course with VR/IS) to save yet some more weight/size.
Note: FOV stands for Field of View compared to full frame 35mm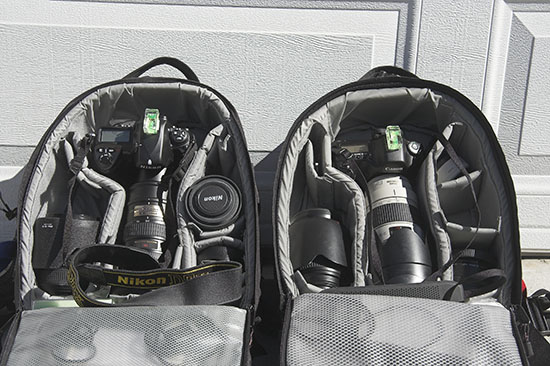 Bag #1:
Canon EOS 5D (our review)
Canon 70-200mm f/2.8 IS USM, on 5D FOV 70-200mm
Canon 24-70mm f/2.8 USM, on 5D FOV 24-70mm (did not use it on this trip)
Canon 50mm Macro, on 5D FOV 50mm (did not use it on this trip)
1.4x Canon tele converter (did not use it on this trip)
Bag #2:
Nikon D2x (our review)
Nikkor AF-S 70-200 f/2.8 VR, on D2x FOV 105-300mm
Nikkor AF-S 28-70mm f/2.8, on D2x FOV 42-105mm
Nikkor 105mm Micro (did not use it on this trip), on D2x FOV 157.5mm
1.4x Nikkor tele converter
In the car:
3 tripods (Gitzo 1325, 1548, Explorer)
1 Monopod
3 Heads
Full description of tripods, heads and plates can be found here
Nikkor AF-S 300mm f/4, on D2x FOV 450mm
Canon 24-105mm f/4 IS (pre-production), on 5D FOV 24-105mm
Canon 17-40mm f/4 (did not use it on this trip), on 5D FOV 17-40mm
Nikkor 17-35mm f/2.8 (did not use it on this trip), on D2x FOV 25.5-52.5mm
We would like to present some thoughts about this experience report:
This is not a test! We were on this trip to create the best photos we possibly could. In some way all photographs are tests on our way to improve the way we capture photos: both technique and vision.
We use all cameras most of the time in manual mode and adjust exposure using the histogram. We are very little demanding on the rich feature set of these cameras.
We (Bettina & Uwe) switch cameras all the time and have very little problem to switch between the D2x and 5D. The main issue right now is how to best setup the AF for the D2x in case we photograph flying birds (here is a good description how the AF works on the D2x).
We photographed on this trip a good mix of the normal subjects we usually capture: landscape, travel, birds, abstracts.
Quite a few images are captured freehand or from a monopod. But we value also our strong and excellent tripods, head and plates.
We took

1050 pictures with the D2x (quite a few high speed bursts)
600 pictures with the 5D
Important note: We have quite a strong preference for tele photos and use the 70-200mm 2.8 IS/VR lenses most of the time. We hardly made good wide-angle shots in the past. Here are our main lenses:
70-200mm f/2.8 for most work (would like to see an as good f/4 lens but want VR/IS)
24/28-70 mm f/2.8 if the 70-200 range is too long (again we could live with a F/4 version as long as the lens is optically good)
300mm f/4 for birds and other wildlife (we would like to see a Nikkor f/4 VR version)
Our observations are highly subjective and only driven by our personal needs (of course a moving target too). If you want to get the best camera system for yourself then try to first understand what your own goals are.
Our experience report is organized into the different subjects we photographed during these four days.
One of the main differences between the D2x and the EOS 5D is the size of the sensor. That is why we repeat what we wrote before:
Full Frame or 1.5x crop
There are many discussions on the merits and faults of using full frame sensors:
Pro Full Frame
Larger pixels at the same level of resolution (can result in lower noise)
Classic 35mm wide-angle lenses keep their original field of view (the other cameras compensate this with new wider lens designs targeted for 1.5x cameras)
Easier to blur out-of-focus areas
Reaches diffraction limits at higher f-stops
Against Full Frame
More expensive to produce
Some 35mm lenses (mainly zooms and low end lenses) are soft in the corners if used on full frame sensors). 1.5x cameras use more the sweet spot.
At same FOV there can be more DOF visible (see this article)
Allows smaller field of view (FOV) for the same lenses (seen as an advantage for tele photo)
It should be obvious that the D2x is at a good start for us because we favour the tele range quite a bit.
Alternatives for Canon FF cameras to cover longer tele range
Canon 70-300mm f/4.5-5.6 DO IS : We think it is not really in the same league as the Canon 70-200 f/2.8 IS

Canon 300mm f/4 IS

: Great lens but we lose the flexibility of the zoom

Canon 1.4x tele extender

: Not bad at all but images get slighly softer and more distorted
Alternatives for Nikon 1.5x cameras to cover wide angle range
Nikkor AF-S 12-24mm f/4

: Has good reputation. As said we are not too much into wide-angle and also own the Nikkor 17-35 mm f/2.8.
Note: All lenses we mention would fit into our not so big backpacks.