We use the ThumbsPlus image browser (Windows only) now for nearly 5 years. It is our standard browser and open all the time. Editing is then done inside RAW converters (Qimage for the S2) or Photoshop (just drag the file into Photoshop or the queue of Qimage).
For the Fuji RAW (RAF) ThumbsPlus will save you a lot of time. But first you have to enable ThumbsPlus to recognize Fuji RAF files:
In "Options->Preferences->File Types" you create a new file type with extension "RAF" and make it equivalent to "TIFF".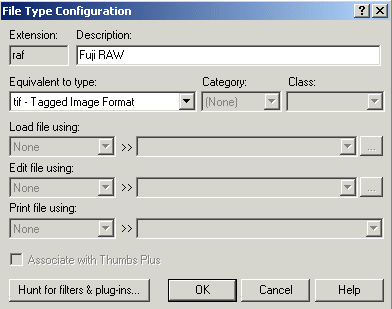 Now you can use ThumbsPlus (TP) as a first class tool to find the keepers from all your RAW files without doing any RAW conversions.
How can TP do this? The RAF file contains a preview image embedded in a file structure which looks otherwise like a TIFF file. This preview image is also pretty large: 1440x960. This is what TP can do for you:
1. TP displays thumbs of the RAF files
2. Click the "Slide Show" button and you can view the full embedded image. Fortunately Fuji embedded quite a big preview that it is very helpful for a first analysis (colors, sharpness, exposure). For all other digital SLRs we know you have batch process the RAW files first to get a useable preview JPG. This is not necessary with the RAF files and saves a lot of time.
3. You can also double click on the thumbnail and the embedded image will be opened. Then just hit "M" and TP displays a histogram for the embedded photo. If this histogram shows blown highlights you probably don't have a keeper.
This is clearly the best first analysis of RAW files we have seen so far.
This is also good news as the RAW conversion process from RAF files is the slowest we have seen so far (with Qimage and also the Fuji RAW converter). But if you limit the RAW conversion to the keepers and also perform the conversion with Qimage as a batch operation it gets more acceptable (finally you have some time to get your coffee :-)).