Kodak 14n Experience Report

A review by Uwe Steinmueller @Digital Outback Photo
Also photos by Bettina Steinmueller
This review will be written again in the form of a diary. Most recent findings on top.
---
9/20/2003 14n Update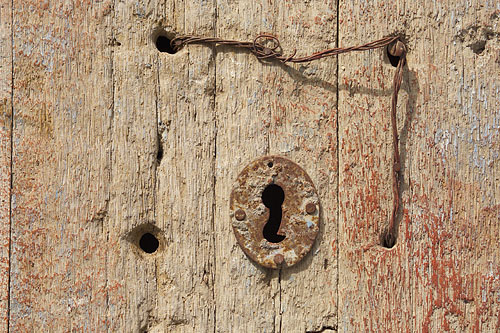 Santana Row Impressions (in the current show at red ink studios)
We had a chance to use the Kodak 14n again with newer firmware and the current version of Photo Desk. We clearly see some improvements:
Handling was better as we had no trouble with the firmware this time
Image quality is refined
Photo Desk has improved
But we we still find the following issues
the 14n does not resolve to a level that we would expect from a 14MP Bayer sensor without any AA filter.
Still more shadow noise than we would like to see
Shutter release feels very soft
Some usere love Photo Desk but we we would like to see some better raw converter (our main issue is the color that the different "Photo Desk Looks" produce)
If only image quality counts the 14n can get you great results if have good light and not too deep shadows.
Note: At the reception of the new red ink studios gallery in San Jose's Santana Row we met a professional photojournalist who loved his 14n and also Photo Desk.
---
5/20/2003 Phil Askey's 14n Review
Today Phil published his long awaited 14n review. We cannot see any real controversy to our findings.
---
5/6/2003 Firmware 4.2.2 posted by Kodak
We just pass this along. Kodak posted a new firmware 4.2.2. Our camera is back to Samy's.
---
4/29/2003 Kodak 14n Raw conversion contest
We launch today a new raw conversion contest, this time with a Kodak 14n file. Unfortunately is raw conversion for the 14n right now limited to the Kodak Photo Desk software.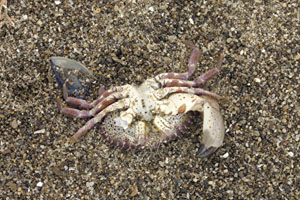 Notes
This contest is about image quality only and in a light situation that favor the 14n (no high contrast that might create aliasing artifacts (see our first test image).
Image quality is only one factor to be considered judging a camera's quality
---
4/27/2003 14n in the Field
All these photos so far were just the warm up and no shot would ever be part of any of our portfolios. Yesterday morning came the first real test. I met with my friend Jim Collum (he carried his Canon 1Ds and a Foveon SD9) at 6:15 am in Davenport just before sunrise (sun was over the top of the Santa Cruz Mountains at 6:45am).
First I photographed our favorite cliff in Davenport.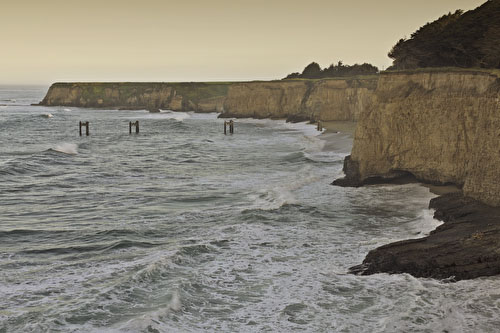 Davenport Cliff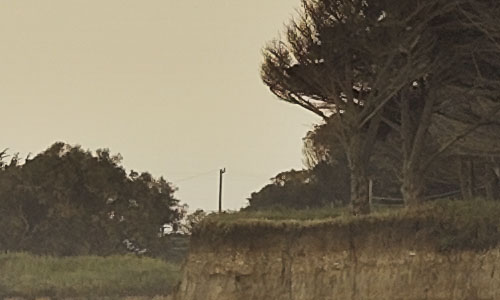 100% pixel crop
Original raw file
These shots are very difficult but the result is ok.
Note: We got at some point the message "Loading old firmware 4.0.2" and had no idea why. Turning off/on (startup is slooooow) fixed the problem confirmed by the message "Loading new firmware 4.1.2".
The histogram is very well designed as it shows the user what happens in the possible overexposure zone: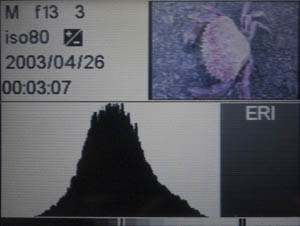 14n Histogram
If the histogram reaches into the "ERI" zone you are in the overexposure mode. Some of this might be recovered in Photo Desk. We always stayed left of the ERI area.
Note: The histogram in Photo Desk is not correct. We sometimes experienced a good histogram in Photo Desk and then Photoshop showed clipped highlights.
All photo processing was done in Photo Desk and some s-curves/sharpening (see older diary entries)
Next we visited a very nice beach North of Davenport. All the following shots were taken in the shadow and with exposure times of 1/2 -1/30sec. We used mainly the Nikon 105mm f/2.8 Micro (a very good lens) on the 14n and of course all shots were done from a tripod (Gitzo 1325 + Arca Swiss B1G ballhead).
In these situation (overcast or shadow) we photograph a micro Color Checker: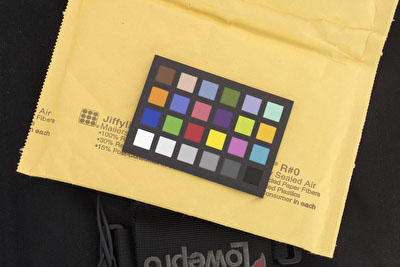 Color Checker (in shadow)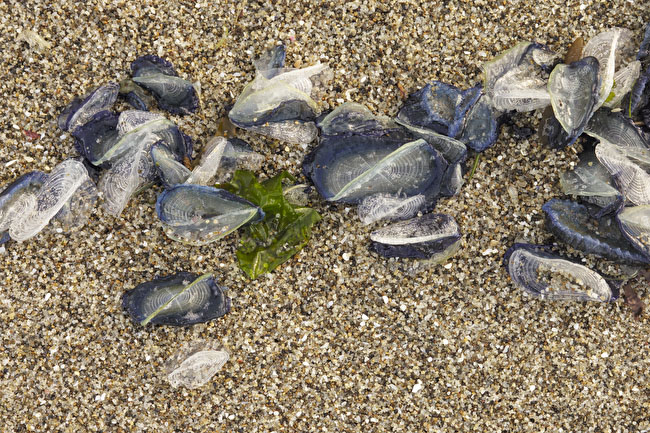 Soft Shells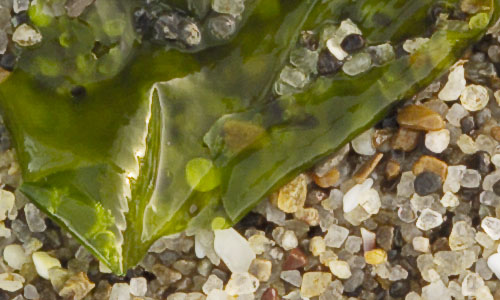 100% crop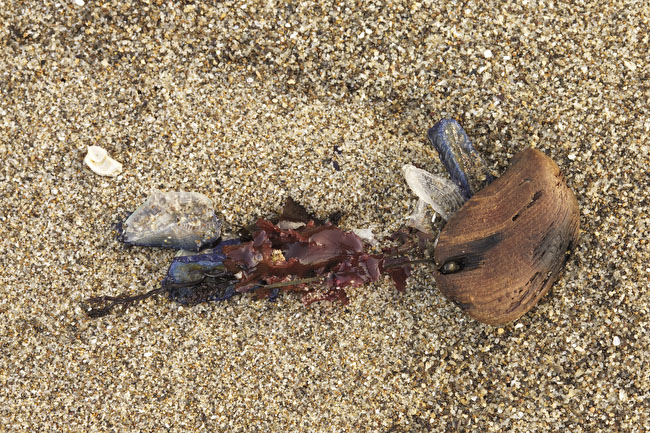 At the Beach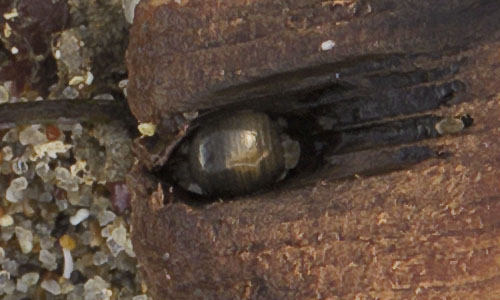 100% pixel crop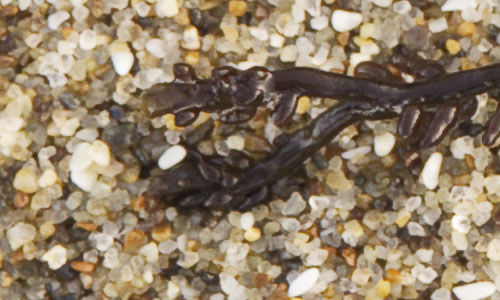 100% pixel crop
Sorry, but raw files will not be available
We think these photos have good color and lots of detail.
Just in the moment we wanted to break up Jim discovered this beautiful crab. It seemed to be life although it did not move for at least 15 minutes. The crab was nearly vertical at a rock wall.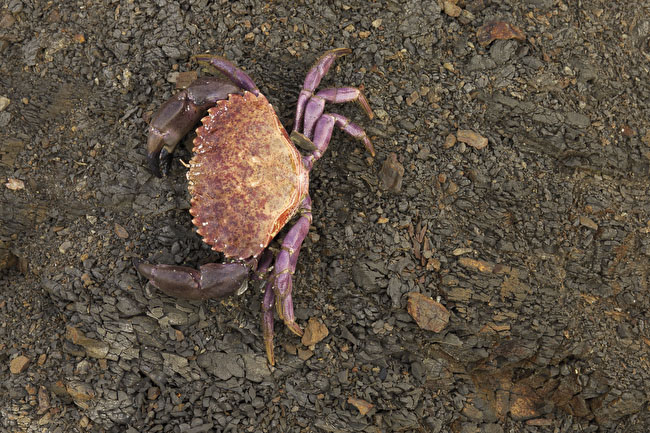 Crab shot with 14n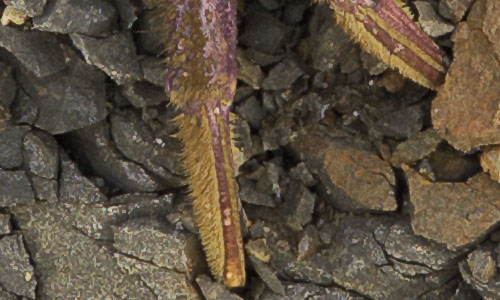 100% pixel crop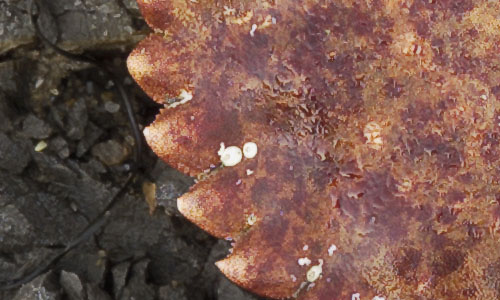 100% pixel crop
Again colors are very good and also the details are there. We also photographed the same crab with Jim's Canon 1Ds.
Note: This was taken with the excellent 70-200mm f/2.8 IS lens. But this lens is not optimized for short distance so that the Nikon 105mm Micor would win hands down.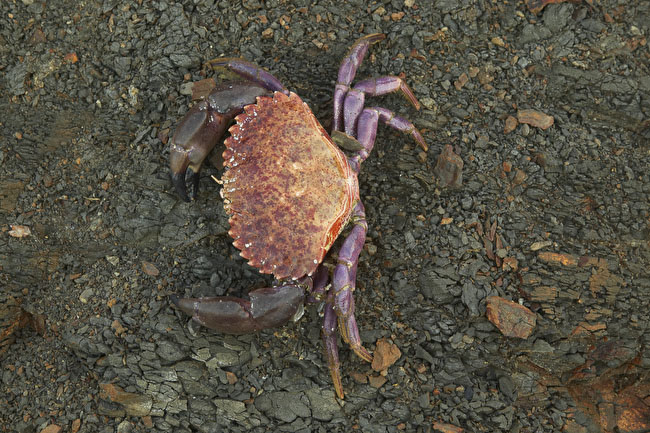 Crab photographed with Canon 1Ds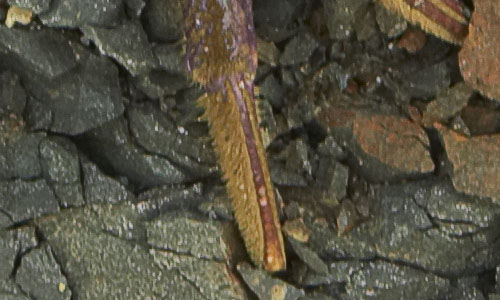 100% pixel crop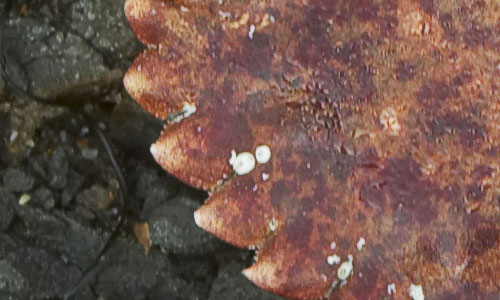 100% pixel crop
Sorry, no raw file will be available

.
In today's session the 14n did well. But remember our first test shot. Aliasing can catch you at any time (especially in higher contrast situations).
Battery: We took 68 images on one battery and the battery indicator was on low. In real life you would need a couple of spare batteries.
Ergonomics: Not really a photographers dream but we could live with it if needed.
First Conclusion
This would be an interesting camera if the Canon 1Ds would not exist. But the Canon 1Ds has a much better body, the results are more predictable (Aliasing), good results at high ISO, excellent workflow using Capture One DSLR and does not have a "firmware of the day". For us a firmware version V1.0 has to be good and we do not mind if it even gets better (once in a while). We actually use the early firmware versions on all our cameras.
But it would be unfair to say that the Kodak 14n cannot deliver good photographs in some situations (we were probably lucky or our shooting pattern is in favor of this camera). If someone would force us only to use this camera we would still bring good photos home, but we also do not regret our decision in December 2002 to invest into the Canon 1Ds.
We have used a Kodak 760 multiple times and think that the 14n can deliver clearly better image quality (except if you need an AA filter).
Note: We can only talk about this camera in the context of our style of photography and have no clue what is good for studio, product (although they will miss the Nikon 85PC lens that cannot be mounted on the 14n), portrait or wedding photographers.
3/26/2003 Software: Photo Desk
Once you get used to the workflow with Capture One DSLR Photo Desk slows down your work a lot. Using the noise removal feature destroys to many details in the images (we set it always to 0) and at higher ISO this camera needs excellent noise removal. Kodak's software might have been a nice software a couple of years ago but is quite outdated in 2003. Unfortunately there is no support in sight from Capture One. We expect that Adobe's Camera Raw will have 14n support in the next version (looks that might be some time into the future too).
But again don't take our word and see it yourself: Get Photo Desk from Kodak and work with the raw files provided in this review. Then get a demo version of Capture One DSLR and work with some 1Ds raw files from here. (The raw file ending with 130 is actually a photo of the Bear Coffee Shop taken with the Canon 1Ds).
Note: Not sure whether it is only our PC (XP Pro, 1.8Ghz and 768 MB), but Photo Desk seems to use a lot of resources performing conversions.
4/25/2003 14n at ISO 400
Normally I would not use this camera at ISO 400 but some readers asked me to show samples.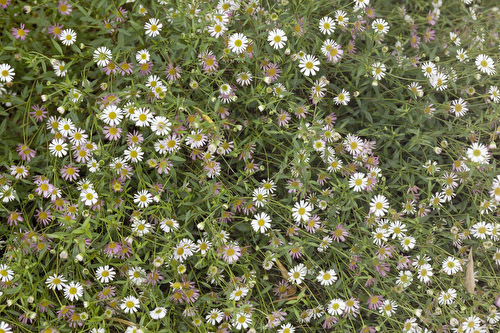 ISO 400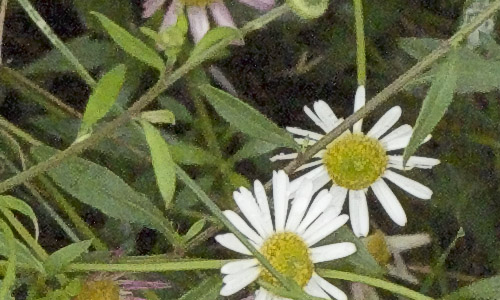 100% pixel crop
Original Raw File
This photo was shot at ISO 400 and then processed in Photo Desk with no sharpening/lowest noise removal possible (I doubt that 0 really means no noise removal in Photo Desk). Clearly this noise is not up to a Canon 1Ds or 10D. But we don't feel shocked either. It very much has the feeling of the Kodak 760 at the same ISO level (but this photo here has more than double the resolution and some scanned photos show more noise at the same file size). Some users might try NeatImage on this photo.
My friend Jim Collum found this:
"If you process the image using noise settings Advanced with Moire, with radius 1, strength 0. and then select -1.0 ev in exposure comp, you get an image with much more pleasing noise (not very blotchy). Then if you bring it into photoshop and increase the levels to bring it up to the same exposure value as the original image, it's still *much* better than if you just process it with the same noise settings, but at 0 EV comp."
Still this is a camera to be used at low ISO levels. We believe now that studio photographers may have very little problem with the 14n.
We hope to have the next days a chance to use the 14n at exposures longer than 1/60 or even at 2 seconds.
Note: We have not figured out yet what the automatic numbering of files should do. But here is what the numbering does on our camera:
- We set naming to "auto continuous"
- Format the Microdrive in the camera
- File count 301, 302, 303,..., lets say 312 for the next session
- Remove card, transfer files to the PC and charge battery
- Format again in camera
- Files count 401, 402, ... with the next session (would expect 313, 314, ...)
4/24/2003 Finally a look at the Kodak 14n
This is probably the most difficult review we have done so far as never before (except the Contax digital) a digital SLR got so negative reviews as the Kodak 14n. These reviews by Michael Reichmann, Rob Galbraith and Steve Sanders were all from people we respect a lot. First we did not want to review this camera as it could end up in yet an other bashing. On the other side our readers want to hear our opinion and we want to use all digital SLRs on the market.
This review is possible due to the support of our sponsor Samy's Camera while we did not hear any word from Kodak since PMA (before Kodak told us multiple times we would get a camera soon).
Fortunately this time our readers can judge themselves as we will provide some full RAW sample shots. Download Photo Desk from the Kodak site and look yourself. You need not to trust us.
If you follow the Kodak 14n discussion you know that the firmware needs to be mentioned. We have 4.1.2 and do not plan to change that.
All processing is done in Photo Desk 3.0, noise removal to the lowest level and no sharpening. White Balance either in Photo Desk or with iCorrect. Sharpening in Photoshop using the mid-tone sharpening. We do not see a lot of problems only using ISO 80 most of the time.
Our lens is the trusty Nikon 28-70mm f/2.8 AF-S which we consider to be an excellent zoom.
Note: We judge mainly a camera by it's image quality as we can live with a simple body as long as it delivers.
Our first test shot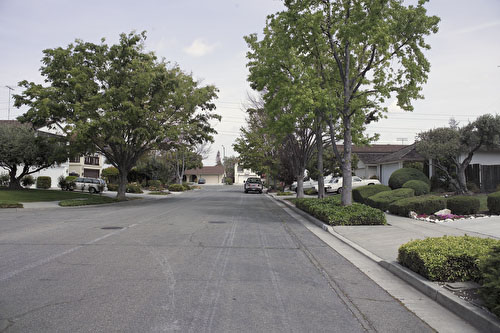 First Test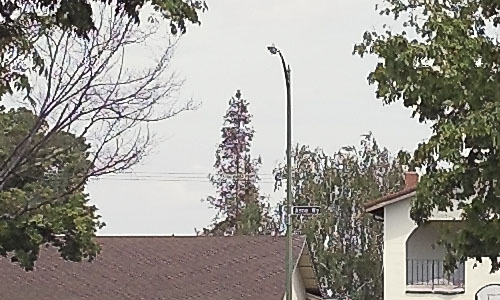 100% pixel crop (sharpened)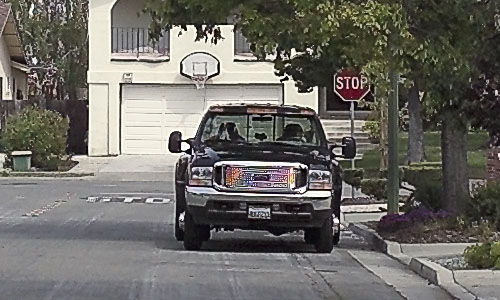 100% pixel crop (sharpened)
Original RAW (15MB)
This first shot confirmed findings we have read before (e.g. Michael Reichmann):
Magenta artifacts on small branches against high contrast sky
Color aliasing due to the missing AA filter
Was not a good start. But we decided to make our standard Los Gatos tour anyway and be in for some surprises.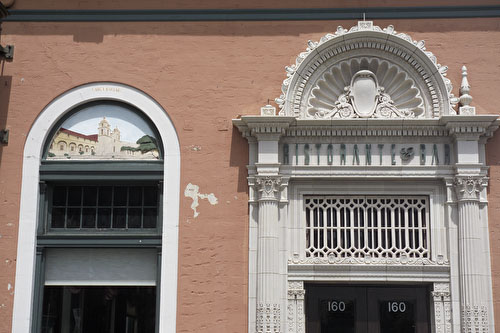 Ristorante in Los Gatos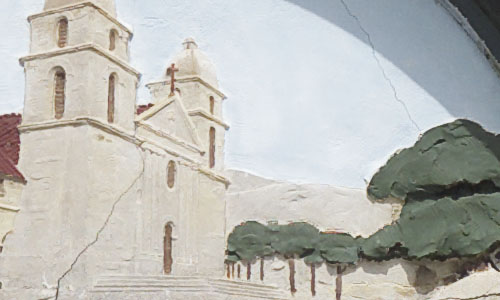 100% pixel crop (sharpened)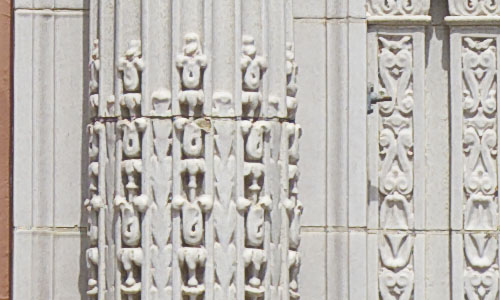 100% pixel crop (sharpened)
Original Raw (15MB)
Here we must say that the colors are good and the resolution the best we have seen so far. Very impressive!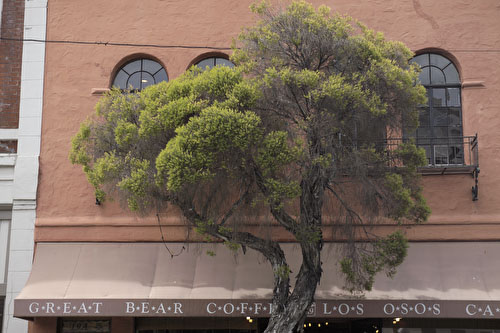 Los Gatos Bear Coffee Shop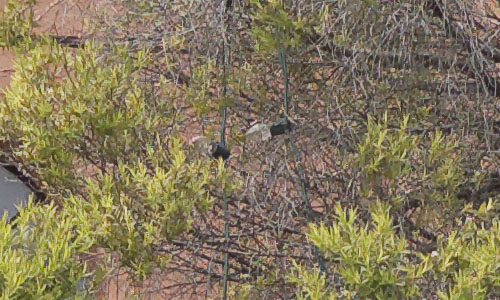 100% pixel crop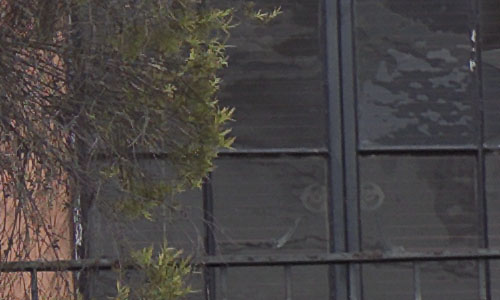 100% pixel crop
Original Raw File (15MB)
Again very good colors and detail just amazing.
Believe us we are as surprised as many of our readers might be.
First conclusion:
Problem with details against bright background
There can be strong color aliasing
Photos in good light can be excellent
Other reviews
Phil Askey, Michael Reichmann, Steve Sanders, Rob Galbraith & Imaging Resource
Review methodology (or lack of :-)) here.