We really like the handling of the Sony F828 but it failed big time in the the following areas:
- Purple fringing
- Poor EVF
- Very poor handling with raw files
Our first impression of the A2 is that although it is much smaller it handles extremely well. We won't praise the EVF now (EVFs are not nearly in the league of good optical viewfinders yet) but the A2's is much better than the EVF of the F828. This is also the first 8MP digicam we used that handles raw files very well due to a good write buffer implementation. From all the 8MP digicams (Nikon 8700, Canon Pro1, Sony F828 and we also know the Olympus 8080 a bit) the A2 has clearly the best feel and handling.
First test shots
Note: All shots from raw (converted in ACR 2.2) , sharpened with Simple Sharpening and some are cropped and corrected for perspective in Photoshop.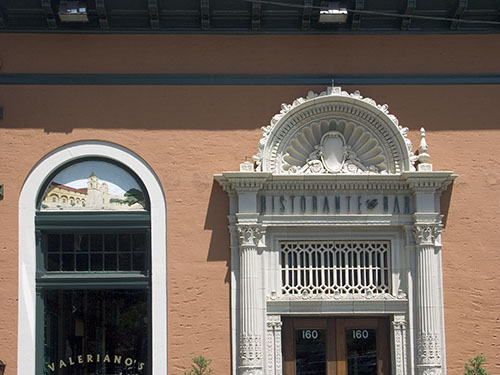 Los Gatos Ristorante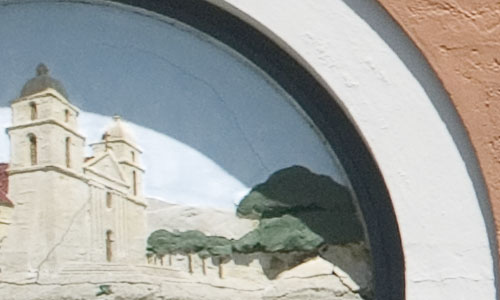 Crop at 100% magnification
Color is fine and detail ok. We don't use resolution charts but think that the images may be slightly softer than the Canon Pro1 or Nikon 8700 photos. But we also have to get used to the A2 autofocus system. Overall the A2 did just fine.
This image shows some slight chromatic aberration (CA)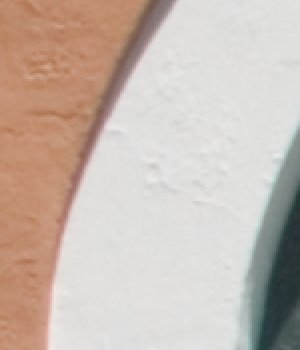 Preview at 200% magnification (not sharpened)
You realize the purple/green fringing. This is the result of minor lens faults. They are hard to correct for a 7x zoom and if at this low level they are no big deal.
But because we shot raw we can use ACR's CA removal tool: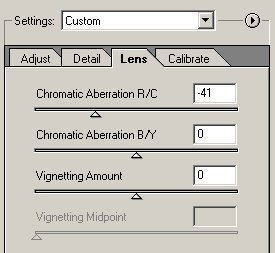 CA removal settings in ACR 2.2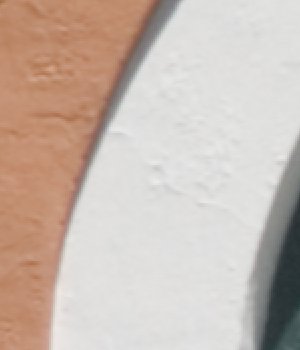 Preview at 200% magnification after correction (not sharpened)
Note: CA depends on the focal length of the lens. This means you cannot reuse these settings at a different focal length.
So far we only found CA with the A2 and not the extensive purple fringing like on the F828 which even showed up in the center of the image.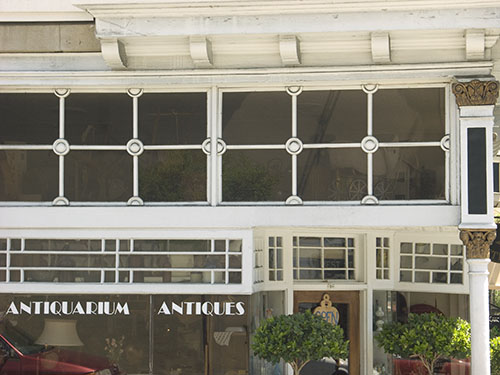 Los Gatos Antique Store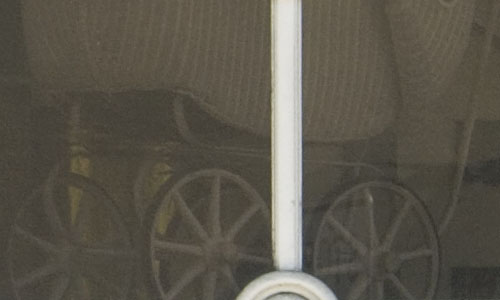 Crop at 100% magnification
The first round with the A2 was more fun than using any of the other 8MP cameras. There is not only a lot of technology innovation in this camera like:
Anti Shake
High resolution EVF
but also a lot of good engineering towards usability:
Two scroll wheels for aperture and shutter speed (old hat of course for digital SLRs)
Swivel viewfinder
Good feeling in our hands even at that small form factor
Automatic switch viewfinder/LCD
Fast raw file handling
We are at a good start here.