The Leaf Aptus is now the third MF back (22MP) that we used untethered on a Hasselblad H1.
All these backs work completely untethered with battery in/on the unit and CF cards as storage.
The biggest visible difference between the Aptus and other backs is the huge 3.5" touch screen LCD . We did not get any manual with our review unit. But the clear online menus made working very easy and we were up to speed in about 20 minutes.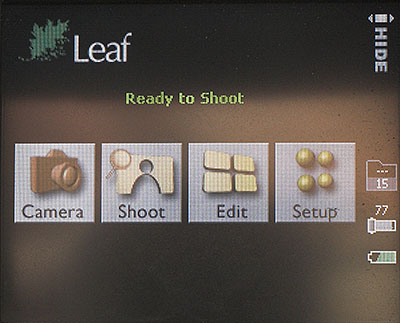 Main Menu
In strong sunlight the LCD is hard to read. The unit we got came with a Hoodman shade (used normally for video cameras) that helped to shade the LCD. As we understand Hoodman plans to develop a more suitable hood.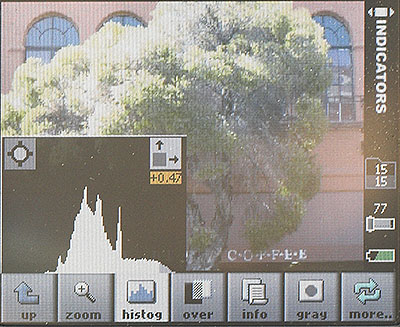 Shoot Menu
The shoot menu provides you with all the info you need:
Histogram as shown
Larger histogram overlay with RGB channel histograms
Overexposure indicators on demand
Overall the LCD is very helpful to view images and work with the unit.
Note: While the Aptus stores images from the internal buffer to the CF card some of the operations on the LCD cannot be performed (e.g. changing ISO).
For outdoor work we think that the Phase One P25 with its more limited LCD is as practical as the Aptus. But of course the Aptus would allow a more detailed inspection of the images if you find a shaded place.
We use the uncompressed raw mode on the Aptus (files are 41MB large) because ACR 3.x can right now only open the uncompressed files. The Aptus also support lossless compressed raw files that take up only about 50% of the space. Probably future versions of ACR will also support the compressed files.