Our regular readers know that we just recently got the HDR bug. Actually we think that using multiple exposures were essential to create our recent Alcatraz portfolio.
Using at least 3 exposures for each single photo does not make your workflow easier. That is why we want to share our experience for the Alcatraz session (that day we shot about 103x3 images).
Getting the shots
We set the camera to a bracket for 3 exposures. Here are the requirements:
Sturdy tripod and head
Use mirror lockup in camera
We use exposures of -2EV, 0, +2EV (the Nikon D2x can only do a max of 1EV increments)
Release the mirror
Wait about 3 seconds
Take the shot
This of course 3 times (the bracketing is handled by the camera)
We always use only manual exposure for any static objects
Larger focal length has a great chance to get the images out of alignment (can be handled in the software)
Processing the images (exposure merge)
To process that many images all manually would be very tedious, Fortunately we can use Photomatix 2.3 (read our review note) in batch mode.
Step 1: Converting your RAW files
We processed all of our images in a raw processor. You can use the RAW converter you like. This example was done with LightZone.
Step 2: Merging the images (in 3 shot batches)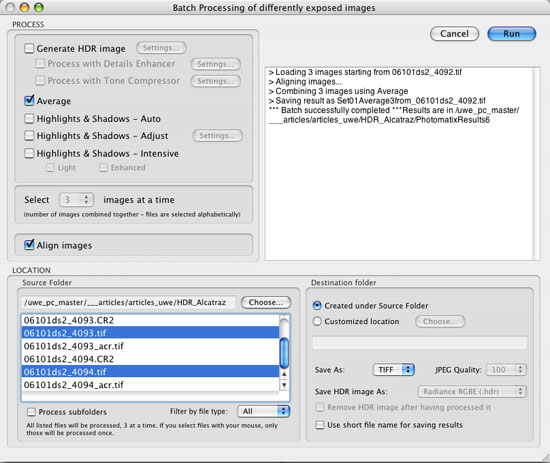 Photomatix Batch Dialog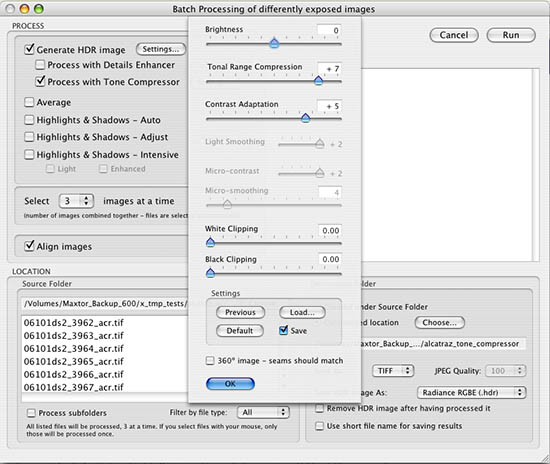 Tone Compressor
There are quite a few options to merge the files and you can actually create them all at the same time.

The following section got updated:
Generate HDR

Detail Enhancer: : Powerful but you have to be careful to get the best settings (choice #1 for indoor shots, we avoid extreme settings).
Tone Compressor: No halos, in many cases a good choice (our choice #1 for high contrast outdoor shots).

Average: Gives nice flat images. Flat is actually nice because we can tune the images later in LightZone or Photoshop. This option is our alternate choice to the other two methods.
Other settings:
Align Images: It is better to check this option. Cameras can shake quite a bit even on a sturdy tripod
Save As TIFF: Will create 16-bit TIFFs (the only option for serious work)
Destination Folder: We normally use a different destination folder
Our 300 images (100 x 3) need some hours to be processed. Do some other time in the meantime.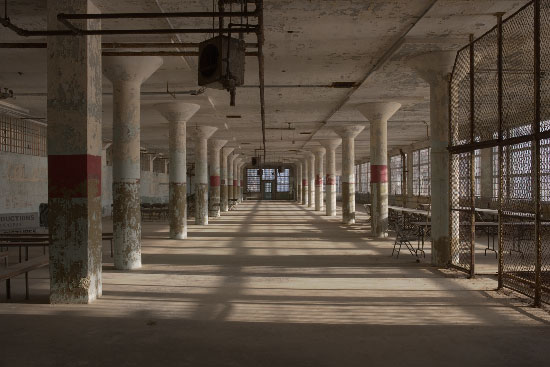 Image after "Average" exposure merge
Note of caution: If you run run these long batch runs be sure to have enough disk space. Better not use the disk where you have your system installed. We had this to learn last night the hard way. Our Quad Mac system disk had a disk overflow and did not boot anymore. Kept us busy for a long night.
Step 3: Tone Mapping
Because we use the "Average" option we cannot use the Tone Mapper in the same run (maybe a nice feature for future versions of Photomatix). The following screen shot shows the settings we mainly use for batch conversions.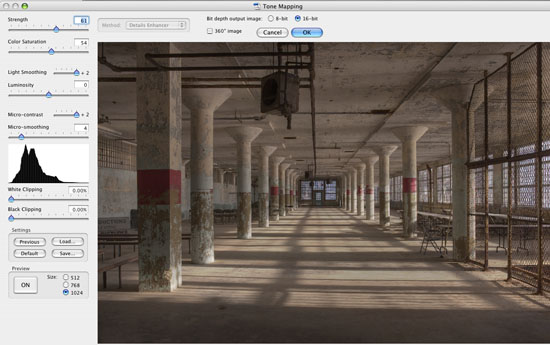 Tone Mapper in Photomatix
Photomatix allows also to process single files (these are the result of step 2):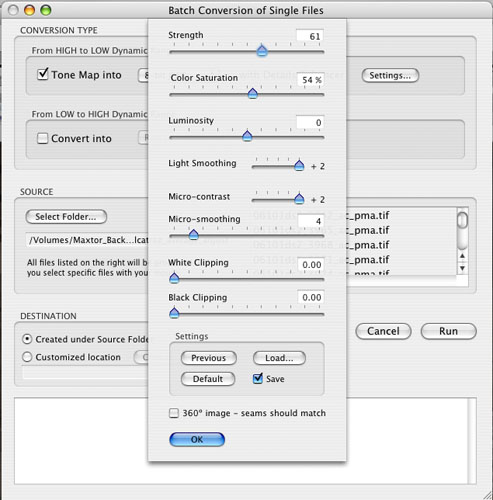 Single File Batch Processor
The above screen shot shows the Tone Mapping options for our second batch run.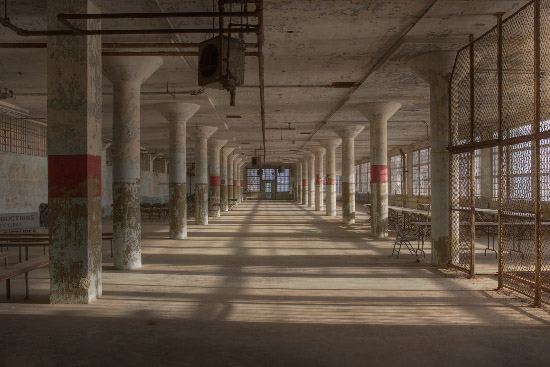 Image after Tone Mapping

Using Enhancer 5.0 (see our review)
We finally also added a tuning step with Enhancer which improved the local contrast even more: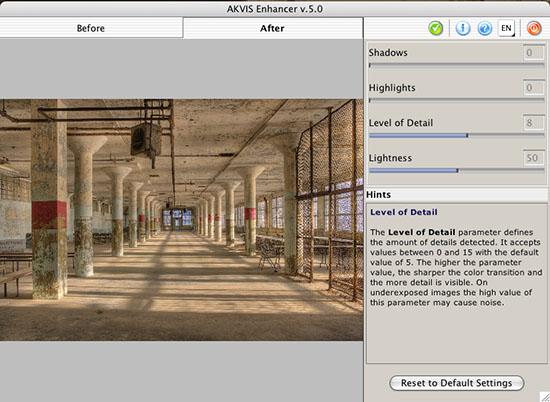 As we said for quite a time "Enhancer" is really an excellent plugin. Version 5.0 support batch processing (remove the old version completely)
Final Editing
We use LightZone 2.0 (read our review) for our final editing.


Tool Stack for color Processing
Here are some simple steps:
ToneMapper: Improves the image most of the time
Hue/Saturation: Boosting the saturation a bit
White Balance: Warming up the colors
Sharpen: We show the default values here but could go stronger
Once we have corrected one image we can apply the same tools to other images.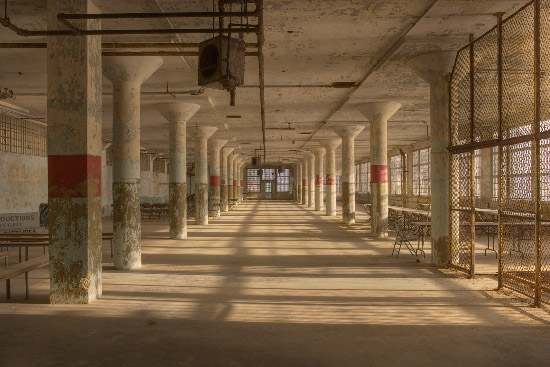 Color version from LightZone
Note: Smaller images on the screen always look darker than larger images
B&W Version
Really hard to say what we like better the color or B&W version of these photos. But overall we like B&W a lot. The B&W conversion is straight forward in LightZone: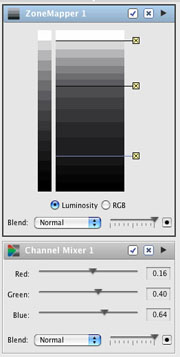 B&W conversion
We use these two steps:
ChannelMixer: You need to play with the channels and also keep an eye on the picture and histogram to avoid blown highlights or too muddy shadows.
ZoneMapper: Most of the time B&W imaged can call for more contrast and this is what we do with this ZoneMapper.
Split Toning
We can even create subtle split tones in LightZone: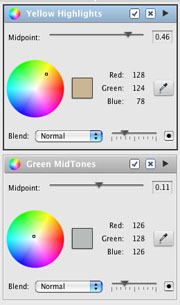 Split Toning with the Color Cast tool
Try split toning you B&W photos. This leaves us with the final result in B&W: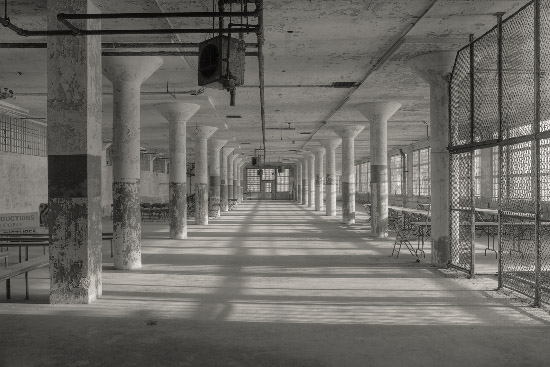 Toned B&W version
Conclusion
We think that using multiple exposures helped getting the images we wanted (maybe even we have dreamed about). Photomatix is a valuable tool to get the exposures merged and its batch feature proved to be essential for our workflow. Final processing in LightZone is very easy and feels natural.
Please feel free to discuss this workflow in our news groups.
You can buy both products via the links on the top of this page at a discount.
Discussion
Raoul wrote (read the news group thread)
"One question for now, why you desided to take 3 photo's and not more? Was this because of the space you were working in, or do you think it makes no sense to shoot 7 or more exposures (like i did till now)."
"If i tell you that in the film days i caried so much light with me to balance the daylight with the inside light, this HDR thing is a revolution for my workflow, but still to learn a lot."
Reply by Uwe
Very good question. Actually you cannot enable shooting bracketed sets of 5 or more in the 1ds2 without a computer. Now it is enabled for the next time. I would have likely opted for 5 shots.