Disclosure: This diary is based on our own AF100 that we bought through regular sales channels.
2/26/2012 Barry Green's "The AF100 DVD"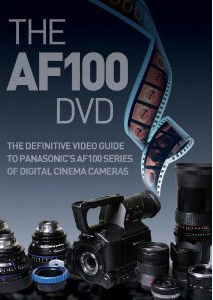 This DVD covers roughly the same content as Barry's book (read our notes here). Both are equally good and it depends how you prefer to learn. Barry covers a lot of material which is also useful for owners of different cameras.
---
6/8/2011 AF100 short by Filippo Chiesa
The best way to check the capabilities of a camera is to look at good work done with that camera. We follow the work by Filippo Chiesa for some time. Here is a short from Venice (Italy). This is our most loved city anywhere.
---
5/4/2011 Pacific Grove Monarchs 2011 (revision 2)
We added some vignettes with Magic Bullet Looks to focus some scenes on selected areas.
---
5/3/2011 Barry Green's "The AF100 Book"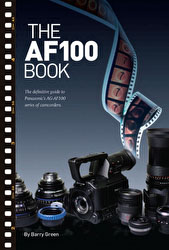 For video in general and the AF100 in particular the forums at dvxuser are our resource of choice. Barry Green is a main moderator at dvxuser and one of the most helpful we have experienced. His books on Panasonic cameras seem to be the authorative books out there. He started early with prototype cameras to create his AF100 book in time. If you are interested in the AF100 you need his book. As we all know manuals are hardly good enough and for the AF100 this is even more true. The AF100 is a professional video camera and needs a lot of learning. Barry concentrates on the essentials but also add's the why and not just the how. One of the more complex topics with the AF100 (likely all pro video cameras) are Scene File settings. Scene Files (other call it Picture Style) define the look and the quality of your images. There is always a trade-off between noise, sharpening, color and tonality. Different tasks and shooting styles (also depending on post-processing) require different settings. Barry discusses all these crucial parameters in detail and even provides sets of Scene Files on the CD. This part alone is worth the book.
We consider this book essential for all owners of the AF100 or those that think about buying it. Very much recommended.
---
1/21/2011 Philip Bloom's Turin Brakes Music Video
While this video shows what you can do with current large sensor cameras it demonstrates more the skills of Philip Bloom and good music (shot in about 6 hours). Here is a quote by Bloom: "I think it's really important to stop comparing x camera with y camera. The camera is really not the most relevant part. I could have shot this on anything to be honest!". We believe he could just used a GH2 or 60D.
If you shoot outdoors in urban settings the AF100 will just show so much less aliasing and moire compared to recent HDSLRs. So for us the AF100 is a step up. Doing the videos with the AF100 is just easier and less things to worry about.
If you want to create your own videos watch a lot of them at Vimeo. The work of Philip Bloom is quite inspiring. This video maybe his best we saw so far.
More info can be found on Bloom's Blog.
---
1/18/2011 Pacific Grove Monarch Butterflies Updated
We added some clips to our Monarch video from a second session.
---
1/17/2011 Monarch Butterflies in Slow Motion
---
1/14/2011 Pacific Grove Monarch Butterflies
Every year Monarch gather at Pacific Grove. Clearly one of the wonders in nature.
This movie was shot with the Panasonic AF100 and the 100-300mm zoom (mainly at 300mm). 300mm is a 35mm FF equivalent of 600mm. Once scene is in SloMo (shot at 60p).
Edited with FCP 7 and very little color corrections.
The video shows details that you cannot see with your naked eyes. Sunlight maybe not ideal for shooting but the Monarchs are way more active if the sun is out.
So far we are very pleased what we can do with the AF100 (got it 6 days ago).
Note: Always best you download the videos from Vimeo for closer inspection.
Our new Scene File settings are (only mentioned what differes from the default):
Detail Level -4
V Detail Level -4
Gamme Cine-Like D
Matrix Cine-Like
---
1/13/2011 Highlight Optimization
This video shows the same scene as shot and then corrected. We first thought the original was a lost cause but we could rescue the clip by using the FCP 3-Way Color tool. We are quite happy to be able to rescue some clips.
Note: Always best you download the videos from Vimeo for closer inspection.
---
1/12/2011 Short video: Point Lobos Whalers Cove
Was filmed at a sunny day at Point Lobos. Lenses used: 14-140mm kit lens and the 100-300mm lens.
---
1/10/2011 First short video: Case De Fruta
First experience:
We like the control the AF100 provides (Zebras, Wave Front Monitor)
Moire and Aliasing is lower than any HDSLR we have used so far
ND filters are so helpful
---
1/9/2011 The AF100 Journey Begins
With the introduction of the new breed of HDSLRs (notably the Canon 5D Mark II and the Panasonic GH2) many are talking now about the convergence of stills and video. Quite a few filmmakers embraced the Canon 5D Mark II for creating beautiful work. What attracted them to these hybrid cameras?
Price, size and weight
But even more so the large sensors with their shallow DOF and great low light performance. Normal professional video cameras have tiny sensors in comparison.
This is actually all they like because for filmmaking these cameras show lot's of shortcomings:
Images can produce bad moire (watch this)
Missing features: ND filters, sound recording and more
Not much control over the final images
Just not the right ergonomics: no large swivel EVF (the 5D Mark II does not even have any EVF at all).
Lenses are not very video friendly (noisy, most cannot use AF)
Need a lot of "rigging up" to make them work for movie making
Optimized AVCHD encoding
In the end the amazing images these cameras can produce let many filmmakers work around these severe limitations.
It seems that the development takes a new turn. Why not use larger sensors and the new emerging lenses for mirror less cameras and create dedicated video cameras. Sony was first with the VG10 using their new E-Mount. At $2,000 (including a zoom lens) the price was attractive but the VG10 addressed hardly any of the HDSLR shortcomings except the video camera form factor. Panasonic announced at NAB 2010 their AF100 pro video camera based on Micro Four Third lenses. This camera is aimed at professional video and movie makers. At $5,000 it is quite more expensive than most HDSLRs but seems to address many of the issues.
We bought the AF100 because we want to explore how a professional video camera makes a difference. We also we did not need to buy any new lenses because we own a larger set of m43 lenses (we report about these lenses here). Our goal is to make documentary style movies without any need for a crew. Bettina and I will be the only people involved. $5,000 is a lot of money but we hope to learn more about professional movie making by using the AF100. We don't like to "rig" up our HDSLRs because this makes the system so much less portable.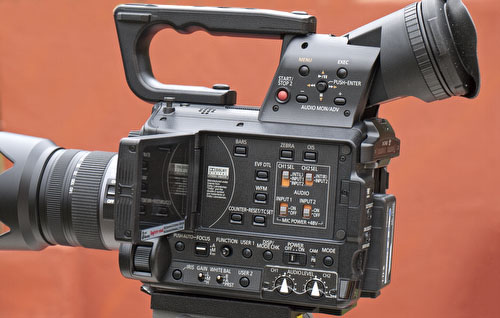 ---
It fits into our Backpack
Because we want to be very portable with our gear for stills and video all has to fit into our backpacks. Believe it or not, but the first thing we did with the AF100 was to check out our bags. And we were lucky to find the right one: ThinkTankPhoto StreetWalker HardDrive just fits the bill for us.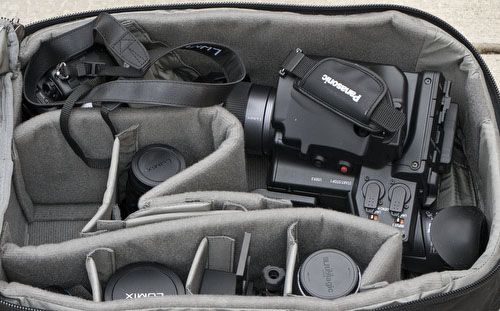 ThinkTankPhoto StreetWalker HardDrive
Panasonic AF100
Panasonic GF1 (used for the shot)
Quite a few m43 lenses
This backpack and all this gear is not really heavy and can be carried easily all day long.
---
AF100 Main Features
Mount for m43 lenses. You can nearly mount all the other lenses on the AF100 using adapters.
AA filter for 1080p video resolution (should keep the moire and aliasing down). HDSLRs have AA filters for their 12-21MP stills images and this does not help to avoid moire for video.
Built-in ND filters. To keep the shutter at 1/50th (for native 1080p24p) you need to use ND filters at brighter light. You can use ND or even Vari-ND filters in front of your lenses but in the end it becomes a major hassle.
XLR audio connectors and uncompressed audio recording
Peaking, Zebras and Wave Monitor display (later more)
Tilted larger EVF viewfinder. This EVF is good but leaves room for improvements.
White Balance (WB) sensor
Records AVCHD: Learn more about Compression, Codecs and Transcoding from our article we wrote for DPReview.
HDMI and SDI Output for external recording at lower compression or monitors
Dual slots for SDCards (we use two 16GB cards)
---
Film Styles
You can customize your film styles (called scene files) in many ways. Will take a while to find an optimum. It also varies by scene types (Landscape overcast/sun, Indoors tungsten/fluorescent). We started with some settings suggested by Barry Green (see Other Resources).
detail -4
coring +2
NORM2 matrix
cine-V or b.press gamma
You want to keep the images soft in the camera because you can change contrast and detail later. You cannot fix images with crushed blacks and sharpening halos. Same is true for stills if you shoot JPEGs. Lots to learn for us.
---
Control at your Fingertips
Once you start using the AF100 (or likely any pro video camera for that matter) you learn what you miss with your HDSLRs. Finally a device where the many buttons make real sense. We mention the different controls and how we use them. Many of these settings are just essential (right now we do not cover sound).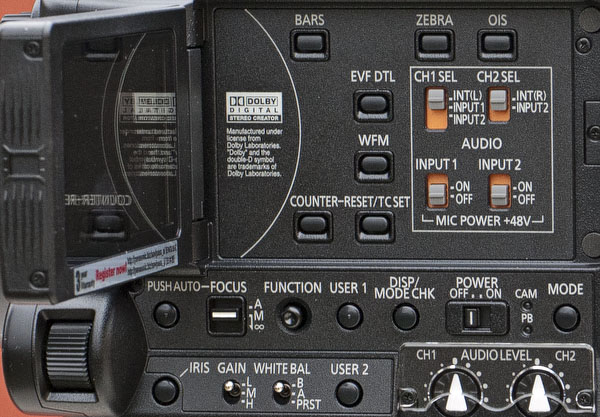 Main Controls 1
From top left to bottom right (not all covered)
ZEBRA: Check for clipped areas in the image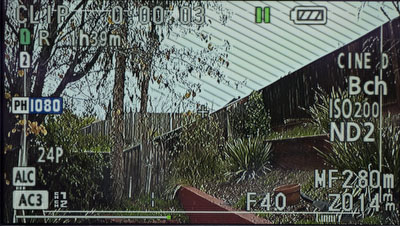 Zebras show clipped areas
OIS: Turn optical image stabilization on/off (for supported lenses only). We have it off when we use a tripod.
EVF DTL: Helps with "peaking" areas in focus
WFM: Shows a Waveform Monitor on the LCD (not the EVF because it obscures the image). The Waveform Monitor allows you to analyze the exposure (same tools are available in editing tools).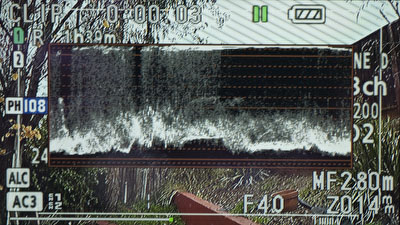 WFM Display
Counter: Toggles the counter display
Push Auto: If on Manual Focus (MF) you can use the AF of your lens (if the lens supports AF) to focus on push. AF is not very fast.
Focus: Switch between AF and MF. We work mainly in MF mode.
Function: To control the AF area.
Disp/Mode CHK: Control the Info Display (more or less clutter on screen)
Power: on/off
Mode: Switch between record or play mode
IRIS: IRIS stands for aperture. Set to auto or manual IRIS (we use mostly manual IRIS)
Gain: Three customizable ISO settings (we use 200, 800, 1600). The camera allows a range from ISO 200-3200.
White Balance: Two custom presets and manual control about WB
User Buttons: User 1-3 allow to enable certain features by just clicking on one of the user buttons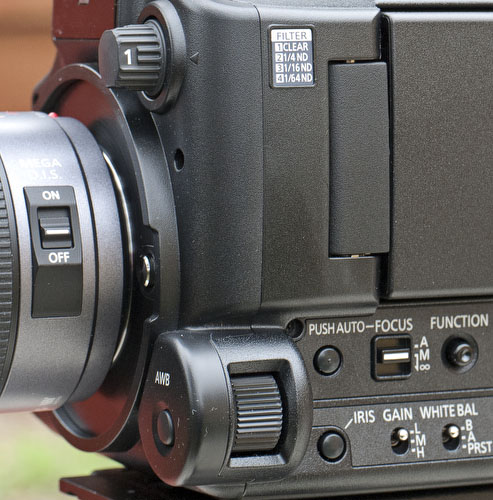 Controls 2
AWB: Allows to auto white balance using the AWB sensor. Same button pressed longer also performs a "Black Balance" for the camera.
4 Step ND filters: 1 Clear, 2 1/4 light, 3 1/16 light, 4 1/64 light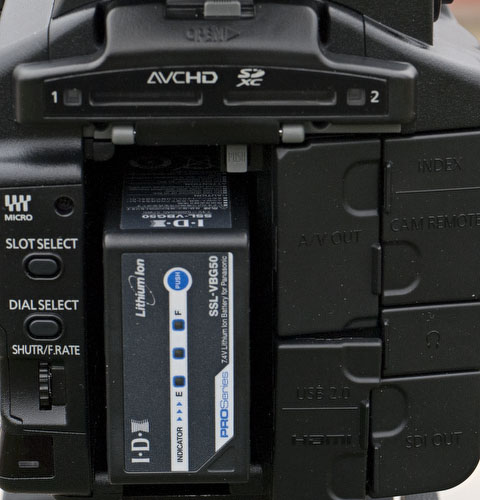 Back View
Shutr/F.Rate: Controls shutter speed. We use most of the time 1/50 for 24p
Many external connectors are under these covers.
On top the two SDCard slots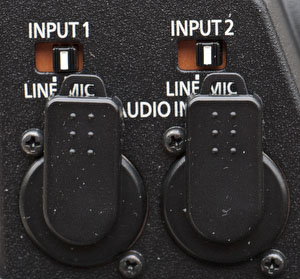 XLR connectors
If we would have all these settings in a menu it would complicate the use of the camera a lot. All your controls need to be at your fingertips.
---
Note on SD Cards
Best you use quality SD Cards at Class 6 or better. Cards from all brands may fail in some situations. Lower cost cards may just have a higher likelihood to fail.
Often failure of cards is the the result of mishandling:
Never remove a card that is being written to (the AF100 shows when and to which card it writes)
On Macs use the "write lock" on the SDCard when you copy data to avoid that the Mac OS tries to index the card for Spotlight
Failure to format cards in camera
Protect the cards from dirt
---
AF100 wish list
10 bit recording
4:2:2 color mode
Larger EVF magnification
Support for motorized zooms
Better support for fast AF lenses
Faster AF
---
Other Resources
DVXUser Forum (with the very helpful moderator is Barry Green). This is a key resource for discussing the AF100 on the net.
Vimeo in General is a great place for filmmakers of all levels.